How True Detective Inspired Season 2 Of Solar Opposites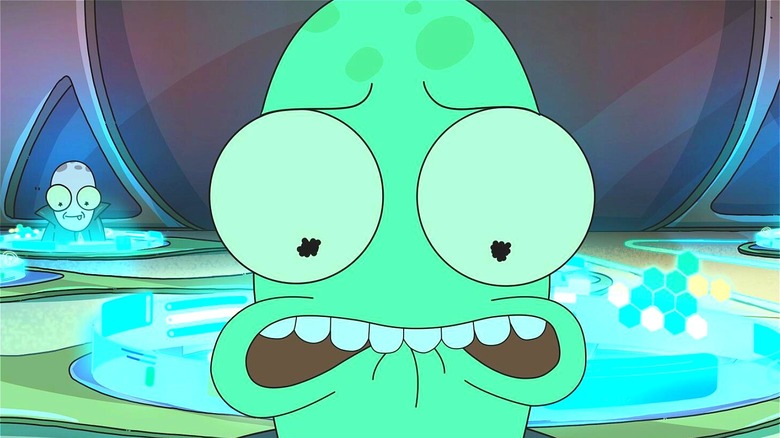 Hulu
On the face of it, Hulu's "Solar Opposites," a wacky animated sitcom run by "Rick and Morty" co-creator Justin Roiland along with Mike McMahan, could not seem more different than HBO's "True Detective," a dark and gritty detective procedural whose first season starred Matthew McConaughey and Woody Harrelson. The former centers on a family of aliens stranded on Earth and forced into wacky (and often raunchy) hijinks as they struggle to fit in with human culture. Meanwhile, the latter follows a pair of detectives as they struggle to track down a murderer and, along the way, are forced to confront the darkness within their own hearts.
However, what makes "Solar Opposites" such a unique show is its willingness to explore the fringe elements of its world, putting a comedic backdrop behind truly emotional and epic narratives. One of the two alien children, Yumyulack (Sean Giambrone), has a disturbing habit of using his shrink ray on humans and keeping them in a diorama display on his bedroom wall. A running subplot involves the show pulling away from the alien cadre to focus on the story of "the Wall," expanding on it to great effect in Season 2. It is here, at the Wall, that McMahon says the similarities to "True Detective" begin.
The Wall's Halk is similar to Matthew McConaughey's True Detective character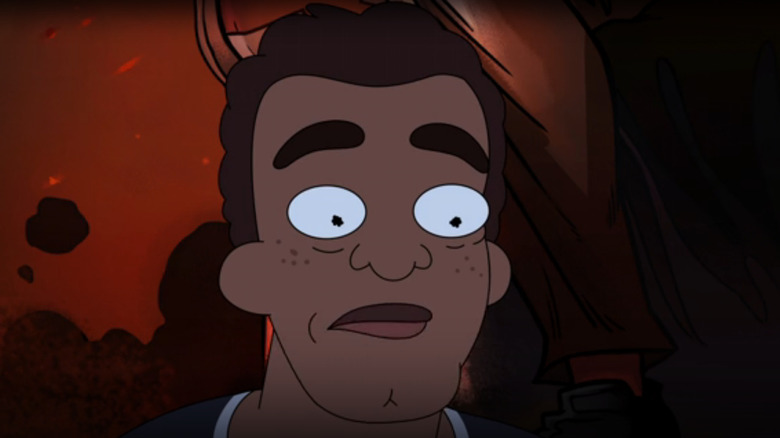 Hulu
Though the subplot of the humans who have been shrunken and forced to live inside Yumyulack's wall is inherently comedic, with toothpicks used as spears and guinea pigs milked for dairy by the tiny residents, it is simultaneously treated as a serious drama. First, the society is ruled with an iron fist by the totalitarian Duke (Alfred Molina), but his leadership is violently deposed by an uprising led by a resistance fighter named Tim (Andy Daly). However, he's an equally corrupt ruler. In Season 2, a former rebellion soldier named Halk (voiced by Sterling K. Brown) fights to reveal Tim's crimes.
According to showrunner Mike McMahan during a conversation with Indiewire, Halk's character as developed in Season 2 is inspired by Matthew McConaughey's haunted character — a man whose outlook on life has been soured by his traumatizing past — from "True Detective" Season 1. McMahon explained that "putting it in the 'True Detective' sort of narrative was a different way to tell a mythologically broad story about violence in society. Multiple people died in a Nerds avalanche, and Halk is consumed by it the way Matthew McConaughey was consumed in 'True Detective.'"
Being on a streaming platform means the show is not beholden to the highly regulated standards of broadcast television, and McMahan takes advantage of that liberality, saying, "Because of the freedom we have on Hulu, we're pushing the boundaries of an animated sitcom, whether it's language or sexual content or onscreen violence. We've actually put together a working society inside the Wall that has a colorful darkness, except there are undercurrents that are being covered up that make it a bit of a 'Stepford' situation."