Why Rachel From The Wilds Looks So Familiar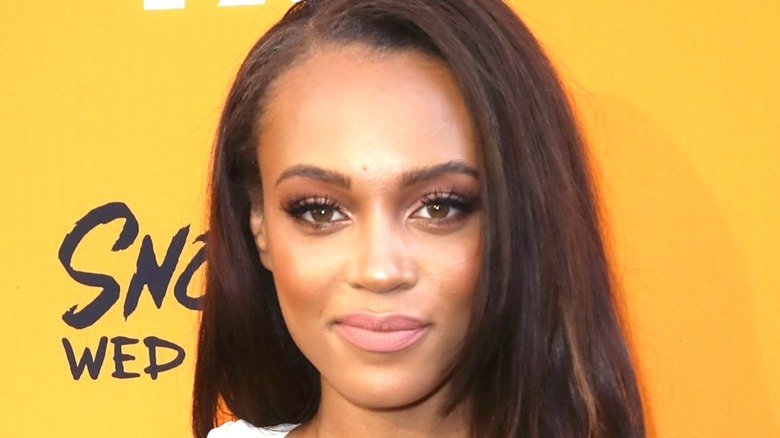 David Livingston/Getty
In 2020, Amazon released "The Wilds," a thrilling survival mystery series about a group of teenage girls who become stranded on a desert island after the plane piloting them to a women's empowerment retreat crashes in the middle of the Pacific Ocean. The series released to mostly positive reviews, currently holding a 92% of Rotten Tomatoes. Much of this praise is credited to the show's writing and storyline, which explores the backstory and motivations of each character — both before and after being stranded — as the group struggles to survive on the island.
One of these girls is Rachel Reid, a competitive diver who, prior to becoming a castaway, has struggled to keep her athletic endeavors afloat. Like the other characters in the castaway group, Rachel's failures, fears, and anxieties all become intertwined with their survival efforts, and the island becomes a place where she faces her past head-on. It makes her an intriguing character, something which is truly brought home by the well-done performance by Rachel's actress, Reign Edwards.
"The Wilds" stands out as one of Edwards' best roles to date. However, if you've been watching "The Wilds" — which is now primed for a second season — and have felt that Rachel looks extremely familiar, it isn't your mind playing tricks on you. Edwards is still a relatively young actress at 25, but her age seriously betrays the number of noteworthy roles the actress has landed in her short career.
Edwards played Winnie in The Thundermans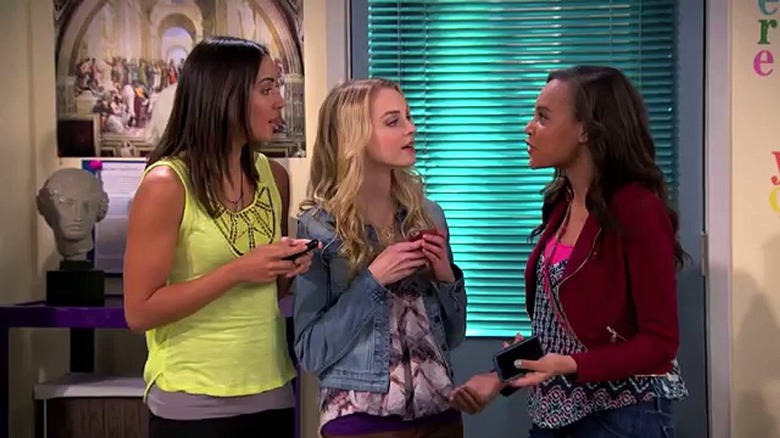 Nickelodeon
Over the years, Nickelodeon has given us many great actors and entertainers. For instance, for as popular as Ariana Grande's music is, it's fair to say that she first gained notoriety as a cast member on "Victorious." Likewise, actors like Jerry Trainor have earned much of their fame through roles like Trainor's Spencer on "iCarly," or Crazy Steve from "Drake & Josh." As such, it's not surprising to know that Edwards' earliest notable role comes from a similar Nickelodeon series, the live action sitcom "The Thundermans," about a normal suburban family who secretly possess superpowers.
In the series, Edwards plays Winnie Lee, the stereotypical popular girl whom the show's protagonist, Phoebe seeks to impress. Unfortunately, Edwards only portrays Winnie in three episodes out of the four seasons of "The Thundermans." All three of these appearances were in 2015, which is good because it was right around that time that Edwards landed her first long standing role in a popular TV series.
Edwards became a soap star as Nicole in The Bold and The Beautiful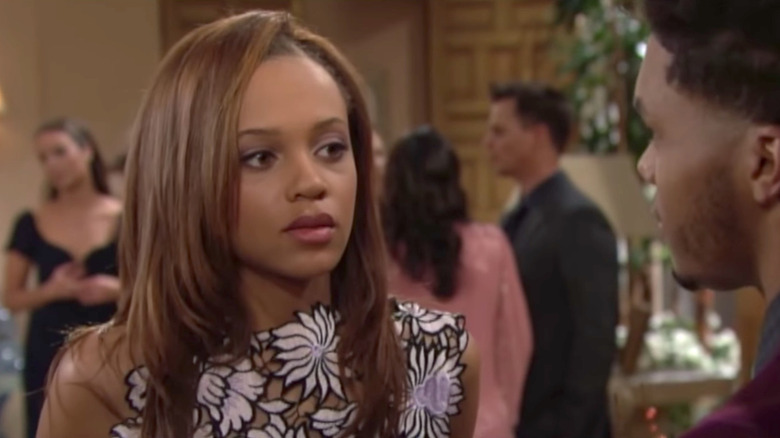 CBS
Starting in 1987, the CBS original soap opera, "The Bold and The Beautiful" — which itself is a spinoff of CBS' other soap, "The Young and The Restless" — stands as one of America's longest-running and popular soap series. Just like other decade-spanning drama franchises, the cast of "The Bold and the Beautiful" is often refreshed with new and interesting faces to add more drama in a series that otherwise might have gone stale long ago. In 2015, Reign Edwards got the chance to be one of these fresh faces, and so she became Nicole Avant, the younger sister of Maya Avant (Karla Cheathm Mosely).
Edwards stayed on as a regular cast member of "The Bold and The Beautiful" for three years. In that time, she received three separate Daytime Emmy nominations for Outstanding Actress in a Drama (via IMDb) while starring in over 270 episodes. Her character also changed quite a bit over those years, beginning by blackmailing her secretly transgender sister, but ending as the surrogate mother of her child and a close confidant. However, Edwards' time as Nicole in "The Bold and The Beautiful" would only be temporary. She left the series in 2018, but continued to utilize her talents in other corners of show business.
Reign Edwards took on Macgyver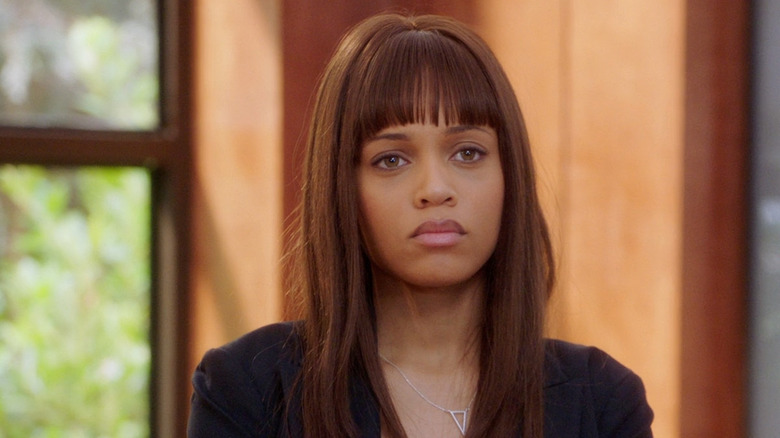 CBS
Up until 2017, Edwards' roles had all been dramatic. When she joined the cast of another classic CBS franchise however, this time as a character on the network's reboot of "Macgyver," all of that changed. Her "Macgyver" character, Leanna Martin had a more action-centric role in the story as a secret agent for both the CIA and the Phoenix Foundation. Leanna also had her own romantic subplot with Macgyver's (Lucas Till) best friend, Wilt Bozer (Justin Hires).
Edwards only appeared on "Macgyver" for two seasons before being written off. Though Edwards never gave any indication that she might return to the series, the chances of this occurring plummeted after Season 5, when it was revealed that Leanna had been killed during an off-screen mission. Thankfully, Edwards herself was already embroiled with another series under an entirely different network than CBS, and her role in this new series would be fuller and longer than anything else in Edwards' career.
Edwards found a new TV role in Snowfall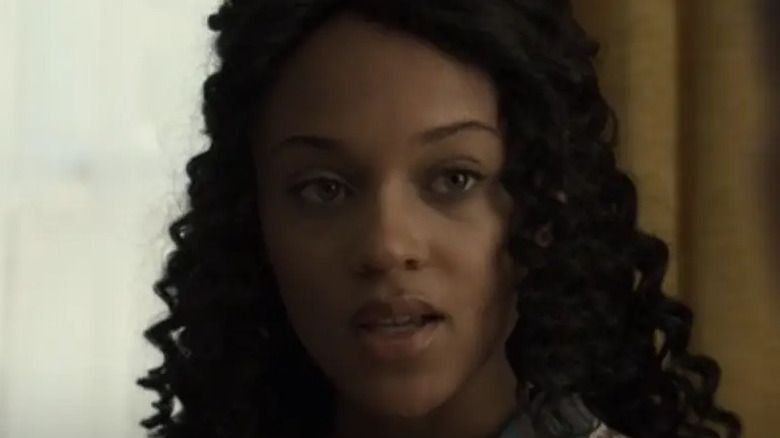 FX
Around the same time that Reign Edwards began appearing in "Macgyver," she also landed a role in the FX original series, "Snowfall." Centered around 1980s Los Angeles at the height of the crack epidemic, Edwards portrayed Melody Wright, the sometimes-love interest to Franklin (Damson Idris), and the daughter of his neighbor Andre (Marcus Henderson). Throughout the series, she struggles with drug addiction, even losing a scholarship over it.  
Like many other actors on "Snowfall," Edwards learned a lot about L.A. culture while filming the series. A Maryland native, Edwards went into the series unaware of certain Los Angel-isms. Thankfully her fellow cast and crew were there to help. "I think I learned a lot just being on set," Edwards said in a 2019 interview with Afterbuzz TV. "The history you guys have here is incredible. Just talking with Smokey, the history consultant, talking with Dub-C ... it's really cool to immerse yourself in it and just learn about everything. I love learning about history from our people."
So far, Edwards' character has been a part of every season throughout the series, and is likely going to return in its upcoming fifth. What role she has to play in these upcoming events, however, is yet to be determined.