Who Plays Emily On Yellowstone?
Taylor Sheridan's "Yellowstone" may have come to the table packing some pretty serious veteran star power with Kevin Costner in one of its lead roles, but the series also introduced audiences to a number of up-and-coming actors, as well. Brecken Merrill, for instance, made his acting debut in the series playing Tate Dutton, and although Forrie J. Smith (aka Lloyd Pierce), had a number of stunt and additional crew credits to his name, "Yellowstone" marked the first recurring speaking role for the Hollywood cowboy. With Season 4, the series added another relatively new face to its cast when it introduced the character of Emily — Jimmy's (Jefferson White) fiancée. 
As fans will recall, Jimmy met veterinarian Emily during his time learning how to cowboy at the Four Sixes ranch in Texas. The two began a relationship that was nearly cut short when Jimmy was called back to the Dutton ranch, but rather than give up on a good thing, Jimmy decided to propose. Unsurprisingly, the pair's decision to drive back to Montana together infuriated Jimmy's ex-girlfriend Mia (Eden Brolin), despite the fact that she'd ended things with the former Rodeo champ prior to his departure. Having finally had enough of the Yellowstone's toxic environment, Jimmy quickly decided to move back to Texas and make a life with Emily (with John Dutton's permission, of course). 
Just how much audiences will see or hear of the couple in Season 5 remains a mystery, but the character and subplot certainly left an impression on viewers. Perhaps that's because the actor who portrays the young vet, Kathryn Kelly, imbued Emily with a charisma and dimension that defies the actor's relatively slim level of experience. 
Kathryn Kelly started in Tennessee and ended up in Texas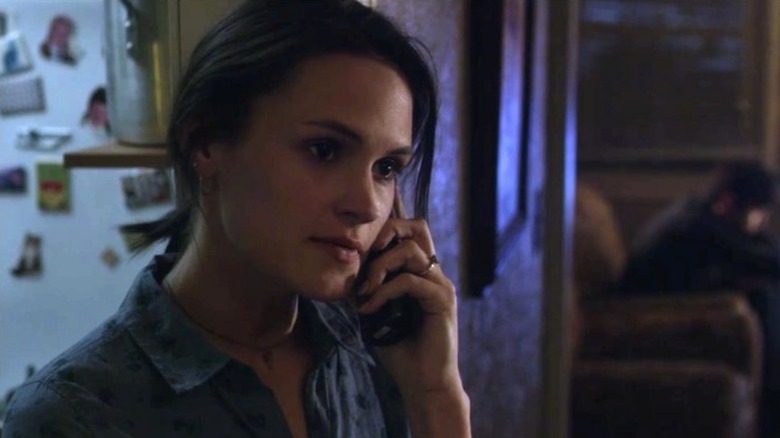 CBS/ Amazon Prime
By 2018, Kelly had landed a handful of uncredited appearances and small roles in various shorts, but her television career officially took-off with a recurring role in Season 6 of Callie Khouri's "Nashville." TNT's aptly-titled series followed the personal and professional ups and downs of a number of struggling country music artists in the genre's preeminent hotspot, and starred "9-1-1" and "The White Lotus" actor Connie Britton, as well as "Heroes" star Hayden Panettiere. 
Kelly joined the series in the Season 6 episode "Beneath Still Waters" and returned for three more episodes as Angela McPherson — the long-suffering wife of struggling singer and military veteran Sean McPherson, who suffers from PTSD. Though her husband begins falling for singer-songwriter Scarlett O'Connor (Clare Bowen), the latter ultimately rejects his advances and convinces him to make a go of it with his wife. Though her arc on the series was relatively short given the lengthy run that "Nashville" had on the network, it helped introduce the actor to a wider audience, and one that would, no doubt, have some interest in her next (also music-related) project, "Dolly Parton's Heartstrings." 
Yellowstone's Kathryn Kelly starred in Dolly Parton's Heartstrings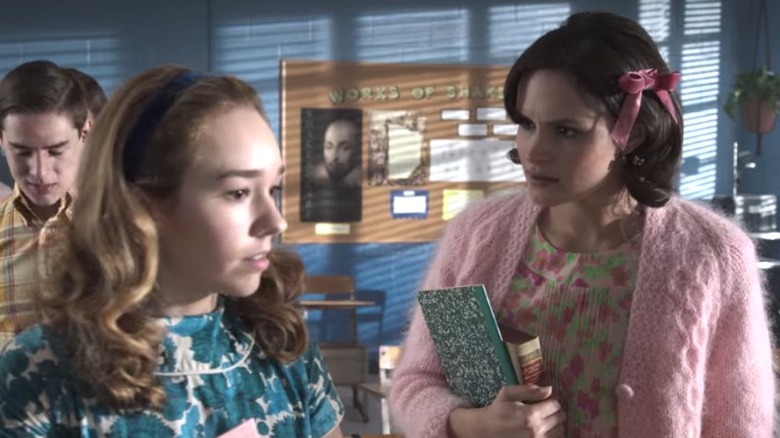 Netflix
In Netflix's "Dolly Parton's Heartstrings," eight of the Queen of Country's most influential narrative songs are transformed into a fictional reenactment, including one of her most courageous and controversial tunes, "Down from Dover." 
Despite its inclusion on Parton's commercially successful 1970 album, "The Fairest of Them All," the song received no radio play thanks to its taboo subject matter, about which the artist's manager warned her not to write (via Meet in Montauk). In the song, a teenage girl is abandoned by her family and rejected by society after she becomes pregnant out of wedlock, and waits in vain for the baby's father to return from Dover. The narrative ends tragically when the baby is stillborn, and the young girl realizes her former lover is never coming back. In its episodic incarnation, Kelly plays a classmate and friend of the song's young protagonist named Melissa Meeks, an academically-disinclined and upbeat character who doesn't understand why her friend seems so distracted. 
Despite having only a few credits to her name prior to being cast on "Yellowstone," it's clear the series was impressed by the fledgling star, and isn't quite finished with her endearing portrayal of the Texan vet. As Deadline reports, Kelly will return to Season 5 of "Yellowstone" as a series regular.