Kraven The Hunter Has Found The Perfect Chameleon Actor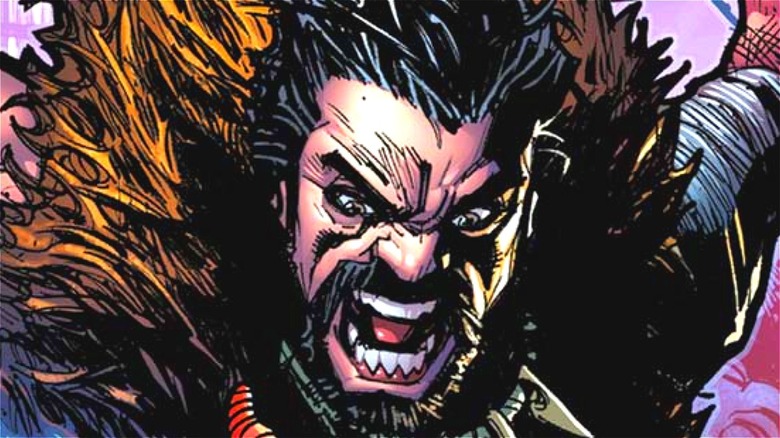 Marvel Comics
Sony seems confident that their Spider-Man-adjacent universe, which began with the Tom Hardy vehicle, "Venom," is their best path forward. Following the vampire-themed "Morbius," which is set to release in April starring Jared Leto, the studio will begin work on "Kraven the Hunter" with Aaron Taylor Johnson in the role of the titular Spider-Man villain.
While little is known about the project thus far, Kraven is known in the comics for being one of Spider-Man's all-time greatest enemies, and there's plenty of source material to draw from. Originally debuting in 1964 with "Amazing Spider-Man" Vol. 1 #15, Kraven is a Russian aristocrat and big game hunter who decides to hunt Spider-Man after realizing that animals no longer pose a challenge for him. Later, he teams up with Doc Ock, Green Goblin, and other classic Spider-foes as a member of the Sinister Six. Later, the "Ultimate Spider-Man" comic book series rebooted the character, re-envisioning him as an Australian reality TV star: This version of Kraven travels to New York to hunt Spider-Man as part of a publicity stunt to revive dwindling TV ratings. Perhaps the most iconic version of the character was the grizzled, darker depiction of him in the arc "Fearful Symmetry: Kraven's Last Hunt," where he buries Spider-Man alive and assumes his identity.
There is one notable constant in the Kraven mythos, and that's his half-brother, Dmitri Anatoly Nikolayevich Smerdyakov, aka the Chameleon, variably depicted as either a master of disguise or a full-on shapeshifter. Chameleon has also been a fearsome foe of Peter Parker since the beginning, and his form-altering powers make him difficult to see coming, even with a well-tuned Spidey-sense. However, we know now exactly who he'll look like in "Kraven the Hunter," as the role of Chameleon has just been filled by a rising star.
White Lotus alum Fred Hechinger will play Kraven's brother, Chameleon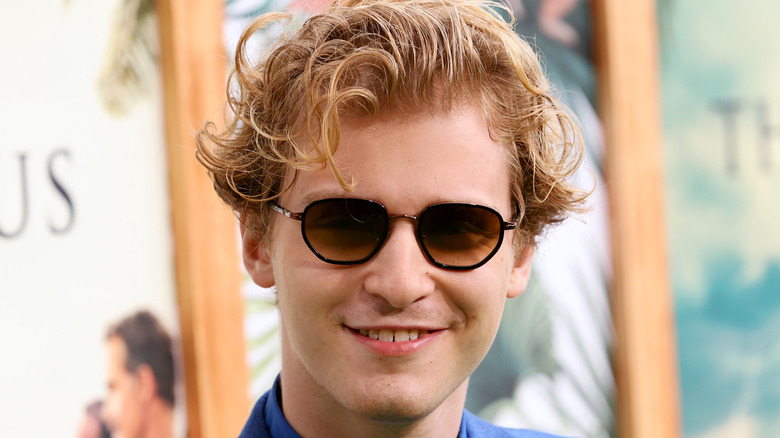 Kevin Winter/Getty Images
"Kraven The Hunter," Sony Pictures' next spin-off set in the monstrous world of "Venom," has added Fred Hechinger, a breakout star from HBO's "The White Lotus," to its cast in the role of Chameleon, Kraven's brother (via Deadline). 
Hechinger played a sullen and cynical teenage boy on the HBO show, which skewered the mannerisms of the upper class as it followed a cast of society's upper crust through a disastrous week at a Hawaiian resort. With out-of-touch mogul parents played to absurdist perfection by Steve Zahn and Connie Britton, Hechinger's technology-addicted — and possibly friendless — character was an instant hit with viewers of the surprise hit show, in which he appeared alongside "Euphoria" star Sydney Sweeney. Hechinger has been racking up the gigs since then, with his most recent project being "Pam & Tommy" on Hulu, a comic adaptation of the public sex scandal involving Pamela Anderson and Tommy Lee. There, the young star appears alongside Sebastian Stan, Lily James, and Seth Rogen. He is currently working on Scott Cooper's "The Pale Blue Eye" with Christian Bale.
With such a broad range, it's only fitting that Hechinger will be taking the role of a master shapeshifter. The Sony Spider-Man Universe is filling up with the wall-crawler's most dastardly enemies, and at this point, it seems like only a matter of time before they come pouring through the multiverse in search of him.