The Elsa Details In 1883 Season 1 Episode 9 That Make No Sense To Fans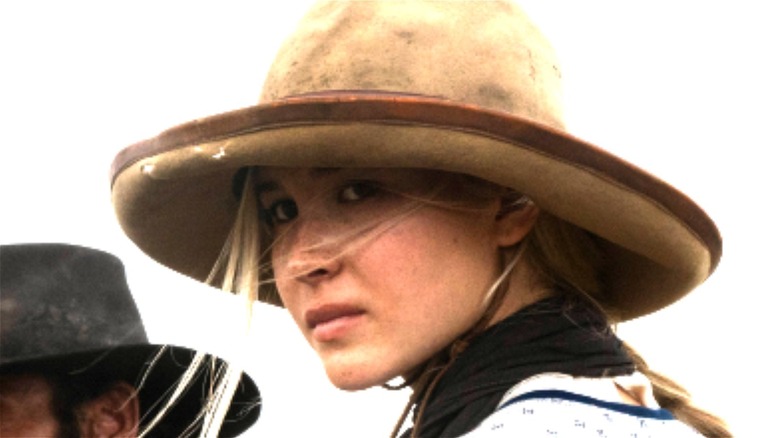 Emerson Miller/Paramount+
Whereas new episodes of "Yellowstone" air on cable TV, spinoff prequel "1883" is a streaming service exclusive, with new episodes premiering weekly on Paramount+. As its title suggests, "1883" takes place decades in the past relative to "Yellowstone," which more-or-less takes place in our present. So, viewers interested in the full, multi-generational Dutton family story must now tune into the mainline series with a traditional TV subscription and its prequel on its streaming service home.
One character viewers meet in the "1883" Season 1 premiere is Elsa Dutton (Isabel May), daughter of the prequel series' family patriarch James Dutton (Tim McGraw). Over the course of the show, Elsa has been at the center of a few different mysteries, including, for example, a question of whether or not she may be pregnant posed mid-season. Episode 9 notably resolves an Elsa plot thread established in Episode 1, which had flashed forward to what appeared to be a threat to Elsa's life. While "1883" viewers now know more about the nature of that threat, Episode 9 likewise features a controversial Elsa detail that some viewers took to Twitter to criticize.
Some 1883 fans thought Elsa's hair and outfit spoke to a lack of realism
In the wake of "1883" Season 1 Episode 9 airing, self-described professional rodeo announcer Jared Slagle posted a screenshot of Elsa taken from Episode 9 to his personal Twitter account with the caption "I don't know who needs to hear this but. You wouldn't have never seen anything like this on the plains in #1883." In a follow-up Tweet, Slagle explained that her "braids and skins" — referring to her hairstyle and a colorful vest she sports in the photo — are not realistic for the time period in which the series takes place.
In response, user @aggiefuzzyfan agreed, commenting "True, but makes for good tv." Meanwhile, user @AreWhyEhInRyan replied with a different moment from the episode they found to be an indicator of its lack of realism, recounting how "in that same episode the Native cuts open a Buffalo and rips its clean heart out within 6 seconds of it dying." In another reply, user @adriannareads riffed on the modern look of her Episode 9 outfit, joking that "she's going to Coachella!"
While Elsa's appearance in Episode 9 is seemingly anachronistic, her storyline is not just central to the series, but fuels a cliffhanger leading into the season finale. Fans will find out where Elsa ends up at the season's conclusion when the final episode of "1883" Season 1 premieres to Paramount+ on February 27.