The Chicago Med Star You Might Have Missed On Agents Of S.H.I.E.L.D.
It's been a while since "Agents of S.H.I.E.L.D." wrapped up its impressive seven season run back in 2020 — but during the show's time on the air, it built up a dedicated fan-base which helped keep the memory alive. By the time it aired its final episode, "Agents of S.H.I.E.L.D." gained a 91% audience score on Rotten Tomatoes, while also holding a 95% critic rating on the aggregate site. That's pretty impressive considering how, even now, the characters and mythos established in the show have been held at an arm's length from the mainline Marvel Cinematic Universe, thanks to the old divide between Marvel Television and Marvel Studios.
On the other hand, maybe that wasn't such a bad thing — it allowed the show to go in some bonkers directions, far away from the typical MCU adventures. It also allowed "Agents of S.H.I.E.L.D." to really flesh out some lesser-known characters, like Daisy Johnson, aka Quake (Chloe Bennet), who received a fascinating storyline tied to both the Inhumans and the Kree — two notable alien races from Marvel Comics, known for their cosmic squabbles.
As for the Kree, while they have been seen on the big screen thanks to the likes of "Guardians of the Galaxy" and "Captain Marvel," it was "Agents of S.H.I.E.L.D." that explained how they've meddled with the evolution of the human race over the years. Season 5 sees the team trapped in a huge bunker ruled by the Kree in a post-apocalyptic future, after the Earth has been destroyed. And the big bad of that season is played by one of the best performers from "Chicago Med."
Dominic Rains plays Kasius, the leader of the Kree Watch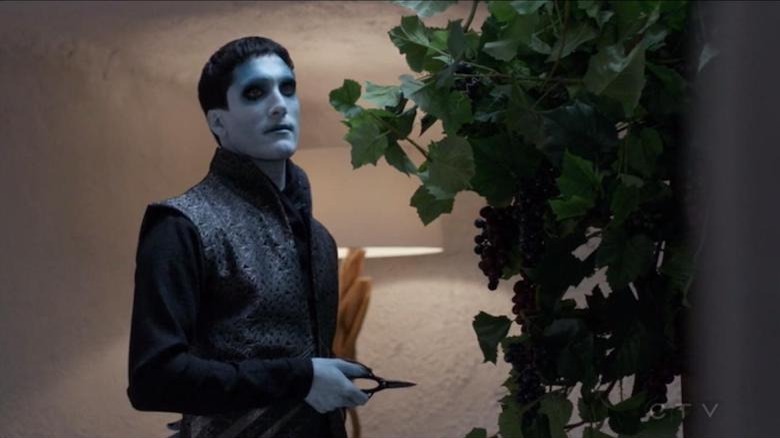 ABC
Marvel fans will know that Kasius is the main villain in "Agents of S.H.I.E.L.D." Season 5, where he was played by Dominic Rains. In the series, the team goes up against the leader of the Kree Watch because he forces the last remnants of humanity to live in squalor, as slaves for the aliens — and he constantly berates them by saying they're lucky to still be alive. He's drunk on power, and has bigger aspirations in the Kree Empire, so wants to leave the Lighthouse. 
Even though Rains is only in eight episodes of Season 5, he easily cements himself as one of the most interesting villains of the series. However, as good as Rains is in this Marvel role, the part for which many TV viewers most recognize him from is that of the charismatic Dr. Crockett Marcel in "Chicago Med." 
The star joined "Chicago Med" back in 2019 for Season 5, and he has been a huge part of the series ever since, having starred in over 40 episodes so far (via IMDb). The Chief Surgical Resident is a bit rebellious when it comes to carrying out certain procedures, largely because he has faith in his own abilities — as well as being slightly egotistical, to say the least. Crockett also has some pretty rough edges when it comes to his love life — he even kisses Pamela Blake (Sarah Rafferty) in Season 7, even though he's dating her daughter, Avery Quinn (Johanna Brady), a scene that many viewers felt went too far. In regard to that plot point, executive producer Diane Frolovhas told TV Line, "I think it's pretty clear that Crockett is attracted to Blake and also to her daughter." Well, that's awkward — but at least they're not trapped in space!