15 Best Civil War Movies Of All Time Ranked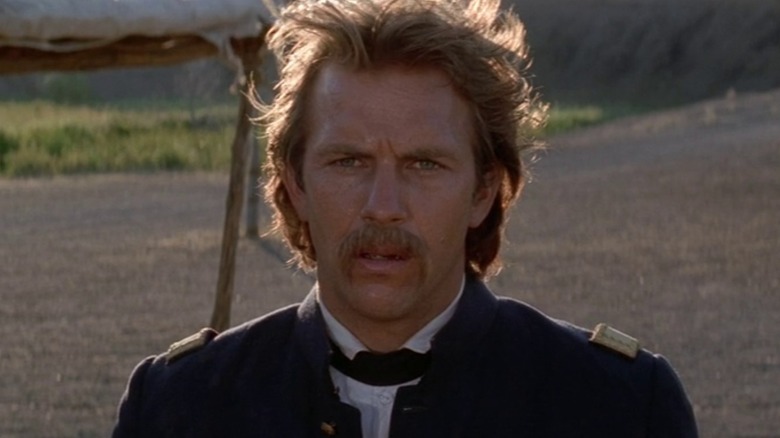 MGM
There's no doubt that the American Civil War was one of the bloodiest periods in American history. As the nation tore itself apart, brother against brother, it became a mythic breeding ground for the Western frontier that would soon follow. In the battle against slavery, countless men died so that the country could be unified once more, even if it was only in name. Since then, there have been dozens of exceptional tales set during the Civil War that have inspired American audiences to make a difference, to witness the horrors of war (even a just one) for what they are.
Here we've put together a list of some of the greatest films set during the American Civil War. Some are Westerns, some are war dramas, some are Hollywood epics, but all share a common theme and period setting that make them worth watching for any Civil War or American history buff.
15. The Conspirator (2010)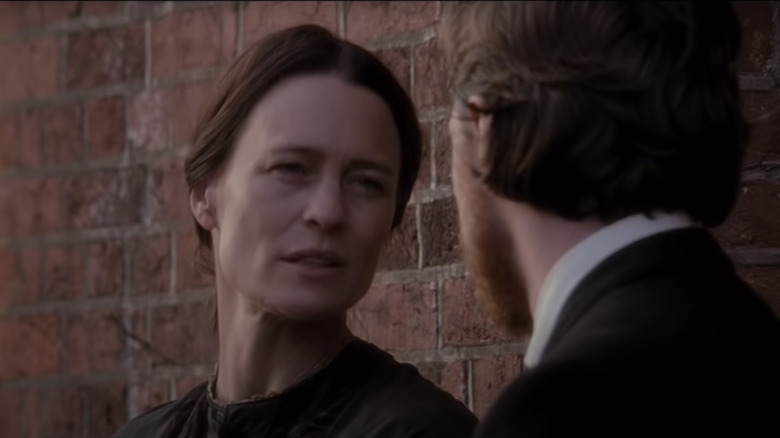 Universal
Not every great Civil War story takes place during the war itself, and "The Conspirator" is only further proof of it. Directed by Academy Award winner Robert Redford, "The Conspirator" follows the trial of Mary Surratt (Robin Wright), who was the only woman charged for the assassination of Abraham Lincoln — as well as the first to be executed by the United States. Surratt's story is powerful, and Wright's performance just as heavy as the subject matter itself. Alongside her stands James McAvoy as the young war hero and lawyer Captain Frederick Aiken, who quickly becomes Surratt's defense attorney after a conflict of interest arises. As he fights for his client's rights, Aiken comes to believe in Surratt's innocence.
The film excellently combines the mystery of the Lincoln assassination with the intensity of a courtroom drama, making Redford's film one of the most unique Civil War pieces on this list. While there may not be a whole lot of action or battle sequences here, "The Conspirator" is just as powerful as any other tale from the American Civil War.
14. Ride with the Devil (1999)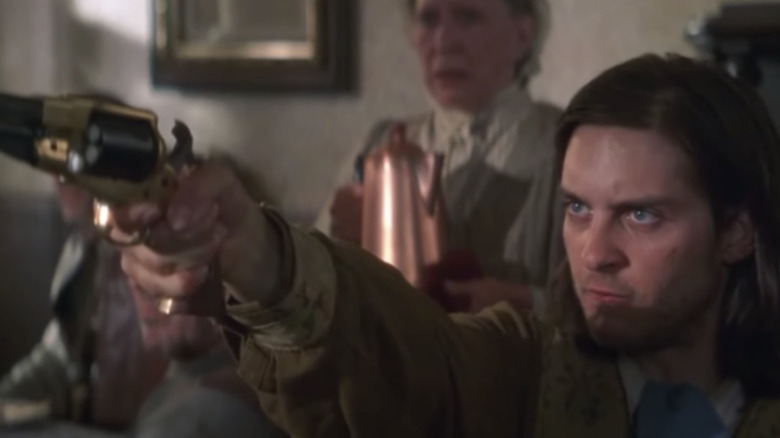 Focus Features
A Revisionist Western from Ang Lee, "Ride with the Devil" is not your traditional Civil War story by any means. For one, the main characters are pro-Confederacy Bushwhackers who initially try to take out as many "Jayhawk" Northerners as they can. It gets a bit stranger, though: The film actually features a freed slave named Daniel Holt fighting alongside Confederate soldiers, played wonderfully by Jeffrey Wright. But the main star of this show is most certainly Tobey Maguire, who plays German-American immigrant Jake Roedel. Alongside Roedel is his best friend Jack Chiles, played by Skeet Ulrich, who he follows in joining the First Missouri Irregulars to seek revenge on the Northerners who killed his father.
"Ride with the Devil" isn't all bloodshed though, and proves that even in the trenches of war there can still be love and goodness. This is primarily seen through the boys' relationship with Holt (who becomes especially good friends with Roedel) and the young widow Sue Lee Shelley, played by singer-songwriter Jewel in her first film role. As Roedel journeys across the American South and Midwest, he slowly comes to terms with his own life and future, standing up against unnecessary violence and villainy.
13. Cold Mountain (2003)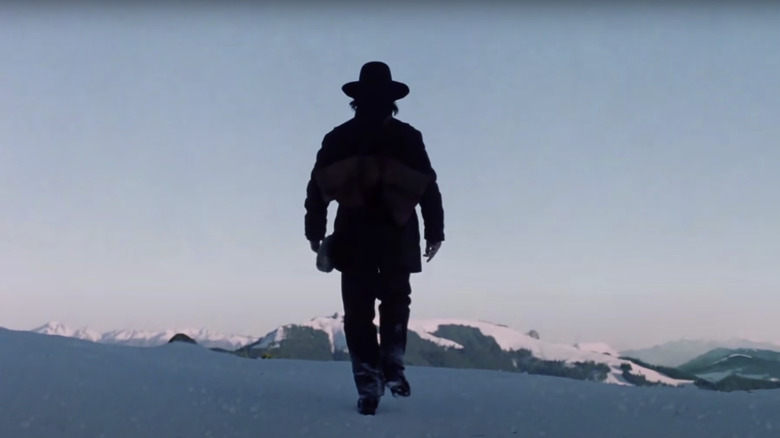 Miramax
If you're looking for an epic Civil War love story, one that's filled with lots of danger, excitement, and suspence, then "Cold Mountain" is the movie for you. This film, based on the best-selling novel of the same name, follows Confederate deserter W.P. Inman who leaves the battlefield to return home to his true love. With the complex Civil War backdrop, "Cold Mountain" is ultimately a story of survival and willpower as Inman (played by Jude Law) treks from Virginia back to North Carolina. No matter the elements or the Confederate soldiers on his tail, Inman has only one goal in mind, making him one of the more relatable protagonists on this list. This isn't even to mention the impressive (and brutal) recreation of the historic Battle of the Crater.
Back at Cold Mountain, Nicole Kidman shines as Inman's love Ada Monroe, a woman on the brink as she cares for her dying father and tries to maintain his land singlehandedly. Thankfully, she isn't alone — Ruby Thewes is here to help, in a performance that earned Renee Zellweger an Oscar for Best Supporting Actress. It remains one of the most compelling Civil War stories, and raises the question: What would you do if you were forced to fight in a war you didn't believe in?
12. The Horse Soldiers (1959)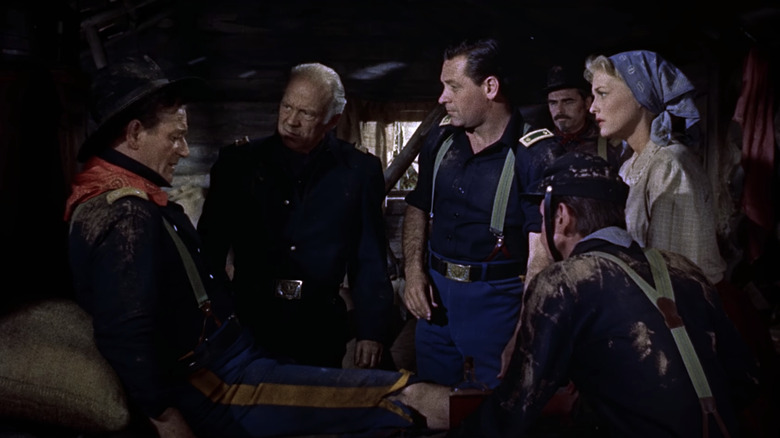 United Artists
Enough with the Confederate stories — "The Horse Soldiers" is a patriotic war film that brings together two of Hollywood's most frequent Western collaborators: John Wayne and director John Ford, who made 20 different movies together. Wayne stars as Union cavalry leader Colonel John Marlowe, a man always on a mission — only to fall in love with a Southern belle. Opposite the Duke stands the magnificent William Holden, who plays conflicted Major Hank Kendall, the unit's doctor who struggles between his Union convictions and the brutality of the war. As their cavalry attempts to short circuit the Confederate supply chain, Marlowe and Kendall remain at consistent odds, though they strive to better understand each other as the story comes to a close.
While "The Horse Soldiers" might not be the most historically accurate film on this list (even if it's loosely based on Grierson's Raid), it remains an exciting film reminiscent of a bygone era in Hollywood. As the film closes, the Duke leads his men onto Baton Rouge, as confident as ever that he'll be there when the war ends for good.
11. How The West Was Won (1962)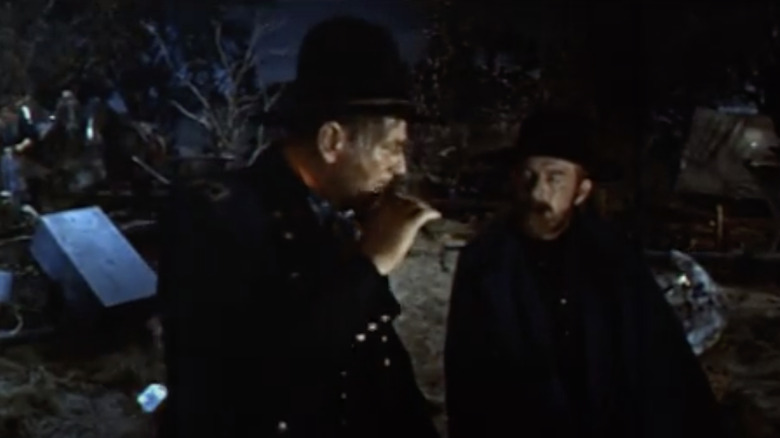 MGM
Another Western epic that was directed in part by John Ford and George Marshall (though Henry Hathaway directed the majority of it), "How the West Was Won" mythologizes the American frontier in five parts: The Rivers, The Plains, The Civil War, The Railroad, and The Outlaws. Of course, The Civil War is the section we're interested in here, which reunites director Ford with John Wayne, who plays the historical General William Tecumseh Sherman. While the whole film is exceptional, The Civil War section stands apart, covering the bloodiest era in American history as well as this epic could.
The film itself spans from 1839 through 1889 and covers the vast history of the Prescott/Rawlings family (headlined by James Stewart himself) as they conquer the western landscape to settle on their own homestead. As the decades continue on, the West only gets tougher, and Zeb Rawlings (George Peppard) is forced back into violence. The Civil War section is especially heartbreaking, as Zeb's father dies on the same battlefield he fights on, just without him knowing. Such are the horrors of war.
10. The Red Badge of Courage (1951)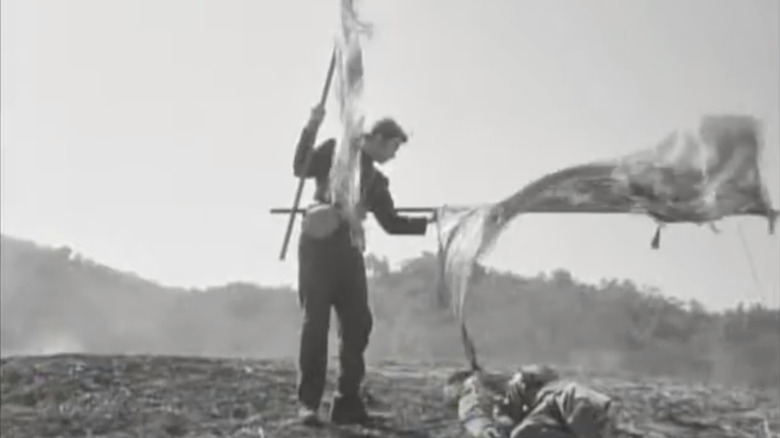 MGM
This 1950s classic was one of the darker looks at the Civil War, in an age where most war films were filled with blind patriotism and an pacified view of war violence. "The Red Badge of Courage" took a daring stance by focusing on the deteriorating mental state of Union soldier Henry Fleming, as he strives to survive the seemingly endless war. Fleming quickly deserts his outfit in the middle of a battle, which sends him on a journey of self-discovery and survival. As he contemplates his actions, Fleming's shame forces him to return to his unit and eventually fight valiantly in battle.
What makes this film a bit more interesting is that Audie Murphy, who played Fleming, was actually a World War II veteran before pursuing acting. In fact, he was one of the most decorated soldiers of the war. It was Murphy's experience overseas, and the PTSD he suffered afterwards, that contributed heavily to his exceptional performance as Henry Fleming, making it less of a performance and more of a harsh reality.
9. Gettysburg (1993)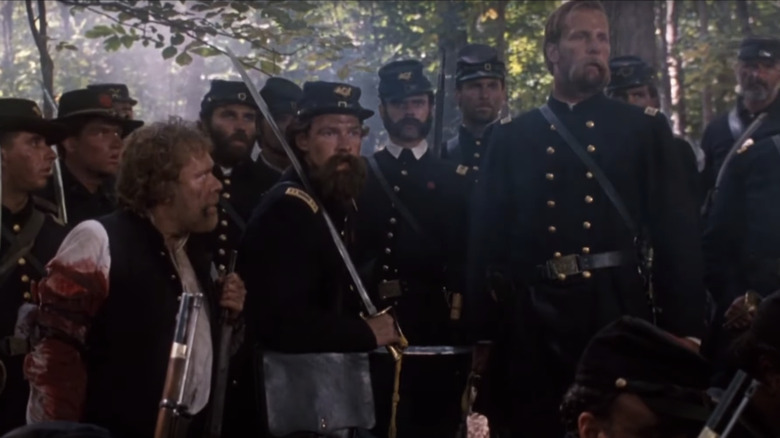 New Line Cinema
Directed by Ronald F. Maxwell, and one of three different Civil War films he helmed, "Gettysburg" is an epic war film all about one of the most important battles in American history. Originally envisioned as a miniseries, "Gettysburg" became a four-hour drama that retold the three day battle for the small Pennsylvania town. This film has one of the most remarkable casts of any war film, including Tom Berenger as Confederate Lt. Gen. James Longstreet, Martin Sheen as Gen. Robert E. Lee, Stephen Lang as George Pickett, C. Thomas Howell as Union Lt. Thomas Chamberlain, Sam Elliott as John Buford, and Jeff Daniels in an incredible performance as Col. Joshua Chamberlain.
In a historically accurate and respectful adaptation of these bloody events, "Gettysburg" follows three different perspectives through the lenses of Joshua Chamberlain, John Buford, and James Longstreet in an effort to be as truthful as possible. The film was actually shot at Gettysburg itself (now a National Park) and featured several Civil War reenactors, and even PBS documentarian Ken Burns in a cameo role.
8. The General (1929)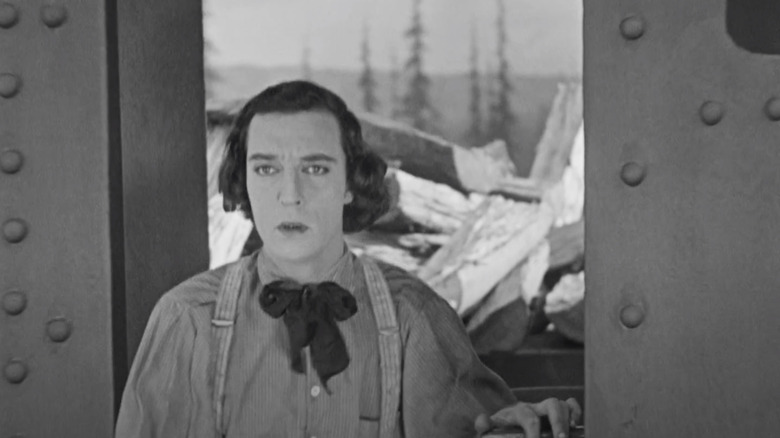 United Artists
You know a movie's good when Orson Welles himself calls it both "the greatest comedy ever made" and "the greatest Civil War film ever made" (per the BFI). "The General" is an exciting 1920s comedy that was inspired by the true events surrounding the "Great Locomotive Chase" military raid that occurred in 1862. Buster Keaton (who also co-wrote and directed) is hilarious in his role of Southern railroad engineer Johnnie Gray, a man who desperately wants to impress his true love Annabelle, even if he can't do it by joining the war effort. After his train is overtaken by Union spies, and Annabelle is taken prisoner, Johnnie must do everything he can to get back his train and his love.
In some genius moments of comedic timing and physical gags, "The General" is Buster Keaton at his peak. Between chasing after his runaway train and sneaking into a family's house for some dinner, he gets it all right and makes us laugh in doing so. Plus, this film is now in the public domain, which means that anyone can watch it online free of charge.
7. Dances with Wolves (1990)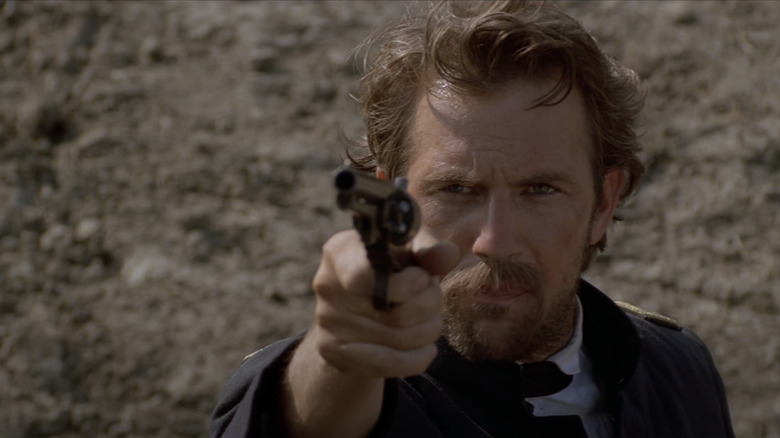 MGM
Another non-traditional Civil War story, "Dances with Wolves" heads firmly West when 1st Lieutenant John Dunbar is given his dream assignment following his attack on Confederate lines. This Union soldier is sent to one of the furthest outposts the frontier. As Dunbar interacts with the Pawnee, Sioux, and some pretty terrible Union officers, he grows a love for the Native American people and does his best to protect the Sioux from any further harm at the Union's hand. Kevin Costner, who both directed the film and stars as Dunbar, gives possibly his greatest performance here, as a man of the edge who is adopted by his apparent enemy. It's an exciting story, with much of the dialogue being spoken in Lakota.
Sure, it's not your classic Civil War battle film, but "Dances with Wolves" is set during the same timeframe, and that's what makes it a Civil War story. The incredible cast, which includes Mary McDonnell, Graham Greene, Rodney A. Grant, and Floyd Red Crow Westerman, and Costner's clever direction make this one of the greatest Westerns ever made. It's no wonder it won seven Academy Awards, including Best Picture.
6. Shenandoah (1965)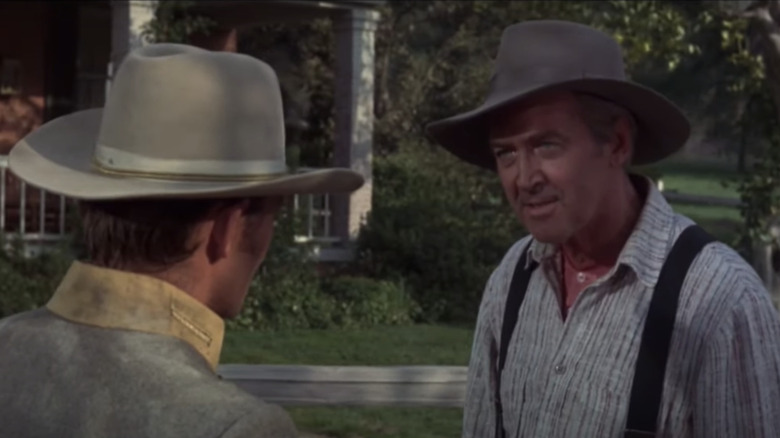 Universal
"Shenandoah" is the story of a neutral family and how they quickly become casualties of war. James Stewart stars as family patriarch Charlie Anderson, who lives with his six sons, daughter, and daughter-in-law on their family varm in good old Virginia. Anderson, a widower still wrestling with the death of his wife, does his best to keep his family together, and keep them from the impending war effort. All's great until one of Anderson's sons is taken, forcing him to travel to both Union and Confederate soldiers in search of his lost Boy (yes, that's actually his name). Of course, all doesn't go as planned, and more members of the Anderson family are lost in the struggle — but like all great Stewart films, things eventually work out in the end.
This James Stewart classic was released around the time the United States entered the Vietnam War, and though it was about the Civil War, an anti-war themes seemed real timely for domestic audiences. "Shenandoah" easy features one of Stewart's greatest performances on screen — it's no wonder it's still considered a classic to this day.
5. Little Women (2019)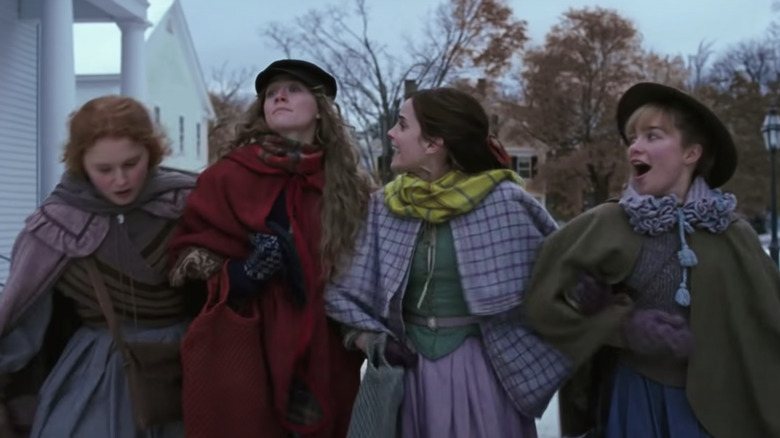 Sony Pictures Releasing
"Little Women" is set in the time period surrounding the American Civil War, and just because the girls don't run off to join the war effort doesn't mean their story is any less important. Retelling the famous story by Louisa May Alcott, director Greta Gerwig managed to put a unique, non-linear spin on the story of the March sisters. While their father is off fighting in the Civil War, Jo, Meg, Amy, and Beth continue to live their lives, slowly maturing from childhood to adulthood. A period accurate representation of the lives of these "little" women while fathers and sons were off to war, "Little Women" is phenomenal and will pull on almost every heartstring.
Just like "Dances with Wolves," "Little Women" tells a different sort of story set during the backdrop of the Civil War, one that is still beloved and retold to this day. Saoirse Ronan's portrayal of Jo is absolutely electrifying, and Emma Watson, Florence Pugh, Laura Dern, Timothee Chalamet, and Meryl Streep all bring remarkable talents to their roles. Even if Louisa May Alcott didn't realize the classic she had on her hands, we certainly know it now.
4. Lincoln (2012)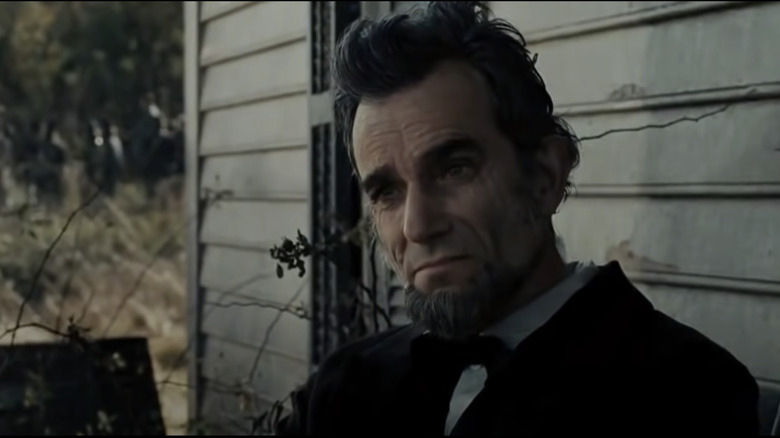 DreamWorks
It would be impossible to put together a list of the greatest Civil War films without mentioning Steven Spielberg's triumphant "Lincoln" biopic. Daniel Day-Lewis shines brightly as the best actor to ever portray the 16th President of the United States, making everyone else quake in their stovepipe hats. This film is a masterpiece, and a masterclass in how to bring political drama to life. Sure, it might be a bit heavy-handed with the politics at times, but what more could you expect from a film about a lawyer-turned-President? 
Aside from Day-Lewis, "Lincoln" features an equally impressive cast that includes Sally Field, Joseph Gordon-Levitt, Adam Driver, Jared Harris, David Strathairn, Tommy Lee Jones, Lee Pace, James Spader, Tim Blake Nelson, and Jackie Earle Haley, all who hit their marks to perfection. Regardless of the clear lack of Civil War action (or really any epic battle sequences), "Lincoln" is the most important Civil War story to ever be told, and one that we're thankful for to this day.
3. The Outlaw Josey Wales (1976)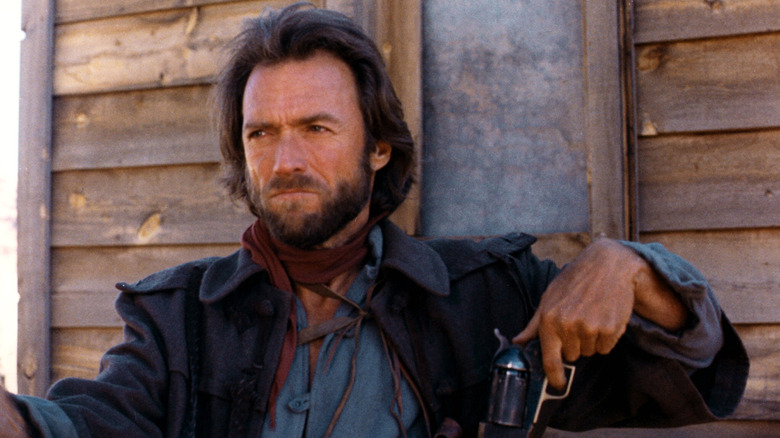 United Archives/Getty Images
Clint Eastwood's version of a Civil War film quickly turns into a Revisionist Western, but we're not complaining. After the death of his wife and child at the hands of pro-Union Redlegs, Josey Wales joins a gang of Confederate Bushwhackers who are eventually killed off by the merciless Union Captain Terrell. Well after the war is over, Wales keeps fighting, and running from Terrell's reach, only to confront his nemesis on the battlefield. At first glance, "The Outlaw Josey Wales" isn't much of a Civil War picture at all — but upon further inspection, it's clear that Wales wouldn't have existed without the war, and it's because of the brutality of it that the events of the film occur in the first place.
The combination of Eastwood's classic Western aesthetic, both in front of and behind the camera, and the tortured revenge story itself make "The Outlaw Josey Wales" one of the most intense Civil War stories out there. While some may prefer "The Good, The Bad and the Ugly," there's no doubt that "The Outlaw Josey Wales" is the more personal, more tragic of those two Eastwood tales.
2. Glory (1989)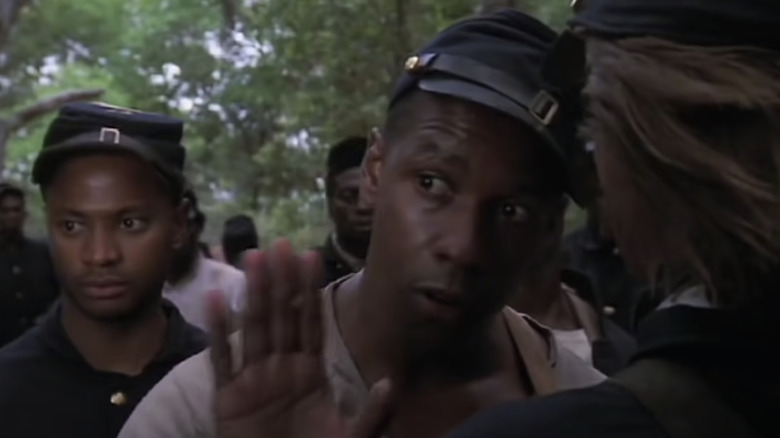 Tri-Star Pictures
Many folks count "Glory" as the greatest Civil War film out there, and it's tough to argue against that. With masterful performances from Matthew Broderick, Denzel Washington, Morgan Freeman, Cary Elwes, and Andre Braugher, and some of the greatest battle reenactments ever to be filmed, "Glory" is a true triumph. It's no wonder that Washington earned his first Oscar for Best Supporting Actor in this one. Chronicling the story of Robert Shaw and the first African-American regiment to be inducted into the United States military, this powerful story of courage, honor, and (we'll say it) glory is one that will stick with you long after the credits end.
Beside the famous "no pay" or flogging scenes, probably the most memorable moment takes place near the end, just before they head into their final battle for Fort Wagner. Here, Shaw takes a moment to look out over the ocean, only to turn back to the impending battlefield. It's truly breathtaking.
1. Gone With the Wind (1939)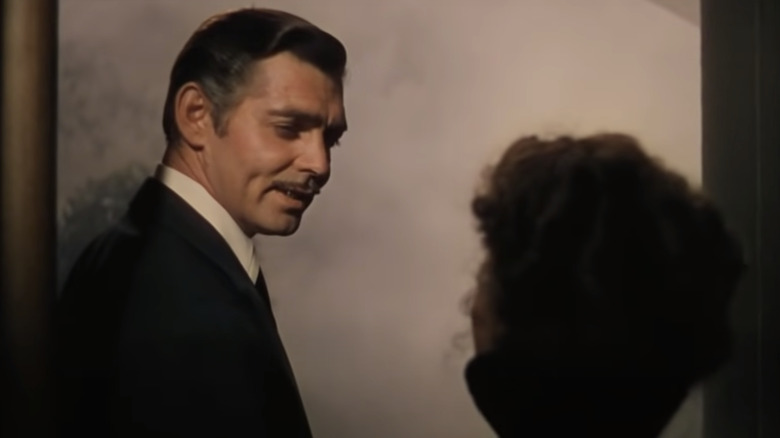 MGM
The most famous, most influential, and nearly the longest Civil War film ever made is undoubtedly "Gone with the Wind." While parts of this film may certainly be problematic, there's a reason it's withstood the test of time. Set during the Civil War and the post-war Reconstruction, the film follows the terribly unlikeable Scarlett O'Hara, the daughter of a Georgia plantation owner. As this epic historical romance gets going, her on-again, off-again with the dapper Rhett Butler (who has his own serious issues to be sure), who ultimately has the last (and more famous) word at the end.
"Gone with the Wind" is a bit of a mixed bag though. For all it's work to make the Old South seem "not so bad" and villainize the Northern Union, the film also began a change the way Hollywood portrayed African-Americans on screen. For all the Academy Awards the film received, the most important was  Hattie McDaniel's Best Supporting Actress win, which made her the first Black actress to ever win an Oscar.