The Oscar-Winning Historical Drama Jane Fonda Regrets Passing On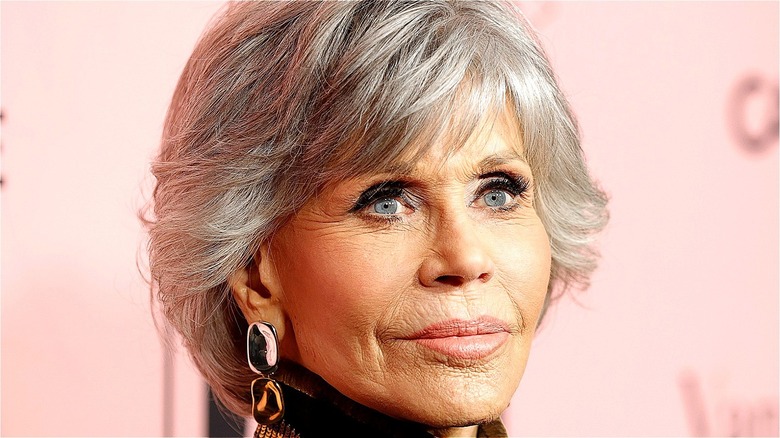 Amy Sussman/Getty
When your father is one of the most well-respected, and best-loved actors in the history of cinema, your career path sort of seems pre-determined. It was no particular surprise then that Henry Fonda's daughter Jane sought to make her own mark on showbiz. It was even less a surprise that Jane would blaze her own trail as an actor, carving out a decades-long career spotted by all manner of awards, accolades, and yes, a fair amount of controversy.
Along the way, Fonda has, of course, also become one of the most revered actors, activists, philanthropists, and fitness gurus of the modern era. And she's done so behind a "devil may care" mentality that might lead one to believe she has few regrets about either her life or her career. Seems Fonda has admitted to making at least one career gaffe, however, with the actor admitting in a 2015 interview on "The Ellen DeGeneres Show" that she'd actually passed up the chance to star in one of the greatest historical dramas ever produced. 
Jane Fonda turned down the lead role in Doctor Zhivago
Jane Fonda confirmed as much during a Q&A session in which host Ellen DeGeneres read questions from her studio audience. One of those questions asked pointedly, "Any films you passed on making that you regret today?" And Fonda was indeed quick to answer: "Doctor Zhivago." She went on to state, "I was asked and I turned it down. Can you believe that?" Behind her signature dry wit, Degeneres reassured her legendary guest, "You did some other good stuff. It's alright." 
One look at Fonda's IMDb page will confirm as much. Fonda has earned seven Academy Award nominations throughout her career, and has even nabbed a pair of best actress wins. She'd also go on to front some of the most lauded films of the '70s, '80s, and beyond, and recently scored a streaming hit with the Netflix comedy "Grace and Frankie."
As for which role Fonda was being eyed for in "Doctor Zhivago," she doesn't say exactly. But it's hard to imagine that the producers of David Lean's 1968 historical drama would've wanted her in any role but the leading part of Lara Antipova, which eventually went to another icon of the era: "Don't Look Now" star Julie Christie. Christie more than made the most of the moment too, delivering a star-making turn in the sweeping romantic drama about the hardships endured by the titular Russian doc (Omar Sharif) during World War I and Russia's October Revolution. Still, even Christie fans might admit that Fonda would've slayed in that role, as well.