The American Pickers Crew Member Who's More Qualified Than We Realized
Part of the joy of watching "American Pickers" comes from seeing how adept the show's various experts are at finding high-quality items and vintage artifacts in even the dirtiest or most daunting of junk piles. The popular reality show premiered on the History Channel all the way back in 2010, and for the first 21 of its seasons, the series followed Mike Wolfe and Frank Fritz as they teamed up to go on various trips around the United States in search of whatever hidden treasures they could find. '
Over the years, both Wolfe and Fritz have not only showcased their own extensive knowledge about collecting and reselling but have also used "American Pickers" to spotlight other experts who happen to be interested in many of the same fields as them. Of course, while none of the show's guest experts have managed to outshine either Wolfe or Fritz yet, some have made bigger impressions on viewers than others.
With that in mind, "American Pickers" fans may be surprised to learn just how qualified and knowledgeable one of the show's experts really is.
Jersey Jon has been restoring antiques for decades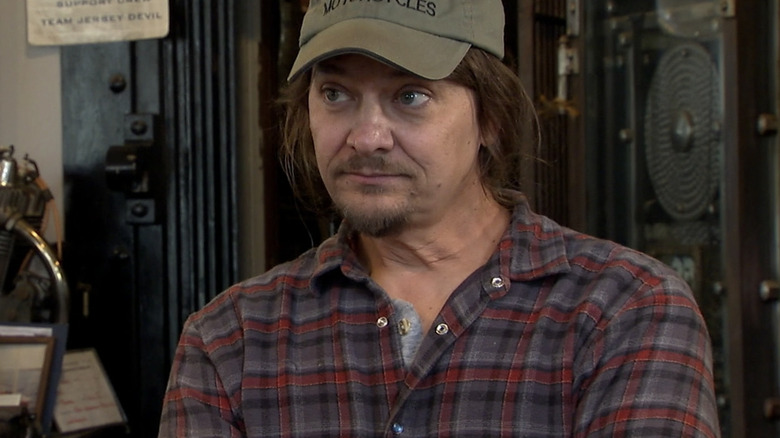 History
Most "American Pickers" viewers will know Jon Szalay better as "Jersey Jon." He was first introduced to fans in Episode 6 of "American Pickers" Season 7, titled "Sturgis or Bust," but has since appeared in 16 other installments of the series (via IMDb). An expert in 1900s motorcycles, Jersey Jon has emerged over the years as a fan-favorite supporting player on "American Pickers," impressing both the show's stars and those watching at home with his expertise.
To his credit, Jersey Jon acquired all his knowledge through plenty of hard work and dedication to his craft. Indeed, Szalay has been working as a professional craftsman and restorer since he was just 12 years old (via Antique Motorcycle Foundation). While growing up in South Jersey, Szalay found a passion for woodworking early on in his life, and by the time he was 17, he had earned enough money by restoring furniture to purchase a building for his business, which he did. Years later, in the 1980s, he began to focus more on antique motorcycles and found himself increasingly interested in acquiring and restoring the engines that powered many late 19th century and early 20th century motorbikes.
One of the motorcycles that Szalay went on to restore was chosen to be shown in a Guggenheim exhibition, and he eventually developed a talent for making replica carburetors. Over the years, his work has attracted the attention of clients from all across the country, and he even participated in the pre-1916 Cannonball Motorcycle Rally — just in case his previous accomplishments weren't already impressive enough.
All of this is to say that Jersey Jon is even more experienced with restoring antiques than "American Pickers" fans might have previously thought.