The Small Stargate Detail You Missed In Space Force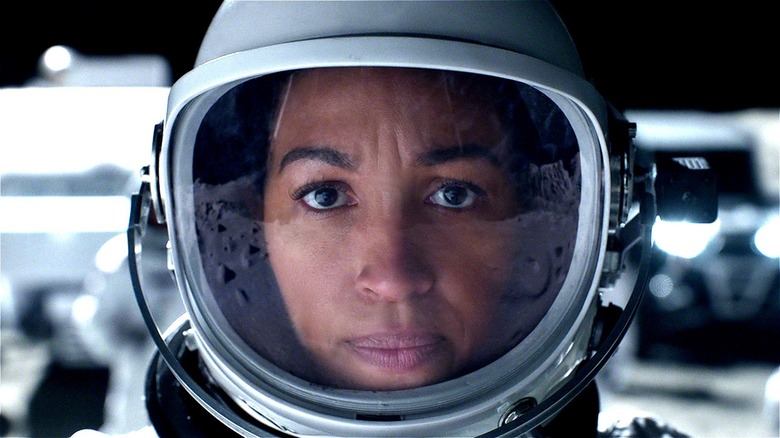 Courtesy of Netflix
In Netflix's "Space Force," humanity's desperation to assert some form of control in the cosmos has never been more absurd. Created by Steve Carell and Greg Daniels, the comedy series focuses on the efforts of a group of government workers as they struggle to establish the presence of America's sixth military branch in outer space. In order to do that, the show's characters have to rely not only on the talents of Space Force's astronauts and scientists, but also the leadership of the branch's Chief of Space Operations, General Mark R. Naird (Steve Carell).
Similar to his character in "The Office," Carell's Mark Naird isn't always the most responsible, clearheaded, or thoughtful of leaders, and that's never more obvious than in Episode 4 of "Space Force" Season 1, titled "Lunar Habitat." The episode follows Mark as he decides to spend a week with a team of astronauts who have been living in a mock version of a moon habitat for nearly two years. Unsurprisingly, it's a decision that doesn't go over well with many of the habitat's residents, most of whom find themselves frustrated by the ways Mark's presence disrupts the lives they've grown accustomed to living.
On the surface, it's a standalone episode that seems to serve only as a way to showcase Mark's sometimes questionable leadership tactics and force him to begin dealing with some of his lingering emotional issues. "Space Force" viewers may, however, be surprised to learn that the episode also gives the Netflix series the chance to pay homage to none other than "Stargate SG-1."
Mark's space suit was also worn in Stargate SG-1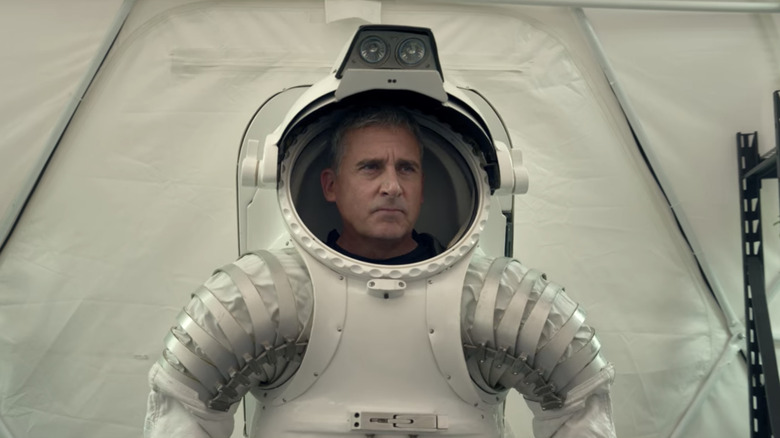 Netflix
When Steve Carell's Mark Naird first arrives at the titular base in "Lunar Habitat," he's wearing a very bulky astronaut suit. He puts it on again later in the episode when he decides to go for a run near the base and is forced to wear the suit while doing so in order to maintain the false reality of the experiment being conducted by the episode's astronauts. An identical model of Mark's suit is also worn in the same episode by Michael Hitchcock's Jerome when he is forced to leave the habitat just to carry Mark back to it.
Both times he wears it, the suit is humorously large on Carrell's Space Force commander, which just makes him seem even more out of place among the episode's central astronauts. That said, beyond just how absurd it looks on Carrell, keen-eyed viewers may also recognize the suit as one that was worn by the characters in "Stargate SG-1." The Easter egg was noticed by Redditor u/crimsonxsecret, who wrote that they thought the suit looked "familiar," and put a screenshot of Carrell's Mark wearing it in "Space Force" on top of a shot of the same suit being worn in a Season 5 episode of "Stargate SG-1" titled "Fail Safe."
The fact that the suit is also one that was worn in "Stargate SG-1" just makes it that much funnier that Mark passes out in his after going for a run in it, despite being repeatedly warned not to do so by his colleagues.