The Ending Of Space Force Season 1 Explained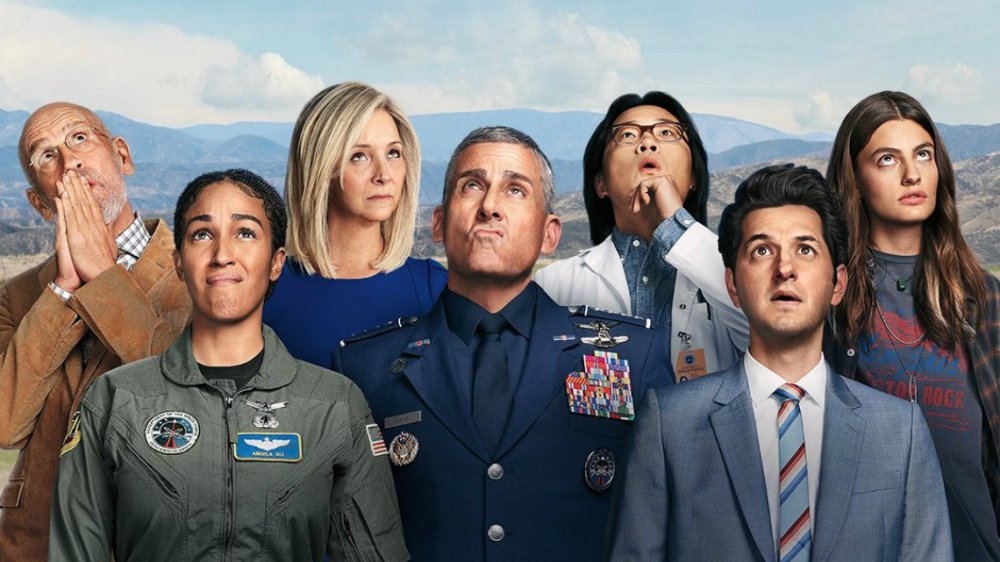 Netflix
Contains major spoilers for Space Force season 1
Steve Carell and Greg Daniels — the star and the showrunner of The Office, respectively – have teamed up for a brand-new project with Netflix, moving from the humble town of Scranton, Pennsylvania all the way up into the stratosphere.
On the new streaming series Space Force, Carell stars as General Mark Naird, who finally earns his fourth military star and expects to be named the next head of the United States Air Force. Instead, he ends up with a surprising new title: the head of the United States Space Force (the USSF), a freshly established branch of the military created by an unnamed, unseen president. (Carell's Mark Naird is a parody of real-life Space Force general and Chief of Space Operations General John W. Raymond.)
Carell is accompanied by an all-star comedy cast — including Veep alums Diedrich Bader and Dan Bakkedahl, comedians Chris Gethard and Roy Wood Jr., Friends star Lisa Kudrow, Glee's Jane Lynch, Parks and Recreation standout Ben Schwartz, excellent newcomer Tawny Newsome, and even legends like John Malkovich and the late Fred Willard (in his final appearance after his death in May 2020). 
Throughout ten episodes, the first season of Space Force focuses on Mark's struggles to balance his demanding new job and his family life, the would-be astronauts who set to embark on a game-changing mission to the moon, the inner workings of the Space Force, and, ultimately, the entire branch's apparent inability to get off the ground. If you've already binged the first season, here's the ending of Space Force's debut outing broken down in full.
Mark Naird's family life has fallen to pieces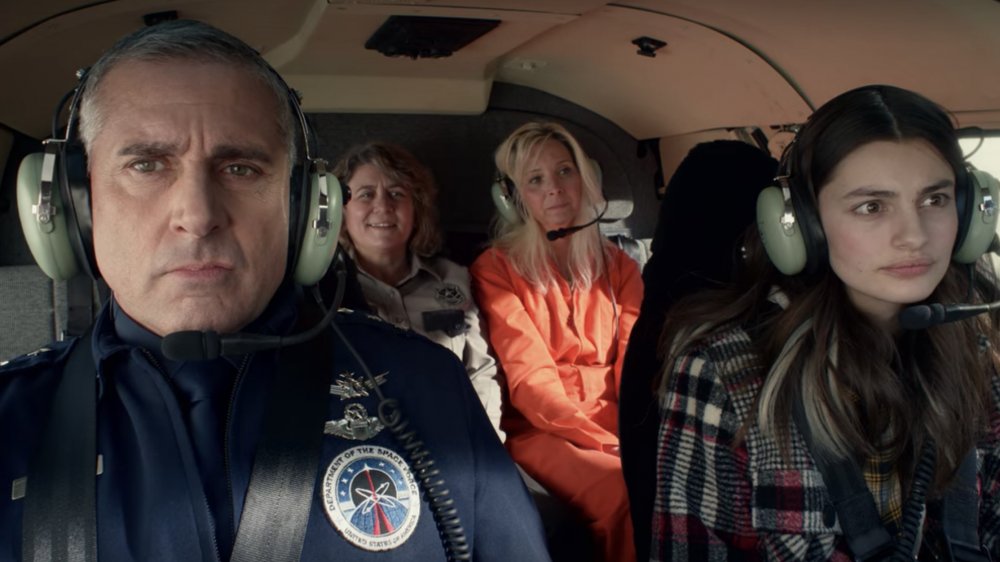 Netflix
When the season begins, Mark seems to have the perfect family life, flanked by his loving wife Maggie (Kudrow) and adoring daughter Erin (Booksmart standout Diana Silvers) as he receives his fourth star. However, one year later, Maggie is serving a lengthy prison sentence for unknown reasons, Mark's shiny new job isn't at all what he thought it would be, and Erin is unhappy in her new home in Colorado, where the Space Force is headquartered.
As Mark desperately tries to be there for his daughter — as well as schedule a very special visit to reconnect with Maggie — he hits a number of obstacles, particularly as his work life prevents him from supporting Erin as much as he'd like. Meanwhile, Maggie suggests that they open up their marriage and see other people ... primarily because she's fallen for a prison guard named Louise (Carolyn Wilson). When Mark starts seeing Kelly (Jessica St. Clair), a contractor who works with the Space Force, Erin is furious — undoing all the good will between her and Mark.
Erin starts lashing out as a result, and before too long, she finds herself in a dangerous situation in the middle of the desert. Luckily, Mark gets out of a precarious position at work — literally, as he's just been arrested for defying orders — and swoops in with a USSF helicopter to rescue his daughter. As they leave, they see an orange-clad figure running around on the ground. Maggie (with Louise's assistance) has broken out of prison to help rescue her daughter, bringing the family back together again for a brief moment. 
However, even as the Nairds celebrate this fleeting victory, Mark gets a call from work, letting him know that all hell has broken loose.
The Space Force is completely adrift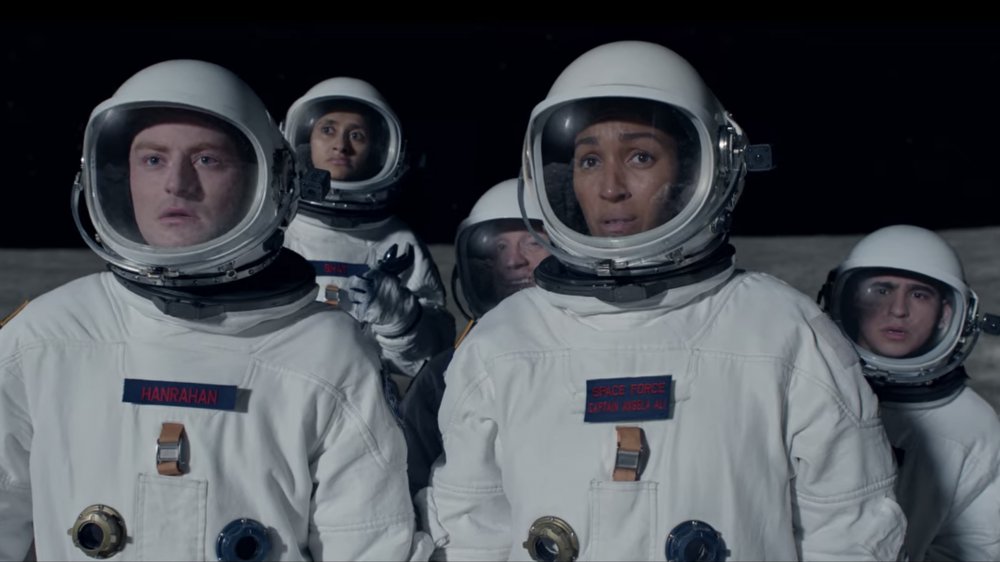 Netflix
So, why did Mark get arrested, and what's the story behind that phone call? Throughout season 1, the Space Force struggles desperately to find its footing — navigating public relations nightmares, Congressional hearings, and social media faux pas along the way. Aided by Dr. Adrian Mallory (Malkovich), Mark does his best to assemble a crack team to send to space, but apart from Captain Angela Ali (Newsome), his recruits are unprepared at best and disastrous at worst.
There's another big problem once the Space Force team arrives on the moon: The Chinese government already has a base set up not far from where the Americans plan to settle. Incensed, the Chiefs of Staff order Mark and his team to attack the Chinese base and leave no prisoners, especially after the foreign astronauts degrade an American flag.
Disgusted by any potential warfare in space, Dr. Mallory quits, but Mark intercepts him, telling his friend that he wants to defy orders and stop the attack. However, when Mark's rival General Kick Grabaston (Noah Emmerich), the Chief of Staff of the Air Force, gets wind of the plan, he has Mark arrested and orders Angela to carry out the attack anyway — and they do, with plenty of trepidation. 
Unfortunately, the Chinese astronauts are one step ahead: When the Americans return to their base — with Chinese "refugees" in tow — they find it completely destroyed. Stranded without resources, the Space Force's soldiers are literally adrift, and only Mark can solve the problem.
Thanks to this cliffhanger ending, Space Force fans will have to wait to see how — and if — Mark and the Space Force win this battle on a potential second season.