Paramount Shares Some Great News For Fans About Yellowstone Season 5
When it comes to popular television shows these days, Taylor Sheridan's "Yellowstone" comes up in almost every conversation. The Paramount+ family drama has not only amassed a huge following, it's also sparked multiple spinoffs and morphed into one of TV's top franchises and acting powerhouses, with big-name stars like Kevin Costner, Wes Bentley, and Kelly Reilly leading the way, along with "1883" cast members Tim McGraw, Faith Hill, and Sam Elliott. With a future so bright, it's hard not to wonder what's next for "Yellowstone" and all the parties involved — and we're here to tell you some good news. 
According to reports, there's been a major development with Sheridan's flagship program that will greatly change the way things go down for the Dutton family in future seasons. We've already learned that Paramount is planning yet another spin-off of "Yellowstone" called "1932," which would expand the franchise for a third time. Sheridan already has his popular "1883" prequel series currently streaming and he's reportedly gearing up for the planned release of his Texas ranch-focused spin-off, "6666." In addition to that, the showrunner was recently given the greenlight to make additional episodes of "1883" that will air at some point. But what about Sheridan's original cash cow?
Well, "Yellowstone" fans will be excited to learn that ViacomCBS has decided to extend that series, too.
Yellowstone to get four more episodes than previous seasons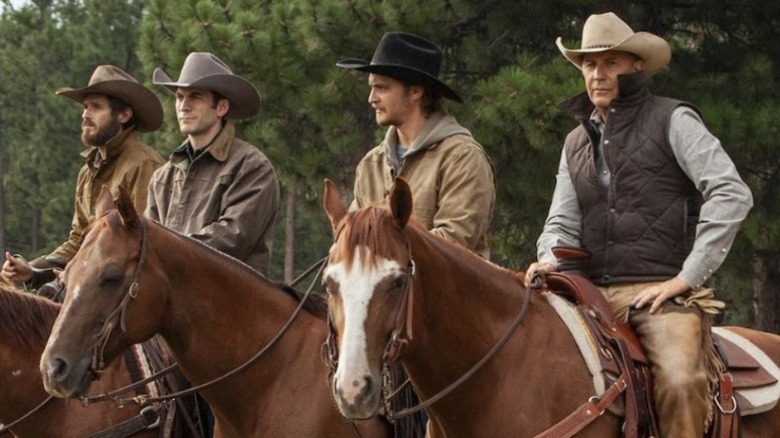 Paramount+
According to The Wall Street Journal, ViacomCBS plans to add at least four more episodes to the next season of "Yellowstone." The season will be split into two parts, with seven episodes each, WSJ reports. ViacomCBS plans to use the split season as a way to help launch Taylor Sheridan's new spinoffs. 
Averaging 10.4 million viewers (per WSJ), "Yellowstone" has been one of the most successful and widely watched programs on Paramount+ and the small screen in general. "We want to double down on that momentum and not waste it," explained Chris McCarthy, chief executive of ViacomCBS Media Networks and MTV Entertainment studios, to WSJ. Season 4 of "Yellowstone" just wrapped up in January and it's unclear at the moment when the multi-part fifth season will air exactly, only that it will be during the summer and fall of 2022. "1883," which is currently comprised of nine episodes, was originally set to finish up on Feb. 20, though with its recent extension, it's also not known when those episodes will be available for streaming. Executives at Paramount have refused to call it a "renewal" or "another season."