The Lifetime Movie You Probably Didn't Know Starred Chicago Fire's Taylor Kinney And David Eigenberg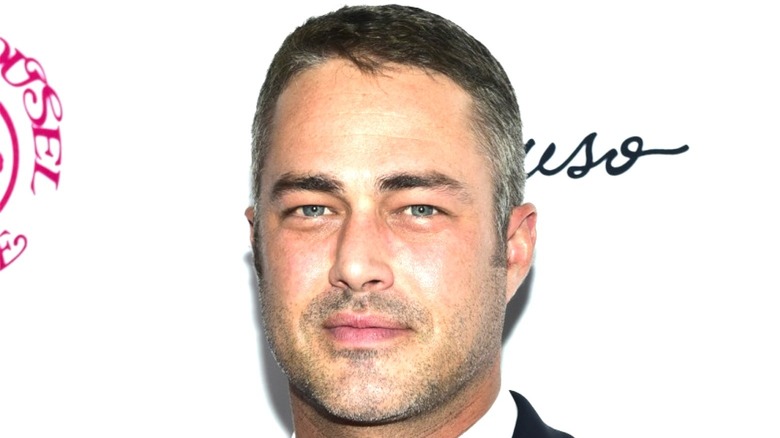 Rodin Eckenroth/Getty
If you're a fan of "Chicago Fire," it's possible you're jonesing for more Taylor Kinney and David Eigenberg on screen. The two actors, who play Lieutenant Kelly Severide and Lieutenant Christopher Herrmann, respectively, are an important part of the "Chicago Fire" ensemble, and it's natural for the hardcore fans of the show to be interested in any other work the two might do together.
Fortunately, there is at least one such project, but your enthusiasm for sitting down and watching it probably depends not just on your level of devotion to the One Chicago franchise, but to Lifetime original movies as well. That's because Kinney and Eigenberg are both in a Lifetime movie from the golden age of 2011.
Even if you're not a Lifetime movie fan, this might be worth checking out, because it doesn't seem to be a typical project for the label. It also has a fascinating array of talent behind the camera, with segments directed by Jennifer Aniston, Patty Jenkins ("Wonder Woman"), Alicia Keys, Demi Moore, and the great Penelope Spheeris ("Wayne's World," the "Decline of Western Civilization" trilogy).
Five is an anthology film about breast cancer
The Lifetime movie in question, which counts both Taylor Kinney and David Eigenberg among its substantial cast, is actually an anthology film entitled "Five." Its page on the official Lifetime site describes the film as "a bold anthology of five films exploring the impact of breast cancer on people's lives," and in addition to its marquee list of directors, it stars Patricia Clarkson, Rosario Dawson, and a host of other familiar faces, probably eager to work on a project with a good cause. The film is centered around a breast cancer ward of a medical center, and it uses the location as a springboard to tell its five stories of perseverance in the face of the horrors of breast cancer, from five different creative perspectives.
In a special treat for "Chicago Fire" fans, both Kinney and Eigenberg appear together in the segment entitled "Cheyanne," directed by Penelope Spheeris. A TV Guide feature on the film indicates that "Cheyanne" stars Lyndsy Fonseca as "an exotic dancer who can't bear the thought of a mastectomy." As luck would have it, Fonseca specifically cites a scene shared by Kinney and Eigenberg as worthy of special praise, saying "it's just such a moving story, and Taylor is so good ... There's one scene that he has with David Eigenberg and he just breaks down crying in the car parking lot. I was watching it being filmed and I started crying too. I walked to him and was like, 'It's OK!'"
That scene is powerful enough on its own, but now it has an even greater significance for "Chicago Fire" devotees.