Who's On Truck On Chicago Fire?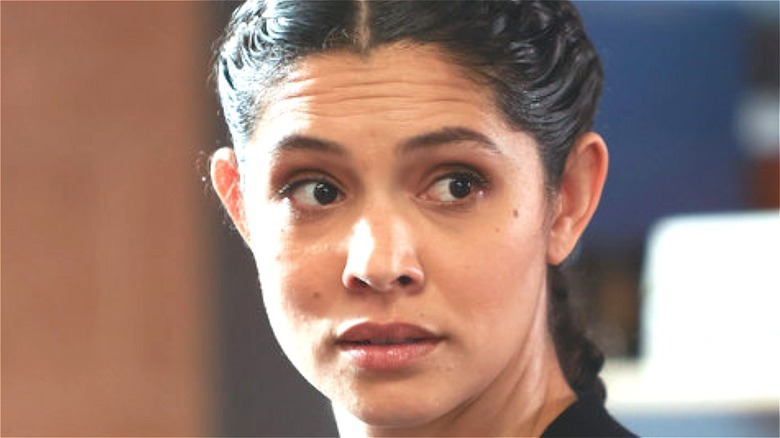 NBC
As the progenitor of the "One Chicago" franchise, NBC's "Chicago Fire" has brought a lot of interconnected entertainment to viewers' lives. While it's the longest-running "One Chicago" show, in a way its central concepts can be the hardest to grasp. After all, most people have seen a ton of different police procedurals before tuning in to "Chicago P.D.," and there are loads of hospital dramas any given fan has likely watched before "Chicago Med" came along. As such, people tend to be innately familiar with much of the jargon and organizational structure in those shows. "Chicago Fire," on the other hand, is arguably the seminal fireman drama out there, so people unfamiliar with a firehouse's inner workings can find it difficult to keep track of the various characters in the show, and the roles they fill. 
To recap the organization of the show's Firehouse 51 under Deputy District Chief Wallace Boden (Eamonn Walker), there's Ambulance 61 — which is pretty self-explanatory — and Engine 51, which is essentially the primary fire truck used for firefighting and water-hosing purposes. In addition to these units and their staff, there's also Squad 3, which specializes in heavy rescue operations, and is commanded by Kelly Severide (Taylor Kinney). But what is the remaining unit of the pack, Truck 81 — and which characters are assigned on it?
Some of Chicago Fire's most beloved characters have been on Truck 81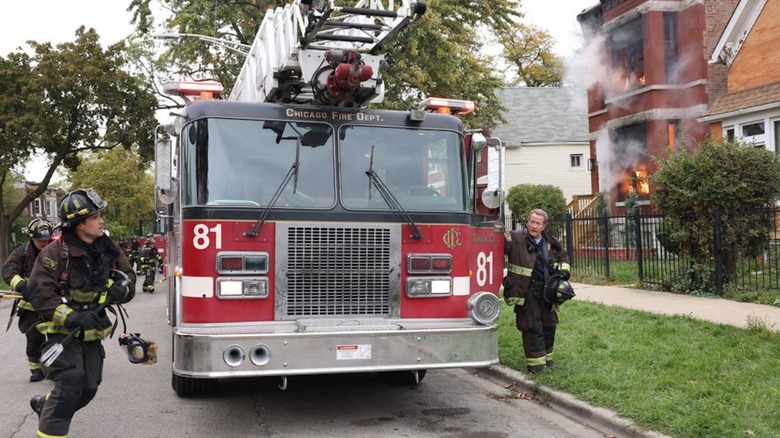 NBC
Truck Company 81 is the second firefighting vehicle of Firehouse 51. Like Engine 51, it can fight fire with water, but it's most easily recognizable by its huge ladder, which sees frequent use during missions.
There are currently four people assigned on Truck 81. Its lieutenant is Firehouse 51 newcomer Jason Pelham (Brett Dalton), and series veteran Lt. Stella Kidd (Miranda Rae Mayo) is also on board. The quartet is rounded out by the experienced Randy "Mouch" Holland (Christian Stolte) and Blake Gallo (Alberto Rosende). The two-lieutenant configuration of Truck 81 has been a subject of some drama, as many expected Kidd to take over as the truck's officer. However, circumstances conspired to introduce Pelham, who has since earned the respect of the others.
Lots of characters have been in and out of "Chicago Fire" over the years, and Truck 81 is no exception. Far and away the most central character to have served in the unit is Matt Casey (Jesse Spencer), who was in charge of Truck 81 before departing the show. Current Engine 51 members, officer Christopher Herrmann (David Eigenberg) and Darren Ritter (Daniel Kyri), have also been on truck. In fact, many members of Truck 81 have eventually been transferred to other units within Firehouse 51. These include Jose Vargas (Mo Gallini), Peter Mills (Charlie Barnett), and Joe Cruz (Joe Minoso), all of whom were eventually moved to Squad 3. Former truck members Jimmy Borrelli (Steven R. McQueen) and Gabby Dawson (Monica Raymund), on the other hand, transferred to Ambulance 6. Unfortunately, not everyone has left Truck 81 due to a transfer. Brian "Otis" Zvonecek (Yuri Sardarov), Rebecca Jones (Daisy Betts), and Andrew Darden (Corey Sorenson) all died while serving in the unit.