Olivia Benson's Best Episode In Law And Order: SVU Season 22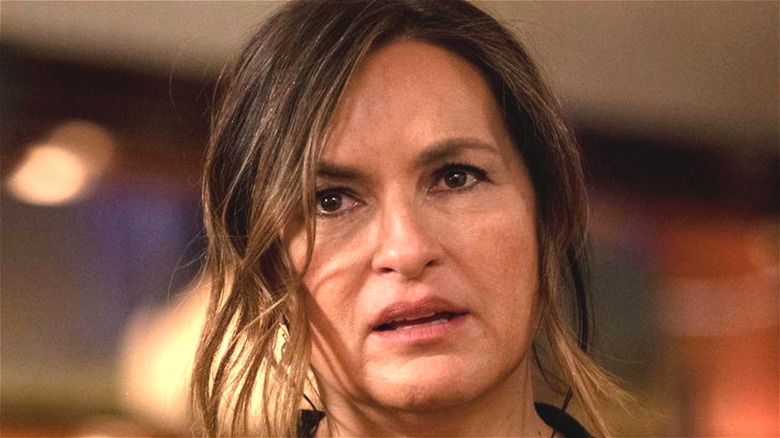 Virginia Sherwood/NBC
While "Law & Order: Special Victims Unit" has set multiple TV records thanks to its longevity, the "Law & Order" franchise currently seems to be growing rather than approaching any sort of endgame. Currently, Captain Olivia Benson (Mariska Hargitay) is both the show's lead character, as well as an important player in a more recent spinoff series, "Law & Order: Organized Crime."
Starring in "Organized Crime" is Christopher Meloni's Detective Elliot Stabler, a character that was once a major part of "SVU" himself. During his "SVU" days, Stabler worked alongside Benson at the series' center, serving both as her professional colleague and romantic interest. Coinciding with the premiere of "Organized Crime," in the midst of "SVU" Season 22, Stabler happened to return to "SVU" for a string of episodes and work alongside Benson, to the delight of many longtime fans.
It was following Stabler's reintroduction that viewers were treated to the best Benson episode from throughout all of Season 22, driven largely by their classic dynamic reenergizing the show.
Benson and Stabler working together was vintage SVU
While Season 22 Episode 9, titled "Return of the Prodigal Son," marks Elliot Stabler's official comeback, it's a few episodes later, in Season 22 Episode 13, that Olivia Benson and her former colleague truly shine alongside one another. The high point from throughout Benson's tenure in the entirety of Season 22 occurs in that episode, titled "Trick-Rolled at the Moulin," when she and Stabler interrogate an accused drug dealer, returning to a dynamic typical of their many prior on-screen appearances together.
In a discussion thread about the episode on Reddit, user SlowReaction4 wrote "Ohhhh vintage Stabler and Benson interrogation!" while user brewedbyjewelz praised the entirety of their dynamic throughout the episode, asking, "Anyone else have full body chills the whole time Elliot and Liv are on screen together?" to which a number of replies answered in the affirmative. Meanwhile, user Thin-Help-1405 singled out Benson's behavior, commenting, "Olivia is getting sassy again. I like it."
Though "Trick-Rolled at the Moulin" isn't the only time Benson works alongside Stabler in Season 22, it's the best showcase of their classic dynamic, unencumbered by the ceremony of his reintroduction that defines his previous season appearances. Thanks to the reestablishment of their partnership, fans get to see Benson at her absolute best in an episode that calls back to the series' glory days.