Law & Order: SVU Fans Respond To Benson And Stabler's Epic Reunion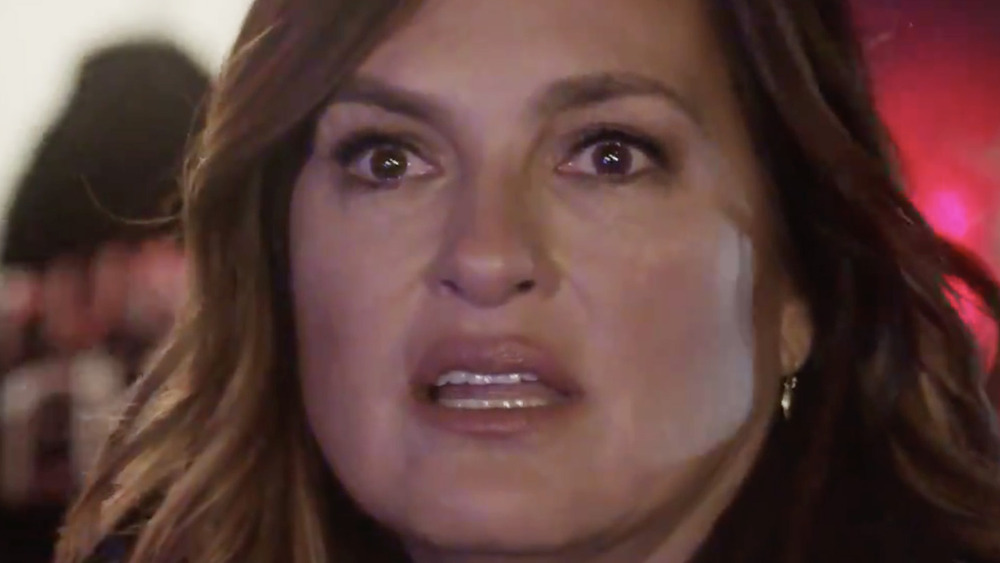 NBC
Law & Order: SVU's two most beloved characters have finally reunited, and the Internet is in its feelings. Spoilers ahead!
Olivia Benson (Mariska Hargitay) and Elliot Stabler (Christopher Meloni) finally reunited during a special Law & Order crossover event on Thursday, April 1 — and it was no joke, as the two reconnected during Special Victims Unit and led into Meloni's new standalone show, Organized Crime. As two of the original SVU detectives, the two have been separated for a full decade after Meloni left the popular series quite abruptly in 2011, but both on and off screen, the two share a bond — and chemistry — that viewers have never forgotten.
Now, in an episode that sees Stabler's wife hospitalized after a devastating accident and Olivia grappling with her resentment at her former partner, who left her behind for a job in Europe (according to the narrative) without saying goodbye, the two are back together, and it sure seems like there are plenty of SVU and Organized Crime crossovers to come. For now, Twitter has erupted at the sight of Meloni and Hargitay back on the small screen together, ranging from unhinged excitement to overwhelming relief. Here are just a few of the best reactions to Benson and Stabler's epic, intense reunion.
Fans are so happy to see Olivia Benson and Elliot Stabler back together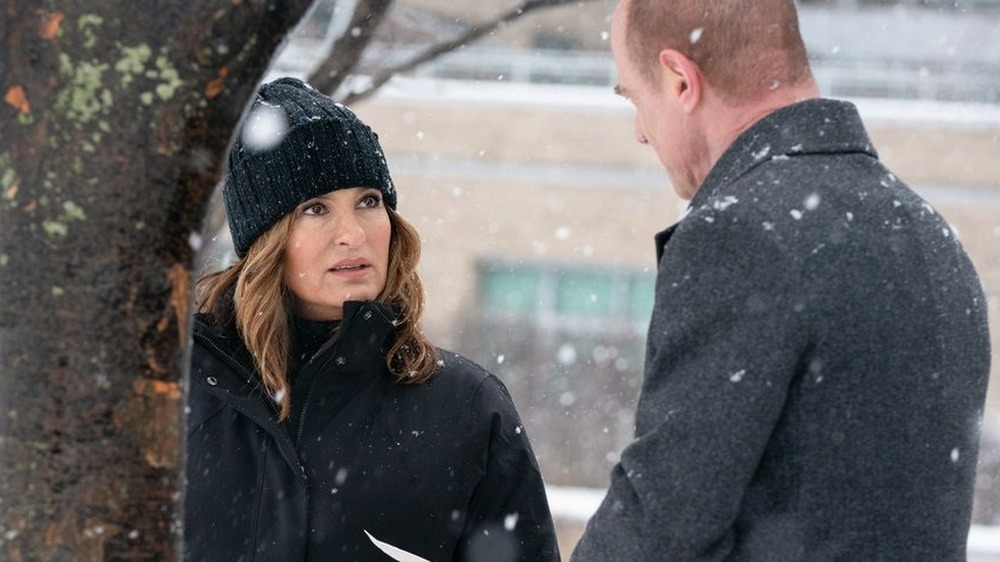 NBC
To nobody's surprise, Twitter basically exploded when the episode aired, with fans flocking to the platform to unleash their feelings. Perhaps the most typical reaction came from @itsbritlit, who accompanied a GIF of Grey's Anatomy's Cristina Yang (Sandra Oh) begging for sedation with the caption, "ELLIOT STABLER AND OLIVIA BENSON IN AN INTERROGATION ROOM TOGETHER AGAIN."
Other fans bemoaned the fact that Stabler and Benson didn't immediately strike up any sort of romance, despite the fact that Stabler's beloved wife literally dies during the episode. @NATCpod joked, "'Are you ok?' No I waited 10 years for Benson and Stabler to reunite and they still didn't hook up," while @LeslieSRitter noted, "Half my timeline wants Benson and Stabler to kiss already and the other half wants her to slap him into next week." @thoroughlyme introduced a fascinating idea: "My theory is that Dick Wolf and co finally gave Stabler his own show as the latest step in their long con to have Benson and Stabler finally end up together, thereby concluding the longest slow-burn romance in TV history. Thank you for coming to my TED talk."
Meanwhile, many noticed the clear emotional growth between both characters, who opened up together about their separation in a touching way. As @english_shamar put it, "Benson and Stabler haven't talked in 10 years. It's so emotional and heavy, you can feel the pain between the two. It's one partnership that I never wanted to see come to an end. They were a perfect duo." @captainsstabler felt equally gratified, writing, "olivia benson communicating her feelings with words to elliot stabler after 10 years apart?!? the personal growth is mind blowing," while writer and digital content creator at HBO @chrisharnick said, "I know she's a fictional character, but she's one who has been in our lives for 22 years, so I'm happy for Benson to be able to get this closure and have this convo with Stabler."
Finally, entertainment writer and podcast host @theeashleyray had what might be the definitive take on the entire situation: "i will watch the stabler/benson reunion SVU episode when they air it as a rerun on USA network while i'm cleaning my apartment like the good lord intended."
Law & Order: SVU and Organized Crime air back to back on Thursday nights on NBC starting at 9PM EST.