The CSI Sitcom Crossover You Forgot Happened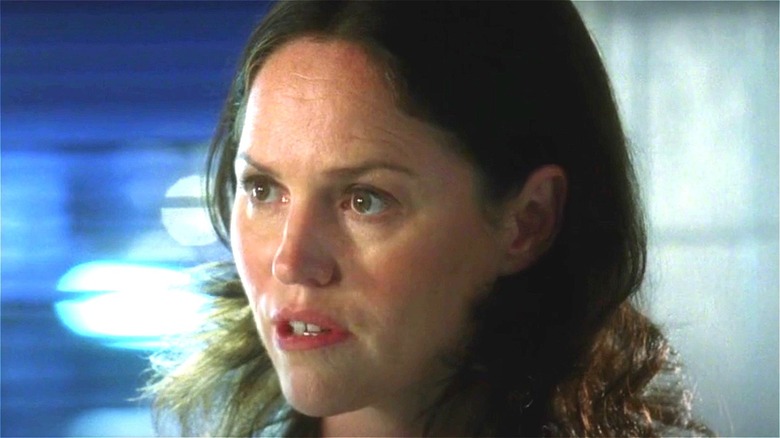 CBS/Hulu
When one thinks of CBS' storied forensic series, "CSI: Crime Scene Investigation," one doesn't necessarily think of gut-busting laughter. Instead, the show brings to mind drama, of gory crime scenes, sad events, and character growth for all of its oft-traumatized characters. But believe it or not, "CSI" has something of a softer side, thanks to a sitcom crossover event which saw its team of creatives switch genres with another show's writing team. 
Said sitcom was also a well-known CBS property with its own storied history, long list of controversies, and expanded shelf life. Both series had legs, but one would never normally associate the two properties together, which was what made this crossover such a big hit at the time when it aired. And yet, in time, the crossover has been forgotten by all but the most die-hard fans of either show. Whether you remember this event or not, though, it definitely lives on in the syndication packages of both shows, and it's worth looking back on. 
So which sitcom did "CSI" have a crossover episode with?
CSI and Two and a Half Men once crossed over...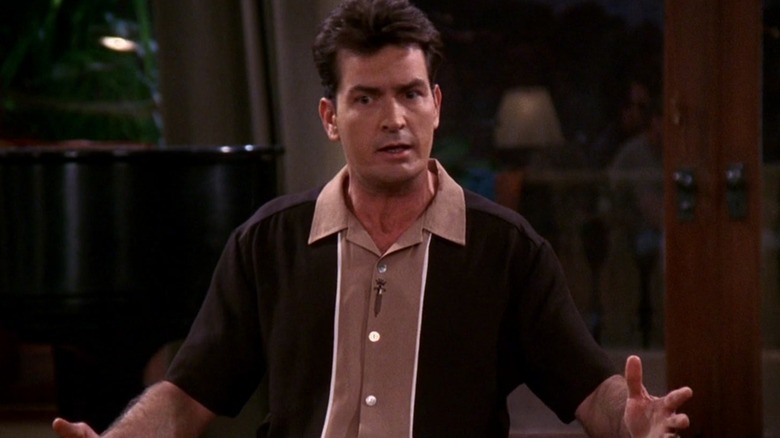 CBS
Per Vulture's breakdown of the crossover event, "Two and a Half Men" showrunner Chuck Lorre approached Carol Mendelsohn, who was then the acting executive producer of "CSI," with the idea of a crossover event. Together they went to CBS and eventually the network said yes. This resulted in two episodes — "CSI" did "Two and a Half Deaths," while "Two and a Half Men" had an episode titled "Fish in a Drawer" — for which the two shows swapped writing staffs.
The "CSI" episode was the 16th episode of its 8th season, and per IMDb it was co-written by Lorre himself. "Two and a Half Deaths" doesn't directly parody "Two and a Half Men," though one can see Charlie (Charlie Sheen), Alan (Jon Cryer), and Jake Harper (Angus T. Jones) in the background of one scene. All three are wearing the clothing they were last seen in during the first half of the crossover event, which takes place on their program.
The "CSI" episode ribs Lorre's sitcom past: In "Two and a Half Deaths," the lead actress on a sitcom named "Annabelle" — named, to wit, Annabelle Fundt (Katey Sagal) — is murdered in her Las Vegas hotel room, and everyone from her new flame to her disgruntled ex is a suspect. CSI comes in to investigate, and things get sticky when Ananbelle's lookalike PA is found dead in her car in Los Angeles. These fictional events are loosely based on real-life ones: Via TV Guide, Lorre was a writer on the ABC sitcom "Rosanne," and he and Rosanne Barr had been at odds ever since his dismissal from her writer's room. Per a 2013 interview with Barr for TooFab.com, the actress admitted she and Lorre are "not friends," adding that she felt Lorre should "get over" the disagreement.
...And so did Two and a Half Men and CSI
The first half of the two-show crossover event, though, took place on "Two and a Half Men." 
"Fish in a Drawer" is comprised of a "CSI" parody which features Charlie discovering that his latest stepfather, Teddy Leopold (Robert Wagner) dead — and with his pants around his ankles — in the bedroom of the Harper's beach house during his wedding reception. Interestingly, the method of death is the same one that claims Annabelle's life on the CSI episode: his skull is smashed in.
Detectives descend on the Harper house, and everyone is quickly considered a suspect. Detectives zero in on new widow Evelyn Harper (Holland Taylor) and Charlie, with Charlie being temporarily jailed for the crime. But it turns out he's not the culprit, though someone close to the Harpers is. This parody does not feature any locales from "CSI," but the "CSI" writers helped craft the episode, including Mendelsohn (per IMDb). Also, George Eads (Nick Stokes on CSI) appears in a cameo role in the episode, and the cops who show up to investigate the crime are pretty clear analogs for Catherine Willows (Marg Helgenberger) and Gil Grissom (William Petersen). 
CBS hasn't tried an ambitious cross-genre crossover like this one since. Perhaps someday the "B Positive" characters will meet with those from "NCIS: Hawai'i," or something?