The Texas Chainsaw Massacre Spin-Off We Never Got To See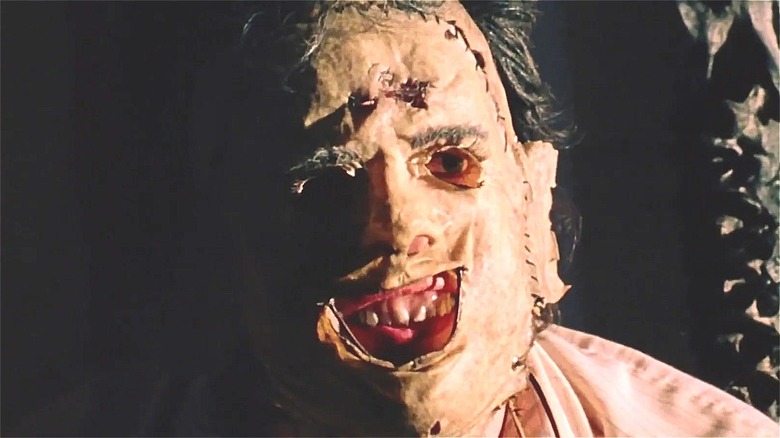 Bryanston Distributing Company
When Tobe Hooper's "The Texas Chain Saw Massacre" arrived back in 1974, it quickly cemented itself as one of the greatest horror movies ever made. In fact, it was included on Empire's '50 Best Horror Movies' list, with the publication calling it "a uniquely gnarly, punishing experience, from its grotesque production design to ... its stand-out villain Leatherface." The iconic villain also became an instant pop culture icon thanks to his titular weapon of choice and the genuinely disturbing skin mask he wears. Much like other horror movies of the era, it spawned a number of sequels and remakes, which all vary in quality.
Fast-forward to 2022, and horror fans are reaching for the chainsaw once again, as Netflix's "Texas Chainsaw Massacre" sees the legendary killer return when a group of youngsters rolls into the deserted town of Harlow, Texas. Surprise, surprise, Leatherface cranks up his iconic weapon and starts ripping the visitors to shreds. Meanwhile, original survivor Sally Hardesty (Olwen Fouéré) also comes back to put the villain down for good.
For the moment, it's not clear how "Texas Chainsaw Massacre" will address all the previous sequels (if at all). But there's one chapter in the franchise it definitely won't touch: an unreleased spin-off that we never got to see.
All American Massacre focused on Chop Top
Fans will remember that "The Texas Chainsaw Massacre 2" introduces the character Chop Top (Bill Mosely), another member of the disturbed Sawyer family. The film implies that he's a Vietnam War veteran who was attacked with a machete during the war, which is why he had a metal plate put in his head. Although Chop Top is seemingly killed by Vanita Brock (Caroline Williams) in the sequel, a surprising spin-off from Tobe Hooper's own son, William Hooper, would've focused on the character 13 years after the second film's ending.
"All American Massacre" would've seen Mosely reprise his role as Chop Top in a mental institution as he recounts the full story of the Sawyer family to a journalist. He'd eventually free himself before going on a new bloody rampage to make up for all the years he's been locked up. From the sounds of it, this project made it past the initial ideas stage, as Bloody Disgusting reports that it began filming in 1998. There's even an intense trailer for the film that bears the tagline "No one will survive," which gives a little tease of what this spin-off could have been. 
But according to Bloody Disgusting, "All American Massacre" ran into funding issues, and the film remained unfinished. A failed Kickstarter in 2011 didn't help matters much, either. But now that there's renewed interest in the franchise with the Netflix sequel, maybe the streaming service could revive the spin-off.