The Chicago Med Star Who Has Appeared On The Most Chicago P.D. Episodes
NBC's hit "One Chicago" franchise is known for its frequent crossover episodes between "Chicago Fire," "Chicago P.D.," "Chicago Med," and the short-lived "Chicago Justice." Each show follows a different sector of public service workers in the Windy City, from healthcare professionals to firefighters, often exploring their intersecting dynamics.
Each show focuses on its respective titular field, but characters often make appearances on other shows within the "One Chicago" universe. The franchise has even crossed paths with creator Dick Wolf's other shows, "Law & Order: Special Victims Unit," "Law & Order," and "F.B.I."
While the "One Chicago" shows are known for their soapy dramatics, the character crossovers are surprisingly realistic given that they all work in related fields and often unwind at the same neighborhood bar. The "Chicago Med" star that has appeared in the most crossover episodes with "Chicago P.D." has a strong reason for holding the title, and it has nothing to do with the job or the location.
Chicago Med star Nick Gehlfuss often appears on Chicago P.D.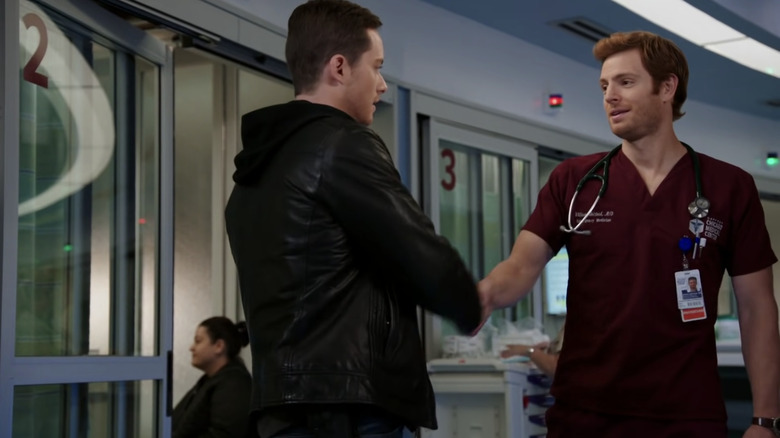 NBC
The "One Chicago" characters have plenty of reasons to pop up in one another's shows, but Dr. Will Halstead (Nick Gehlfuss) understandably spends a lot of time with his younger brother Detective Jay Halstead (Jesse Lee Soffer). As a result of their character's family connection, the two actors have some of the highest crossover episode counts.
Gehlfuss holds the title as the "Chicago Med" star with the most appearances on "Chicago P.D." to date. With 17 appearances, he has nearly twice the amount as "Chicago Med" co-stars Oliver Platt and Brian Tee, who have each appeared on "Chicago P.D." nine times.
Additionally, Gehlfuss has starred in 20 episodes of "Chicago Fire." This may seem like a lot, but the "One Chicago" crossover champion is Jon Seda, who played Antonio Dawson on "Chicago P.D." Seda has 47 appearances on "Chicago Fire" and 13 on "Chicago Justice."
However, as interwoven as the franchise is, it's possible that Gehlfuss could eventually beat Seda's record.