The Subtle One Chicago Crossover In Chicago Med Season 7 Episode 8 That Has Fans Screaming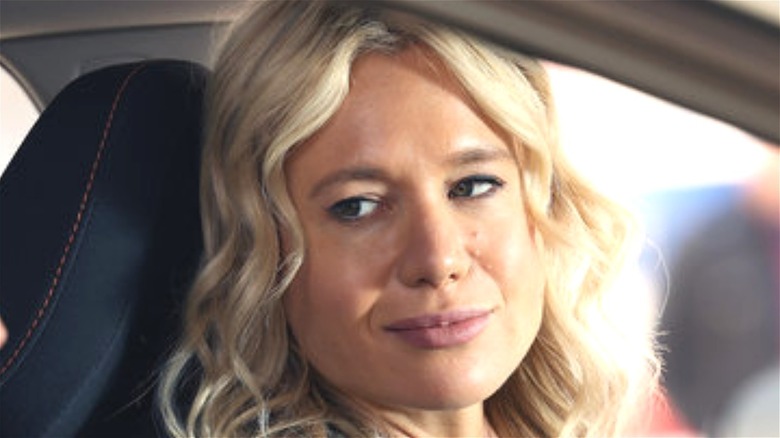 George Burns Jr/NBC
The "One Chicago" universe is a tightly knit enterprise containing three Dick Wolf-created shows that take place within the titular Illinois city. "Chicago Med," "Chicago Fire," and "Chicago P.D." all actually shoot in Chicago, which makes sharing characters and holding occasional crossover events fairly easy. The shows even sport characters who are related. For example, Detective Antonio Dawson (Jon Seda) of "Chicago P.D." is the brother of former "Chicago Fire" paramedic Gabriela Dawson (Monica Raymund), and Dr. Will Halsted (Nick Gehlfuss) of "Chicago Med" is the brother of Detective Jay Halstead (Jesse Lee Soffer) in "Chicago P.D."
Sometimes those inter-show references are simple, quick dialogue-based nods, and sometimes the series share shooting locales. For instance, on last night's "Chicago Med" episode — "Just as a Snake Sheds its Skin" — the doctors showed up at a watering hole popular with characters on another "One Chicago" show. Fans picked up on the acknowledgment immediately, and they loudly expressed their glee on platforms like Twitter. What was the crossover reference?  
Everyone eventually comes to Molly's
Fans were delighted that Dr. Crockett Marcel (Dominic Rains) took Avery Quinn (Johanna Braddy) on a date to Molly's — a watering hole that's popular with characters on "Chicago Fire" and sometimes "Chicago P.D." — at the start of Episode 8. Also in the house were Dr. Dylan Scott (Guy Lockard) and his dad, Lieutenant Reginald Scott (Curtiss Cook). A peaceful evening is interrupted when Avery receives a text regarding her Alzheimer's-stricken mother, and Dylan is forced to intervene after Joe Scaramella (Billy Malone) gets into a brawl.
"They are at Molly's. Yay they are back to Molly's. Love it," tweeted @Meghanav3, exemplifying audience excitement. "A date night at Molly's with Crockett and Dr. Scott and Papa Scott are there we're getting blessed this episode," agreed @ruzteadintel. "Got to love a Molly's scene that isn't related to fire!" chimed in @SWPromo. "MARCEL AND AVERY DATE NIGHT AT MOLLY'S?!?! HAVE I DIED AND GONE TO HEAVEN?!?!?" wondered the folks behind the "Meet Us at Molly's" podcast, which covers all three "One Chicago" programs. "CROCKETT AT MOLLYS I'M LIVING!" said @harryshumgod.
Fun fact: The business that used to stand in for Molly's on the show is a working Irish pub in Chicago. Per Choose Chicago, the real bar is named "Lottie's" and is located at 1924 W. Cortland Street. The "One Chicago" shows have been shooting interiors in a replica of the bar on a soundstage since 2013, per the Chicago Tribune.