Owen Wilson Confirms What We All Suspected About Ed Helms' On-Set Behavior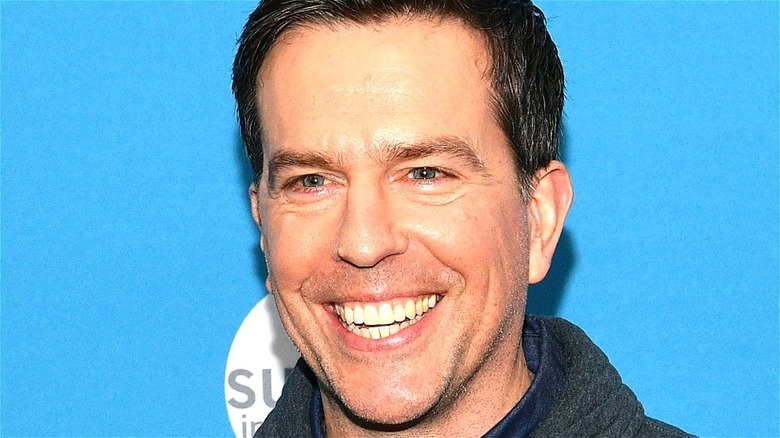 Dia Dipasupil/Getty
In a manner similar to some of his co-stars like Craig Robinson and John Krasinski, Andy Bernard actor Ed Helms successfully followed up his lead role on "The Office" with a bona fide movie career. "The Hangover," which is perhaps one of his most well-known films, was even released in 2009, coinciding with his tenure on "The Office." Helms is notably missing a tooth for part of the movie, which was not accomplished with special effects but by temporarily removing a dental implant, setting a high bar for his commitment to a given role.
Helms followed up "The Hangover" with steady work in mainstream comedies, like the 2015 National Lampoon film "Vacation," which recently found a new audience through streaming. Two years later, in 2017, Helms and Owen Wilson starred opposite one another in "Father Figures," as two brothers searching for their birth father.
In a recent interview touching on work from throughout his career, Wilson reminisced fondly about the time he spent working with Helms on "Father Figures," revealing that Helms was easy and enjoyable to work with on-set.
Owen Wilson had a great time working with Ed Helms
On February 11, Wired shared an interview to its YouTube channel with Owen Wilson in which he answered questions about his career based on Google autocompleting phrases beginning with his name and a question word. Wilson spoke about the time he spent filming "Father Figures" with Ed Helms in response to the question "who is your daddy owen wilson," after talking a bit about his real-life father.
"Well, I worked with Ed Helms on that movie Father Figures," he said, pivoting from the subject of one of his parents to a movie about fathers. "We just had a great time working together. It's funny, when you show up for work some days, you look forward to it more than others. But when I was working with Ed, I knew when I showed up it was gonna be fun just kind of talking."
He then characterized Helms as someone alongside whom he felt more comfortable than the average actor. "Sometimes it can be kind of awkward, when you're kind of left sort of sitting in a car doing a scene when they're not rolling," he said. "But with Ed and I, I don't know, we just really got along."
From the sound of it then, even in moments that might typically make even a seasoned performer uncomfortable, Helms helped Wilson — and presumably some of his other co-stars — feel supported both while filming and in the significant downtime between takes.