Downton Abbey: A New Era Trailer Has Fans Losing It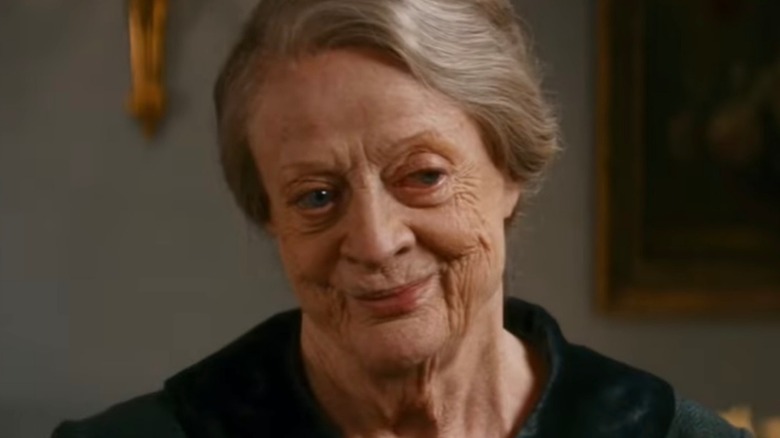 Focus Features/YouTube
It's been seven years since "Downton Abbey " aired its final season, and three years since the feature-length film that continued the story of the Crawley family was released. Almost immediately after the film debuted, fans began to clamor for another. No one was ready to say goodbye to the Crawleys, Tom Branson (Allen Leech), John Bates (Brendan Coyle), Anna (Joanne Froggatt), and the rest of the characters fans had grown to love over the years. Unfortunately the COVID-19 pandemic struck within months after the film was released, and any talk about making another had to be put off.
Despite — or because — of the lockdown, "Downton Abbey" creator Julian Fellowes told Vanity Fair in April of 2020 that he was working on a new series focusing on English football, and he had already started working on a second "Downton Abbey" movie. It was just a matter of figuring out shooting, and COVID protocols. With several prominent cast members like Maggie Smith, Jim Carter, and Penelope Wilton over 70, care and precautions would need to be taken. But finally, in April of 2021, fans received the news they'd been waiting for — "Downton Abbey: A New Era" had begun production, and a release date was set for Christmastime (via Good Housekeeping).
After many delays, excited fans get a Downton Abbey release date
While it missed the Christmas release date, having an actual trailer along with the new release date of May 20 was enough to make "Downton Abbey" fans hysterical. Twitter user @MamaRolisi was so happy she wrote "Screaming crying and everything in between. I love them so much. I will never shut up about them and I'm not sorry." Regina Bell wrote what was a common theme in the trailer's YouTube comments: "I CANNOT FREAKING WAIT! THIS HAS ME SO EXCITED. I HAVE BEEN REWATCHING PREVIOUS SEASONS SO THIS IS SUCH A TREAT."
Some fans are a little confused about a couple key points in the trailer, one being how tan Hugh Bonneville's Lord Grantham is. Isaiah Williams wrote in the YouTube comments, "Are we not going to talk about Lord Grantham's tan?"
The other point that bothered fans about the trailer was the absence of Matthew Goode, who plays Henry Talbot, the husband of Lady Mary (Michelle Dockery). While Goode appears in the credits for the film, he's missing from the official posters as well, leading people to worry about the fictional couple's marriage (via Hello Magazine). A fan named Doryble commented, "If Mary and Henry aren't together I'll be devastated!! I loved [Matthew] but they brought Henry in in such a great way and I fell in love with him as well." Fans will just have to wait until May to find out.