Why This All Of Us Are Dead Scene Means More Than You Think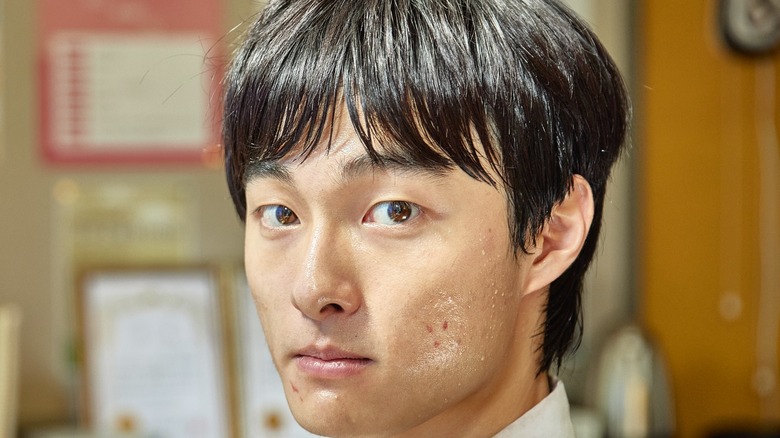 Yang Hae-sung/Netflix
The official slogan for Netflix's "All of Us Are Dead" – "All of us will die. There is no hope." — doesn't exactly scream coming-of-age story. Unfortunately for the students of South Korea's Hyosan High School, they must endure the typical teen growing pains of crushes and bullying amid a zombie apocalypse. When the high school becomes ground zero for a killer zombie virus outbreak, the students are trapped inside, where they must fight for survival.
Since its premiere on January 28, "All of Us Are Dead" has been a boon for Netflix, quickly catapulting to the streamer's top ten list within a week of its release. Following the success of "Squid Game" and "Hellhound," "All of Us Are Dead" is part of Netflix's huge slate of upcoming Korean content. The streamer pledged to release 25 Korean films and series in 2022.
"All of Us Are Dead" has drawn comparisons to the critically acclaimed film "Train to Busan" (one of the show's characters even makes the comparison himself) thanks to its similarly gruesome, high-octane atmosphere. Viewers are equally interested in the soapy teen drama at the show's center, including plenty of romance, love triangles, and jealousy. One unrequited crush plays out among longtime friends Lee Cheong-san (Yoon Chan-young) and Nam On-jo (Park Ji-hoo). Here's why a pivotal scene between the characters is especially meaningful.
The show features actor Yoon Chan-young's first kiss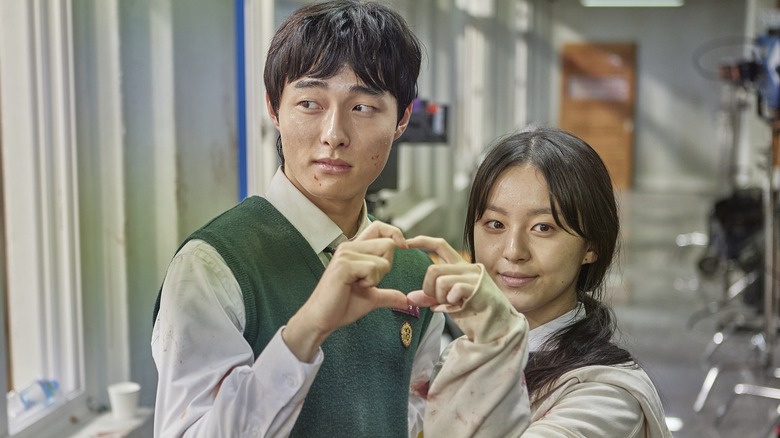 Yang Hae-sung/Netflix
Between zombie bites and lockdowns, Cheong-san and On-jo's will-they-won't-they arc dominates Season 1 of "All of Us Are Dead." Indeed, Cheong-san has long harbored a crush on his friend. In Episode 11 (spoilers abound!) Cheong-san is bitten by one of the zombies. Looking down the barrel of zombification, Cheong-san and On-jo tearfully share their first and last kiss. He then runs into a zombie-filled building to distract the undead, allowing his classmates to escape.
Now, Yoon Chan-young has revealed that the emotional scene was a huge first for him. During an interview with Yonhap News, the actor revealed, "Actually, it was my first kiss. (Laughs) It was my first kiss, so I filmed it several times." 
There's no word yet on whether "All of Us Are Dead" is returning for a second season, but series director Lee Jaekyu says the show "was written with a second season in mind" (per Hypebae). Yoon Chan-young may not be returning, but his big "All of Us Are Dead" scene should have him primed for future on-screen romance. Hopefully, the actor's second kiss won't include quite so much fake blood.