Who Plays On-Jo In All Of Us Are Dead?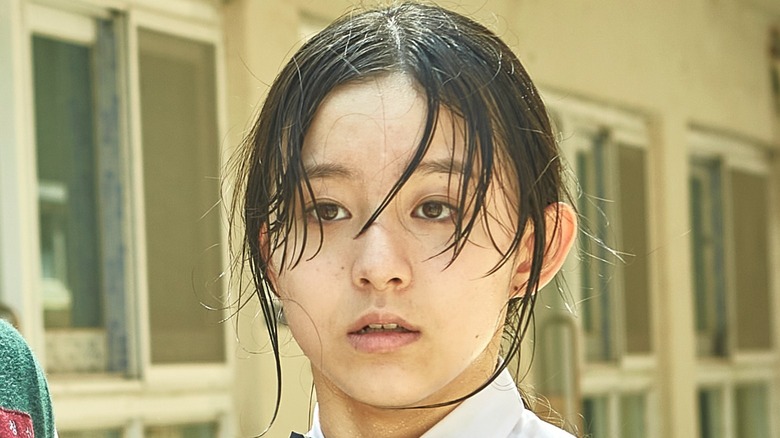 Yang Hae-sung/Netflix
Viewers eager for more Korean survival drama can thank Netflix for its latest entry into the genre, "All of Us Are Dead," which landed on the streaming service on January 28. While Newsweek reports the show has been drawing comparison to fellow hit Korean drama "Squid Game," the series is set during a zombie apocalypse, and more specifically, inside a high school where desperate teen survivors must find a way to escape the chaos that follows a worldwide outbreak of the Jonas Virus. With a cast of characters that includes the class president, a mean girl, a bully, an athlete, and a few adults, the show primarily follows two best friends who manage to find refuge inside a classroom where other survivors are hiding. 
In the first season, we meet Nam On-jo and Lee Cheong-san, who have been best friends since childhood. While On-jo has a crush on the school's bad boy, Lee Su-hyeok (Park Solomon), she doesn't realize her bestie Cheong-san has been in love with her for years. Despite having always gotten bad grades, On-jo begins to develop leadership qualities and urges her friends not to lose hope. Who plays On-jo in the series?
Park Ji-hu is a rising South Korean star
Park Ji-hu (sometimes credited as Park Ji-hoo), is no stranger to South Korean audiences, having already gained attention through award-winning films in her native country. The 18-year-old played the lead role in the hit independent film "House of Hummingbird," earning the best actress award from the 2019 Tribeca Film Festival (via IMDb) for the coming-of-age film about a 14-year-old girl dealing with family, friendship, and school drama set around the collapse of the Seongsu Bridge in 1994. The up-and-coming actor is also set to appear in a lead role of the South Korean series "Little Women" and the upcoming disaster film "Concrete Utopia."
Based on viewer reactions on social media, Park has already amassed a new fan base since "All of Us Are Dead" dropped on Netflix. Many viewers fell in love with Cheong-san (Yoon Chang-young) and On-jo as a couple, with one user writing, "On-jo best actress omg #AllOfUsAreDead."
All 12 episodes of "All of Us Are Dead" are now available to stream on Netflix.