The Saddest Moment In Blue Bloods Season 1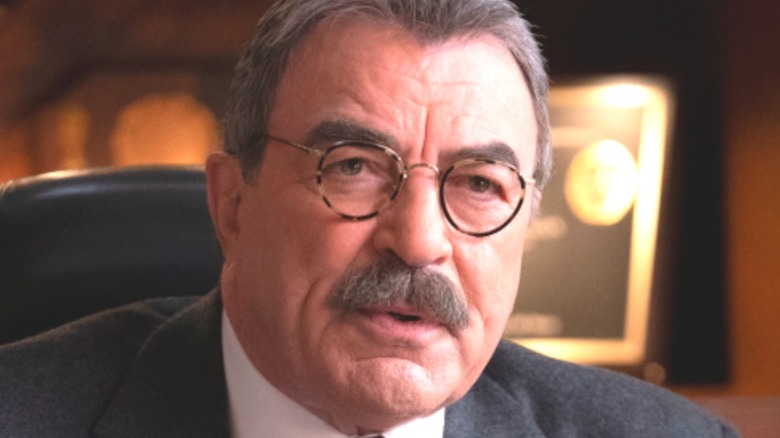 Patrick Harbron/CBS
With a subject matter like the justice system, "Blue Bloods" can feel extremely heavy. When dealing with murder, kidnapping, and sex crimes within the city of New York, there are bound to be some sad moments. In this series, the Reagans typically find themselves on top of the situation and helping victims find closure, but the process can pull hard on the heartstrings from beginning to end.
From the death of Danny Reagan's (Donnie Wahlberg) wife Linda (Amy Carlson), to the sexual assault of Officer Edit "Eddie" Janko (Vanessa Ray), "Blue Bloods" has never strayed from pulling the emotional strings. With a run of seasons spanning over a decade, there is no shortage of emotional moments between the seasons. Season 1 debuted in September of 2010 and set the show's tone with the sad storyline of the abduction of a nine-year-old girl. Danny and his partner eventually found the child, but there are occasions when the Reagans can't come out on top. One such failure created the saddest moment in Season 1.
The Reagans face failure
Season 1, Episode 11, "Little Fish," saw multiple Reagans face failure and guilt when working a case. An escort Danny helped in a previous case calls him in the middle of the night asking for help. She hangs up before telling him her location and is found strangled the next morning. Danny works the case, and eventually, it leads him to her old boss. At the same time, Frank Reagan (Tom Selleck) gets embroiled in a case where the remains of a nine-year-old boy are found during a remodel. The boy is the missing person from a case he worked on 25 years earlier.
This is the saddest moment of Season 1 due to the emotional impact on the Reagan patriarch. To that point in the series, he had been a solid base for his children dealing with their jobs, and viewers hadn't seen his vulnerable side. You see the always composed Frank Reagan begin to unravel, seeing the weight he carries because of his failure: he cancels his appointments with the mayor and the FBI, and he pressures the lead detective. To make matters worse, the killer is found to be a man Frank spoke with the day after the crime, and the murder weapon was a hammer he noticed was missing from the killer's tool belt.
Frank is always the rock for the Reagan family, and it was genuinely heartbreaking to see him struggle with his failure to find the child's killer.