The Blue Bloods Season 10 Moment That Shocked Fans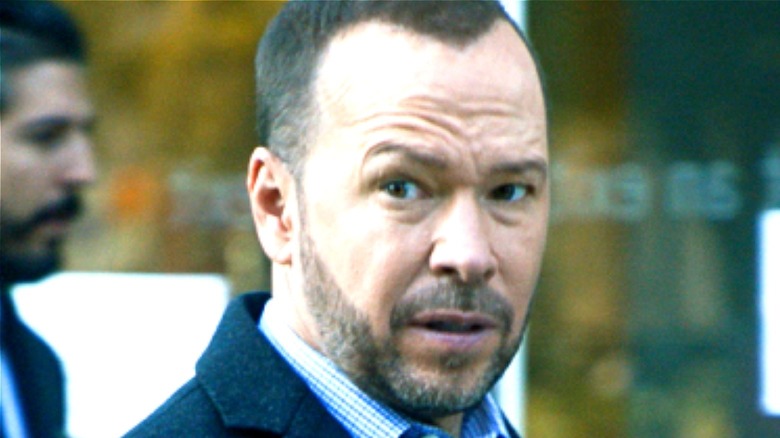 Courtesy of CBS Entertainment
Over the years, the crime procedural "Blue Bloods" has dealt several shocking blows to fans. The long-running drama, which centers around a New York City family dedicated to serving and protecting the city, has dealt with multiple forms of lawbreaking in its run so far. With a complex web of both the personal and professional relationships and conflicts of the multi-generational family, there are many moments that leave fans with their jaws on the floor.
In the very first season finale, the Reagans bring down the Blue Templars for several crimes, but mainly for killing Joe Reagan, Frank Reagan's (Tom Selleck) late son. With the involvement of dirty cops and Frank dismissing Internal Affairs, the episode is a nail-biting watch. Things only get more interesting from here on out, with several episodes in Season 3 and 4, for example, dialing up the tension onscreen with Reagan family members in danger trying to catch notorious criminals. 
Season 10, which got cut short due to COVID-19 pandemic-related restrictions (via Deadline), still manages to fit a whole gamut of incidents that make the show exciting. In particular, Season 10 has moments that make several professional cases very personal for the Reagan family members, and the fans picked out one specific moment like this that shocked them the most.
The Season 10 finale had the biggest shocker of them all
Despite several contenders, the crowning jewel of the season is the shocking reveal in the Season 10 finale. In the two-part finale episode, it's revealed that the Reagans have another family member they know nothing about — and the estranged family member is also a part of the New York Police Department. Joe Hill (Will Hockman), who turns out to be the son of Joe Reagan, makes his first appearance in the final episode.
On the "Blue Bloods" subreddit, some fans like u/JPPT1974 speculated that Jamie (Will Estes) and Eddie (Vanessa Ray) might be pregnant, but the fans were pleasantly surprised to find out that the new Reagan family member revealed in the finale is Joe. U/4AHcatsandaChihuahua said that the pregnancy "was my expectation, too, especially in the beginning when Eddie was so maternal over the abandoned baby. But it turned out even better!" Fans also marveled at the way Joe carries himself through the first Reagan family dinner.
 U/wikipuff, another fan of the series, said, "I was shocked to see that tbh. I was half expecting him to say, 'do we all hold hands or what? I'm not used to this,' at the family dinner at the end." For many, the episode is even a favorite, with "Family Secret" holding one of the highest ratings of any "Blue Bloods" episodes on IMDb, with a near-perfect 9.2 out of 10.