Who Plays Uncle Phil On Bel-Air?
Even if you're not a diehard fan of "The Fresh Prince of Bel-Air," the odds are pretty good you're at least vaguely familiar with the close relationship between Will Smith (Will Smith) and his uncle, Phillip Banks (James Avery), on the series. Nearly 30 years after it aired, there's one scene between the two that continues to make "Fresh Prince" fans reach for their tissue boxes. For many, the final scene of Season 4, Episode 24 ("Papa's Got a Brand New Excuse") simply stands above the rest (via Washington Post).
In the episode, Will is forced to confront the fact that his father, Lou (Ben Vereen), is not the dedicated, loving figure he'd like him to be (via IMDb). Though Will does his best to put on a smile in the aftermath of his father's latest ill-timed departure, his uncle quickly sees through it. As Will slowly unravels, Phillip embraces his him into a tight bearhug, offering his nephew the only fatherly comfort he can. For many, Avery's portrayal of Uncle Phil is irreplaceable, in no small part because of emotional scenes exactly like this one. 
Sadly, Avery died in 2013, long before any talks of a "Fresh Prince" reboot began (via CNN). "Bel-Air," Peacock's upcoming dramatic reboot of the franchise, sees the main characters from the original series played by younger actors. So, who is taking on the role of Uncle Phil?
Adrian Holmes is the new Phillip Banks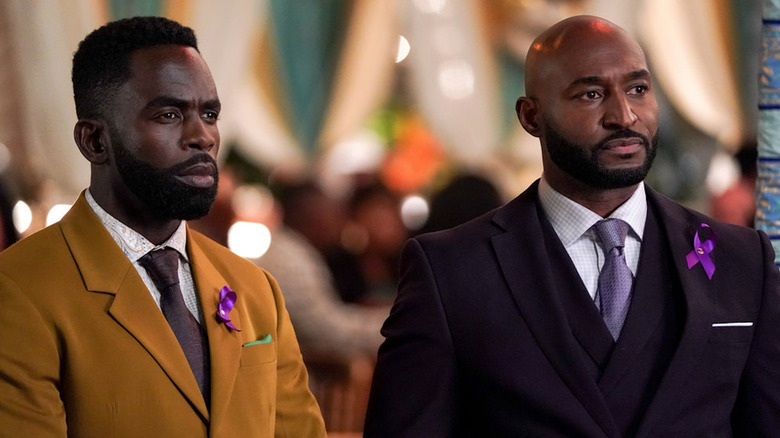 Tyler Golden/Peacock
The actor playing the new version of Phillip Banks is Adrian Holmes. In a recent interview with Today, Holmes acknowledged that he has some big shoes to fill by taking on such an iconic role. "You can't step into his shoes," Holmes said. "I'm just kind of creating my own. For me, it's a tribute to [James Avery], a way of saying thank you to him and what he did for us."
If you've been watching TV in the past three decades, the odds are pretty good you've seen Holmes before. He's had an active career on television since the early 1990s. According to IMDb, Holmes made his first on-screen appearance in a 1991 episode of "Neon Rider," where he played a character named Twist. In the years since, Holmes has amassed a large résumé of more than 150 other productions, mostly comprised of small-screen roles. 
From 2014 to 2017, Holmes played the lead role on "19-2," a Canadian police procedural. More recently, he also starred as the lead actor on the first and only season of "V-Wars," a Netflix series focused on a vampire pandemic. Holmes' additional television credits include recurring and guest-star roles on shows like "Continuum," "Arrow," "Smallville," "Supernatural," "Hospital Show," and "The Boys." His successful television career has also allowed him the opportunity to appear in a handful of big-budget movies, including 2013's "Elysium" and 2018's "Skyscraper."
"Bel-Air" is set to premiere its first three episodes on Peacock on February 13 (via IMDb). It has already been renewed for a second season (via Deadline).