American Pickers Star Danielle Colby Details How She Met Mike Wolfe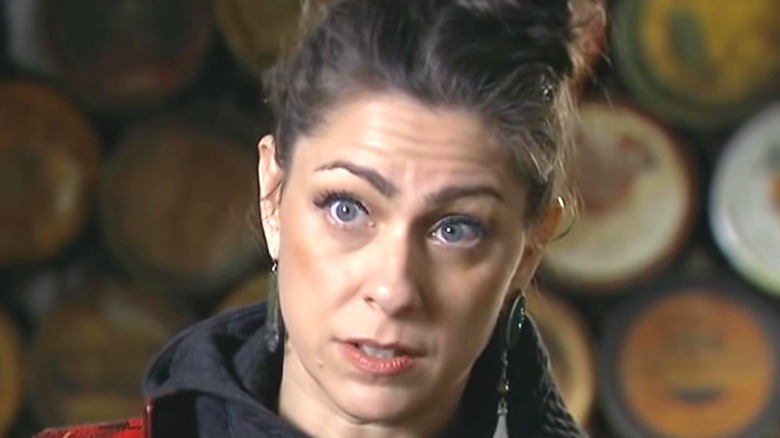 History/YouTube
Around the year 2010, reality TV saw quite a turn thanks to History. With a premise of striking gold in old items, "Pawn Stars" became an instant hit when it premiered in 2009, no doubt helping spawn similar series like "Storage Hits" and "American Pickers" (via Entertainment Weekly). 
When it premiered in 2010, "American Pickers" became another unlikely hit for History, with an average of 3.8 million viewers tuning in for its first season, according to ABC News. The series takes its stars, Mike Wolfe and (formerly) Frank Fritz, across the country in search of forgotten treasures that are worth big bucks. Meanwhile, Danielle Colby, the other star of "American Pickers," generally stays behind at Wolfe's Antique Archaeology store and helps the boys on their treasure hunts.
Currently in Season 23, the show has remained a steady presence on History with a loyal fanbase. But judging by the current season's ratings, the absence of Fritz has caused quite a hit for the series. However, we do know that Colby and Wolfe's friendship remains strong despite the tension within the cast, and not long ago, Colby shared exactly how they first became friends.
Danielle Colby and Mike Wolfe's friendship has a fitting start
Any "American Pickers" viewer can see the chemistry between Danielle Colby and Mike Wolfe, so it's no surprise that the two immediately clicked when they met. Speaking to the Sailor Jerry podcast, produced by the Sailor Jerry Rum company and hosted by Matt Caughthran, Colby revealed that the two actually met at a garage sale in a small town in Iowa. "Basically, he ran into me and we were at a yard sale and I was really sassy with him, of course. He thought that was funny." She added, "There are people that you just collide with in life and you don't understand why ... I think we just bonded really early, and we've been having adventures ever since."
In a 2019 interview with Freshly Inked, she further explained that Mike was actually the real sassy one at the garage sale. "I was looking at a lamp, he bought the lamp, I got mad at him, he looked at me and said 'sorry girl, the time to buy it is when you see it.' I liked his sass..." Given how much their relationship revolves around picking, it's only fitting that their lasting friendship was founded at a garage sale. Colby and Wolfe's friendship seems to be going just as strong today, as she told the podcast in late 2021, "We're life married. I don't even know how he gets out of this, poor sucker." She continued, "He's been a rock for me and I hope that I'm that for him too because he deserves that."
It's especially good to hear that they're just friends since otherwise it could have made one episode even more awkward than it was.