The CW Adds Fan Favorite Characters To Supernatural Spin-Off Wayward Sisters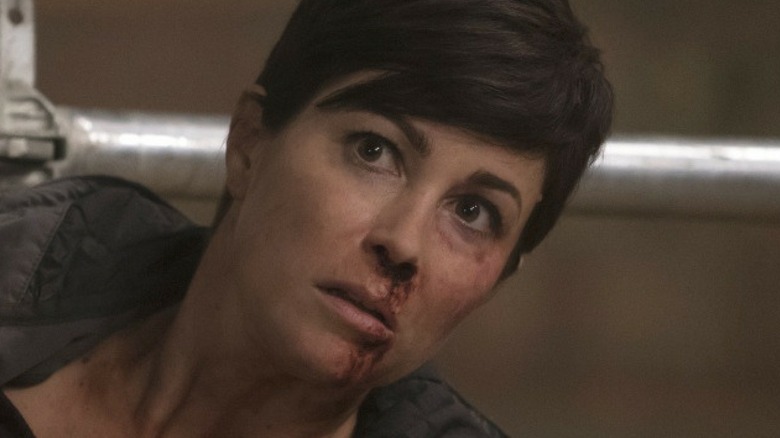 The dream cast for Supernatural spin-off Wayward Sisters is officially coming together. Entertainment Weekly reports that the show has added Briana Buckmaster's Donna Hanscum, Kathryn Newton's Claire, and Katherine Ramdeen's Alex to its cast, in addition to newcomer Clark Backo.
Wayward Sisters will focus on Kim Rhodes' Sheriff Jody Mills, who has been appearing on Supernatural in a recurring capacity since 2010. The new show will follow Jody as she mentors a group of young women, all of whom were orphaned by a supernatural tragedy. Supernatural showrunners Andrew Daab and Robert Singer are set to write the script and executive produce the spin-off, which has also grabbed the original series' executive producers Phil Sgricca and Robert Berens.
Donna, Claire, and Alex were all expected to join the cast when the series was announced due to their close relationships with Jody, but it's still good to hear that they are officially on board. Donna is described as being new to hunting, but still a solid confidant for Jody. Claire, meanwhile, has now become an accomplished hunter, leading her to struggle against Jody's rules. Alex was traumatized by the violence she saw as a child, leading her to swear off hunting, until something begins to threaten her new family. (via Deadline)
As for Backo, she will play Patience Turner, a high school over-achiever whose life is turned upside down when she discovers she's a powerful psychic. She got her psychic powers from her estranged grandmother Missouri Moseley, played by Loretta Devine on Supernatural's first season, and yes, she will be making a reappearance.
Wayward Sisters is set to air a backdoor pilot at some point during Supernatural's thirteenth season. The show will be the second attempt to spin-off the long-running series, following Supernatural: Bloodlines, which got a backdoor pilot in season nine but never made it past that stage. Wayward Sisters has a lot more going for it, though, with an enthusiastic base of female Supernatural fans already pushing for its success. (Bloodlines featured an all new cast.)
The CW may have a little bit more room for Wayward Sisters in its packed schedule now that it announced that The Originals will be going off the air after its upcoming fifth season. However, the network still has quite a bit planned for the future, with the Arrow-verse still going strong and shows like Black Lightning, the Dynasty reboot, and Lucy Hale's Life Sentence all joining in the upcoming year. While we wait to see if Wayward Sisters will be ordered to series, head over to Nicki Swift to read up on the untold truth of Supernatural.