The Inconsistent Detail Bones Fans Have Noticed About Angelatron's Software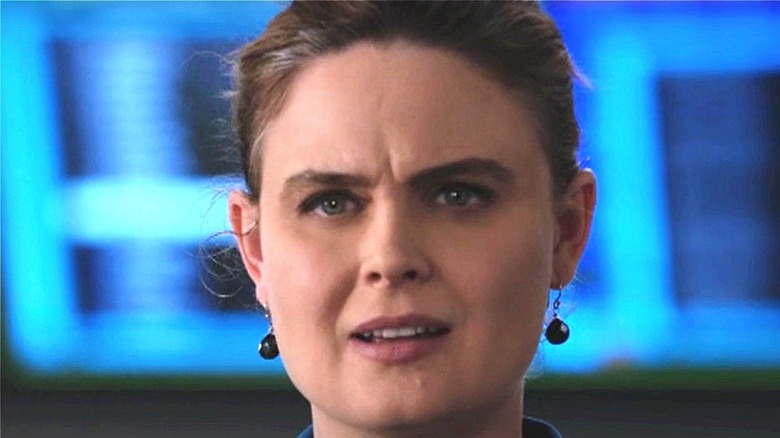 FOX/Hulu
The Fox drama "Bones" combined forensic anthropology and law enforcement to engage its audience in a peculiar crime procedural that had some basis in a real and rare field of science. The dynamic duo of Seeley Booth (David Boreanaz) and Temperance "Bones" Brennan (Emily Deschanel) led a team of "squints" and an FBI shrink to catch criminals by examining multiple aspects of the decomposed bodies of the victims.
"Squints" was a name given by Booth to the Jeffersonian Institute's team of scientists, led by Bones, that assisted the FBI with their investigations. Among all these admitted "nerds," there was Angela (Michaela Conlin).
Angela, unlike the scientists, was a cool, free-spirited artist and best friend of Bones. She began as a specialist in forensic facial reconstruction in the team. But her minor in computer science and biomedical illustration came in handy in crime-fighting since she could use technology for good. The only inconsistency that often troubled fans about Angela was her real-time graphics simulator, called Angelatron, which was a much-improved version of its predecessor, the Angelator.
Angelatron was capable of doing unreal things on Bones
Angela's invention, the Angelatron, helped in reconstructing various murderous scenarios, weapons, and destroyed objects. In several cases, however, Angelatron's inconsistent function left many fans questioning its limits.
On a Reddit thread discussing Angelatron several fans raised questions on the convenient shape-shifting that the writers had Angela and Angelatron do on the show. U/suuuurre said, "I love the show but it gets increasingly ridiculous how they view all fields of tech and computer science as one single thing. It's like having a chiropractor perform brain surgery, it's just different stuff lol."
On another thread, u/disgruntled-pelican was left stunned with the Angelatron's capabilities. "The one ... where she pieces together all the bits of the man in all the reflective surfaces in the bedroom ... that was a bit much!"
While the Angelatron seemed to be successful in the most outrageous of tasks, u/Jawshee_pdx explained its unconvincing use. "Angela is the ex Machina hacker they use to plug plot points and a lot of it is flat-out bulls**t. A lot of the science they lean on, sort of, exists, they just exaggerate its usage for dramatic effect."
To be able to enjoy the show, one will have to take Angelatron with a grain of salt. On the other hand, Angela, with her charm and ability to see the human behind the evidence, could easily be the most real thing about "Bones."