Marvel's First Secret Invasion Trailer Will Blow You Away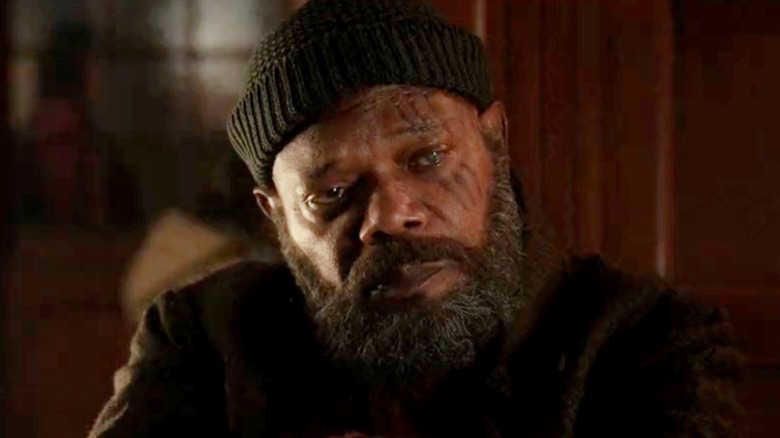 Marvel Studios/Disney+
After spending 2020 away from the movies, the Marvel Cinematic Universe returned to the big screen throughout 2021 and 2022. At the same time, however, the blockbuster franchise has managed to find its niche on the small screen, specifically through the Disney+ streaming service. "WandaVision," "Ms. Marvel," and other series put a spotlight on both new and familiar aspects of the MCU, and the fandom couldn't get enough. Therefore, it should come as no surprise that Marvel Studios is keeping the ball rolling. 
While the Disney+ MCU slate is predominantly focused on individual character stories — as evidenced by titles like "Moon Knight" and "She-Hulk" — one project is taking a far more ambitious approach: "Secret invasion." The series will reveal that the shape-shifting race known as the Skrulls have used their powers to infiltrate Earth, and they have evil intentions on their minds. Samuel L. Jackson and Ben Mendelsohn star as Nick Fury and Talos, respectively, with Kingsley Ben-Adir, Olivia Colman, Emilia Clarke, Christopher McDonald, and Killian Scott joining them.
Details about "Secret Invasion" were few and far between for some time, but that all changed with the arrival of the first trailer.
Secret Invasion will redefine the MCU
Since their introduction in 2019's "Captain Marvel," Skrulls have woven their way into the MCU as allies to the human race. Two revealed themselves as stand-ins for Maria Hill (Cobie Smulders) and Nick Fury during the events of "Spider-Man: Far From Home," and one popped up in the "WandaVision" finale to speak with Monica Rambeau (Teyonah Parris). Naturally, this begs the question: why would the Skrulls target humanity after working alongside them since the 1990s? To put it simply, they were villains in the "Secret Invasion" comic storyline, so at least some of them need to be in the Disney+ adaptation for it to work.
Marvel Comics' "Secret Invasion" story ran from mid-2008 to early-2009 and operated on the shocking twist that numerous heroes and villains were actually Skrull imposters. Upon the Skrull Throneworld's destruction at the hands of Galactus, Princess Veranke rallies her forces and covertly invades Earth. This not only sows distrust across the globe, but establishes the Skrulls as a legitimate threat that Earth would be foolish to ignore. 
The first trailer for "Secret Invasion" leans heavily into a slick, espionage vibe that is perfect for this story of covert invasion. And although it leaves plenty of details uncovered, we do get to see our old friends Nick Fury (Samuel L. Jackson) and Maria Hill (Cobie Smulders), as well as get a first glimpse of new players such as Olivia Colman.
"Secret Invasion" debuts on Disney+ in 2023.