Why Rosalie Otterbourne From Death On The Nile Looks So Familiar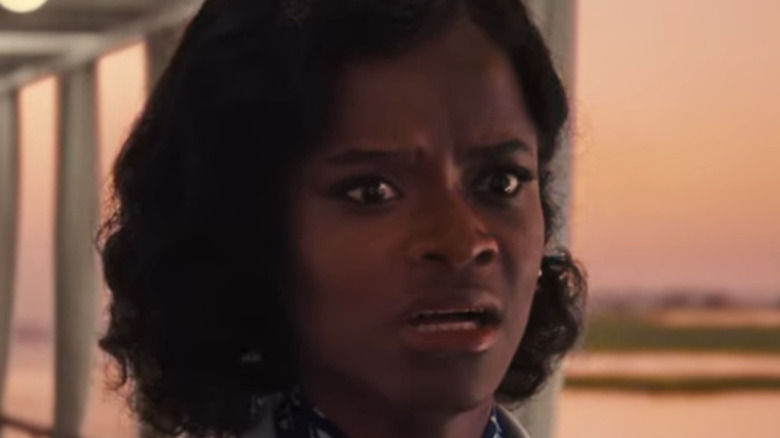 20th Century Studios
"Death on the Nile" is the continuation of Kenneth Branagh's Agatha Christie adaptation universe following 2017's "Murder on the Orient Express." Like its predecessor, "Death on the Nile" has an absolutely star-studded cast that Branagh leads as the famous detective Hercule Poirot. Those familiar with the novel no doubt know who the culprit is in the whodunnit, but we'll keep everything in this article a secret.
The story follows the guests onboard the S.S. Karnak, sailing the Nile River. When one of the guests is murdered, Hercule Poirot is determined to get to the bottom of it. It's not a simple case to follow, and everyone on board is a suspect, much like everyone on board the Orient Express. The cast includes Annette Bening, Russell Brand, Ali Fazal, Dawn French, Gal Gadot, Armie Hammer, Rose Leslie, Emma Mackey, Sophie Okonedo, and Jennifer Saunders.
Another actor on the roster, who you might find yourself trying to pinpoint, is Letitia Wright, who plays Rosalie Otterbourne — a bad-tempered passenger. If you're wondering where you've seen Wright before, it's probably because she's involved in the biggest movie universe in the world. Here's where you may have seen her.
Letitia Wright appeared on AMC's popular Humans series in 2016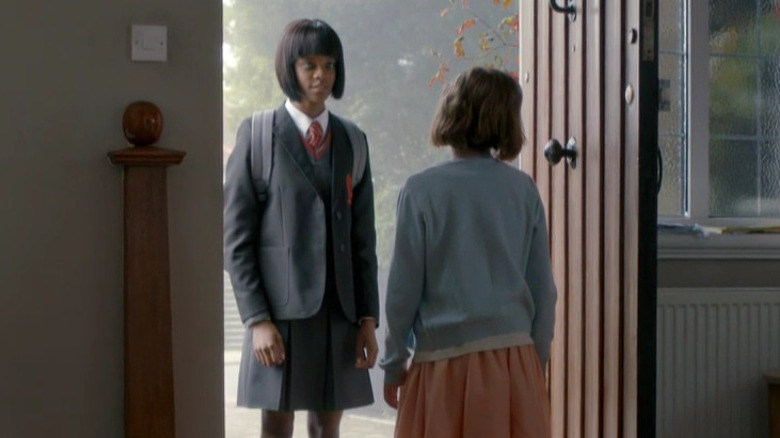 AMC
Before we get to Letitia Wright's most famous role to date, there's another important performance from which some viewers might recognize her. In 2016, Wright appeared on AMC's "Humans" in Season 2. The series is somewhat complex and focuses on artificial intelligence and humanoid robots known as synths. Humans and synths constantly interact, and it's almost impossible to tell them apart.
In Season 2, Wright portrays Renie, a human who pretends to be a synth to cope with the absence of her parents. Sophie (Pixie Davies) is able to get her out of her synth living state, and eventually, Renie starts acting like a human again. She dates Toby (Theo Stevenson) but is pretty much written out of the series without any explanation or closure for her character. It's suspected she didn't continue with the series due to bigger and better projects.
Letitia Wright landed the role of a lifetime in the MCU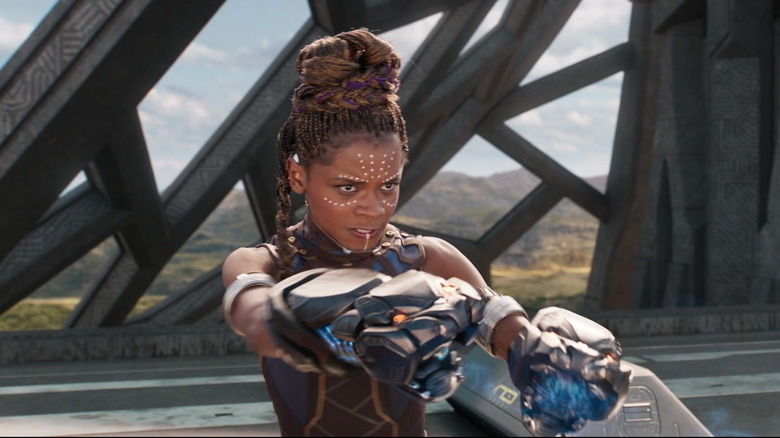 Marvel Studios/Disney
In 2019, Letitia Wright starred in one of the year's biggest movies — "Black Panther." She nabbed the role of Shuri, one of the world's most brilliant minds and the sister of T'Challa (Chadwick Boseman). The genius also proved to be one hell of a fighter, defending herself against Killmonger (Michael B. Jordan), and she fought valiantly for Wakanda. Wright reprised the role in "Avengers: Infinity War," where she helped in the initial attempt at removing the Mind Stone from Vision's (Paul Bettany) head. 
Shuri also appears in "Avengers: Endgame" in the final battle against Thanos (Josh Brolin) and his army. She's not featured heavily in the action, but she is present during the women's team-up scene and later at Tony Stark's (Robert Downey Jr.) funeral. Wright will return as Shuri again in the upcoming "Wakanda Forever," but her fate in the MCU beyond that is unknown at this time.