The White Dragon Clue You Missed Early In Peacemaker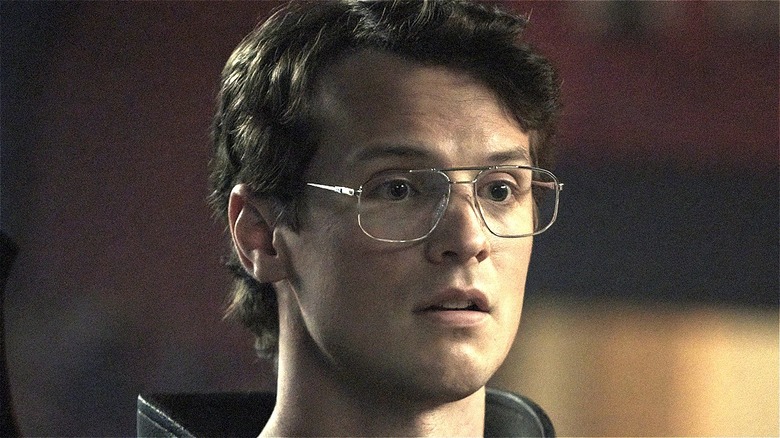 Katie Yu/HBO Max
This article contains spoilers for "Peacemaker."
James Gunn's HBO Max series "Peacemaker" is getting ready to wrap up next week, with its eighth and final episode set to air on February 17 (via Rotten Tomatoes). As the show winds down, audiences are starting to notice some things from earlier in the season that have played a huge role in the later episodes, specifically Episode 7, which was released Thursday, Feb. 10. 
For those who haven't seen it, "Peacemaker" character Christopher Smith (John Cena) gets tracked down and confronted by his crazy, white supremacist father — August "Auggie" Smith aka White Dragon (Robert Patrick) — who is attempting to kill him following years of bad blood between the two over the death of Smith's brother. Auggie ultimately blames Chris for the incident, which involved him and his brother being forced to fight one another for fun while Auggie and his friends watched. 
When it comes time to confront Chris in Episode 7, Auggie does so as his racist, hate-fueled White Dragon persona from DC Comics lore. The character is a skilled inventor and suit-maker, and his abilities are put on full display during his battle with Peacemaker. But what Auggie didn't prepare for was the fact that his son had a few equally insane friends, one being Adrian Chase aka Vigilante (Freddie Stroma), who manages to help Chris take down his supervillain dad thanks to a clue he learned about him from Episode 4. 
'There are gaps in the armor, man!'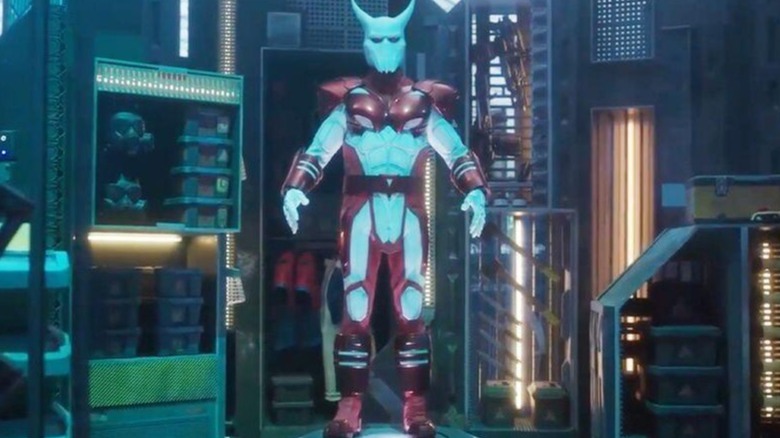 HBO Max
It's a clue that not only saves Peacemaker's life, but also serves as one of the show's best examples of foreshadowing — with it coming during Episode 4, "The Chode Less Traveled," while Vigilante and Chris are swiping some items out of Auggie's secret lair where he stores the White Dragon suit.  
"There are gaps in the armor," Vigilante says to Chris after spotting the suit, prompting him to act confused. "Your dad's White Dragon costume, right? There are weak points where the cloth is." Fast-forward to Episode 7, "Stop Dragon My Heart Around," and the detail comes up again in spectacular fashion. 
Just as White Dragon is getting ready to kill Peacemaker during their final confrontation, Vigilante swoops in and stabs the evil maniac on his back in an area where his neck and body's exposed. The character yells, "There are gaps in the armor, man!" before getting tossed aside by Auggie. Chris manages to overtake his father moments later and eventually defeats him with a bullet to the noggin.
Fans later pointed out how the callback was just one of several instances in "Peacemaker" where things have resurfaced from previous episodes. "James Gunn is a genius with the foreshadowing," wrote Twitter user @dela_jasper. "Gaps in the armor, the callback to the Eagle hug and even Vigilante remembering Peacemaker's face exercise excuse to cover his crying."