Robert Pattinson Confirms What We All Suspected About Willem Dafoe's On-Set Behavior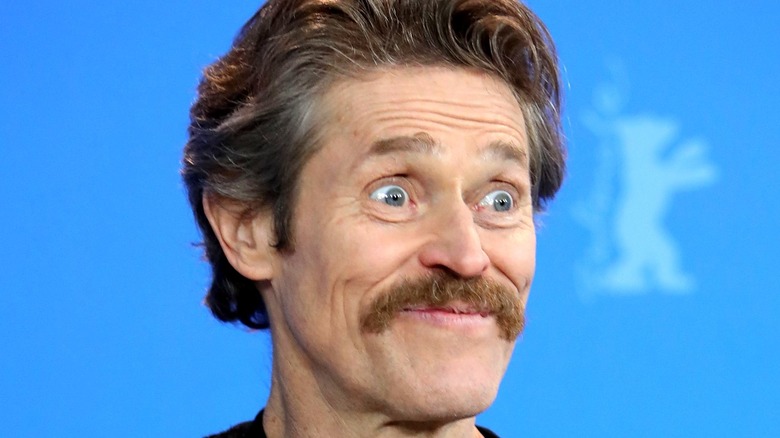 Andreas Rentz/Getty
Robert Pattinson has come a long way since his heartthrob "Twilight" days. Instead of taking on exclusively big-budget projects, Pattinson has starred in or appeared in everything from arthouse dramas to sci-fi blockbusters. Having such a uniquely diverse career has afforded Pattinson the opportunity to work with a large stable of renowned actors and filmmakers. From Christopher Nolan in "Tenet" to Tom Holland and Bill Skarsgård in "The Devil All the Time," Pattinson has clearly flourished during his career. And this is all without mentioning his upcoming take on the eponymous character in "The Batman."
One of Pattinson's more unique on-screen collaborations took place back in 2019 with Robert Eggers' "The Lighthouse," which saw him match acting skills with the legendary Willem Dafoe. The film, which sees Pattinson's character struggling to live in isolation while maintaining a lighthouse with Dafoe's, was praised for its unnerving atmosphere and the performances of its leads (per Rotten Tomatoes).
Still, it's hard not to wonder how much of Dafoe and Pattinson's on-screen chemistry translated to real life. Fortunately for fans, Pattinson recently opened up about Dafoe's on-set behavior.
Robert Pattinson loved working with Willem Dafoe
During a recent interview with GQ detailing his most iconic roles, Robert Pattinson talked about his time working on "The Lighthouse" with Willem Dafoe. Pattinson admitted that he was a bit nervous about the experience at first because of Dafoe's endless energy when the two were rehearsing scenes. "I was kind of a little bit terrified at the beginning, because he would literally — we'd rehearse the entire movie, and then the second we got to the end, he's like, 'Again!' ... And his energy hadn't even been dented," Pattinson said.
Amusingly, Pattinson also compared his time on-set with Dafoe to "working with a six-year-old" because of Dafoe's energy levels and excitement. Overall, though, Pattinson loved working with Dafoe and called it an "unreal" experience. He also said of his co-star, "He's the best." 
It's clear that Dafoe is an actor who takes his craft very seriously and approaches projects with a level of energy that few others can match.