The Film And Video Game Rights For This Massive Franchise Are Up For Sale Again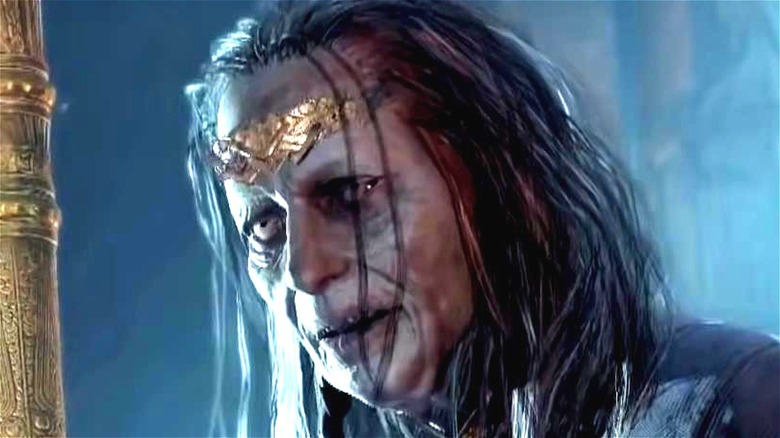 Monolith Productions/YouTube
When it comes to entertainment, the first quarter of the 21st century has been marked by the dominance of franchises. We are living in an age of the Marvel Cinematic Universe, CGI Luke Skywalker showing up in spin-off "Star Wars" TV shows, and classic Disney movies getting live-action remakes. In that environment, who owns the rights to which franchises matters more than ever, and if those rights aren't being put to use, they can expire. That's part of the reason why Sony has launched three separate "Spider-Man" film franchises in the past two decades (per Vox). It means there's a glut of content for fans to enjoy, but it also means that entertainment companies are scrambling over each other to strike deals on the next intellectual property gold mine, and hanging on for dear life to the ones they already own.
On that note, a huge blockbuster franchise is now coming up for sale. Generally, a company with rights to a major franchise wouldn't be so keen to let it slip through their fingers, which is why seeing this massive, multi-billion dollar property up for auction is sending shock waves through the entertainment industry.
Rights to The Lord of The Rings are about to be up for grabs
Rights to the "Lord of the Rings" trilogy and "The Hobbit" are coming up for auction as the current owner, Saul Zaentz Co., has decided to sell the valuable property (via Variety). Rights to movies, gaming, merchandise, and more will be on the table. While Warner Bros., which produced the "Lord of the Rings" and subsequent "The Hobbit" trilogies, having purchased live-action film development rights of their own, a lack of project development allowed those rights to revert back to Saul Zaentz Co. in 2021. The sale is projected to have a floor of $2 billion, according to Variety's reporting.
The news comes as Amazon is set to release a long-awaited "Lord of the Rings" show, subtitled "The Rings of Power," which is scheduled to debut on Amazon Prime Video this fall. Amazon currently has global TV rights for the franchise, which they purchased from the Tolkien estate to the alleged tune of a whopping $250 million in 2017. Having sunk an additional $400 million into production on the show, it is expected that the online retailing giant will be a top potential buyer for the newly released rights. Such a deal would allow them to make additional "Lord of the Rings" content as they compete with other entertainment giants who have found massive success with fantasy franchises such as "Game of Thrones" on HBO and "The Witcher" on Netflix. 
Whoever ends up the new owner of the "Lord of the Rings" rights may be the one to rule them all.