This Legendary Rapper Was Considered To Star In Mad Max: Fury Road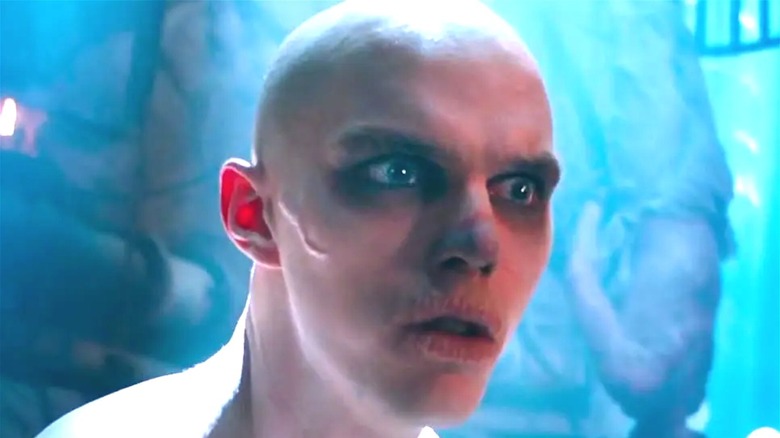 Warner Bros. Pictures
When "Mad Max: Fury Road" hit theaters in the summer of 2015, audiences the world over were blown away as much by the scope of George Miller's post-apocalyptic landscape as they were the explosive action at the center of the narrative. And its safe to say even folks well-studied in Miller's past "Mad Max" offerings were likely caught off guard by just how much bigger this car-smashing, fire-bombing bonanza was, in comparison. 
While Miller undoubtedly utilized too many moving parts to fathom in bringing "Fury Road" to the big screen, none of them would've mattered much if the film had miscast its lead roles of the wily Max Rackatansky and the formidable warrior Furiosa. Those iconic parts, of course, eventually went to Tom Hardy and Charlize Theron. While casting that duo paid off in spades for Miller and the "Mad Max" production team, it seems they'd thrown a casting net for those roles far larger than anyone could've known.
In fact, a recent behind-the-scenes account of the film's casting process claims Miller and company looked at everyone from Jeremy Renner and Michael Fassbender, to Gal Gadot and Rhianna, for those roles. Apparently, they even briefly considered offering the part of Max to a legendary Detroit rapper.  
Eminem would've brought a very different vibe to Mad Max: Fury Road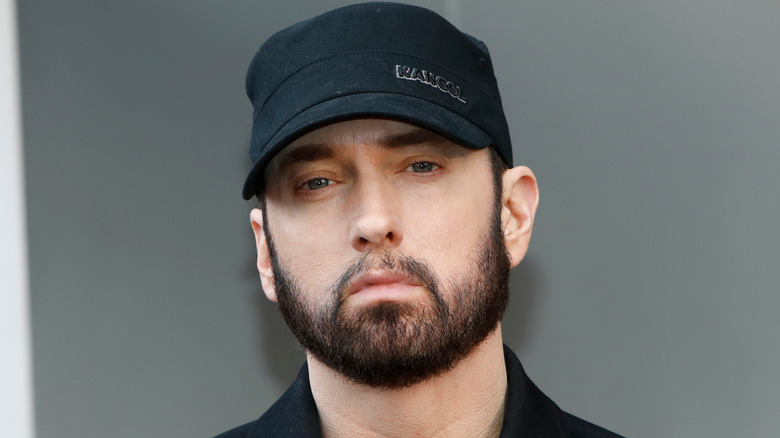 Kathy Hutchins/Shutterstock
That account came via an excerpt from Kyle Buchanan's book "Blood and Chrome: The Wild and True Story of Mad Max: Fury Road" (published by Vulture), and finds Miller and several folks on the film's production confirming that Eminem was indeed once in the running to play Max in "Fury Road." And yes, that casting would've made for a very different "Mad Max" movie.
Storyboard artist Mark Sexton brought up the rapper's near casting, noting, "This is something I don't hear about very much and that George never admits, but I have a very, very, very strong memory of George talking about Eminem for Max. Production Manager Petrina Hull was quick to back up the claim, stating, "That is true! There were always these people that George would see in popular culture, and he'd want to know more about this person."
George Miller eventually did confirm the fact as well, saying of Eminem, "He'd done '8 Mile,' and I found that really interesting — I thought, 'He's got that quality'..." Miller even went so far as to ask his "Happy Feet" star Brittany Murphy about working with Eminem, with Miller admitting the actor's response only bolstered his interest. "She had done '8 Mile,' so I asked her what he was like and would this be something really interesting for him? She had no reservations about saying what a wonderful talent he is."  
George Miller likely caught a break when Eminem passed on Fury Road
Turns out, Miller's team offering actually reached out to Eminem about the role, noting the actor ultimately passed because of the lengthy Australian shoot, "We did get in touch with him, though that's as far as it went because we were going to shoot it in Australia at that point, and he simply didn't want to leave home." 
Call it fate, or just the nature of showbiz, but Eminem passing on "Fury Road" proved a fortuitous turn for Miller as it left the door open for the edgier Tom Hardy. If you've seen "Fury Road," you know few could've delivered the goods the way Hardy did, with the actor so convincingly portraying the stone-faced Max it's now tough to imagine another performer (even Mel Gibson, who originated the role) playing the part with as much gravitas.
As for Sexton, he admitted to being relieved Eminem passed, stating, "I'm kind of glad it didn't happen... Whole different bent there. And the feminist story behind 'Mad Max: Fury Road' might have taken a bit of a hammering if he'd played the role." 
With all due respect to Eminem, it's hard to argue Sexton's point. Likewise, even if we're still mildly intrigued by what the rapper might've brought to the mix, one can only imagine a certain portion of the population would've scoffed at his mere presence in the Wasteland. And "Mad Max: Fury Road" only really works if you can, ahem, lose yourself in the moment.