Underrated Workplace TV Shows That Are Total Hidden Gems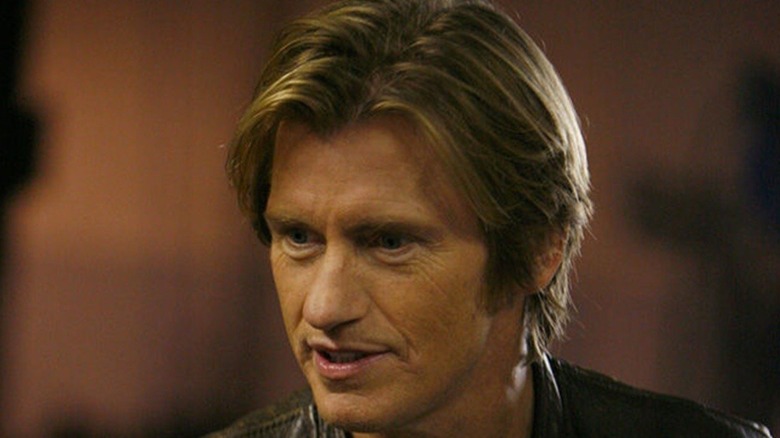 FX
Workplace television shows became popular for a reason. Classics like "The Office," "Scrubs," and "Mad Men" have a certain quality they bring to the small screen: relatability. We often find the characters in these programs fascinating because they work an ordinary job we are familiar with in one way or another. Whether it's office workers, doctors, cops, or advertisement agents, they are all people who could easily be one of us or someone we know. We connect with them and get to see the dynamics of their work environments and how the employees develop friendships and relationships over time.
It's a subgenre with numerous variations — depending on the job and how the characters adjust to it — but not all of them find a way to reach a large audience. Some fly under the radar and attract a small but loyal following that keeps the program alive. Here, we gather some of the hidden gems that perhaps haven't acquired the kind of hype that other classics have.
Rescue Me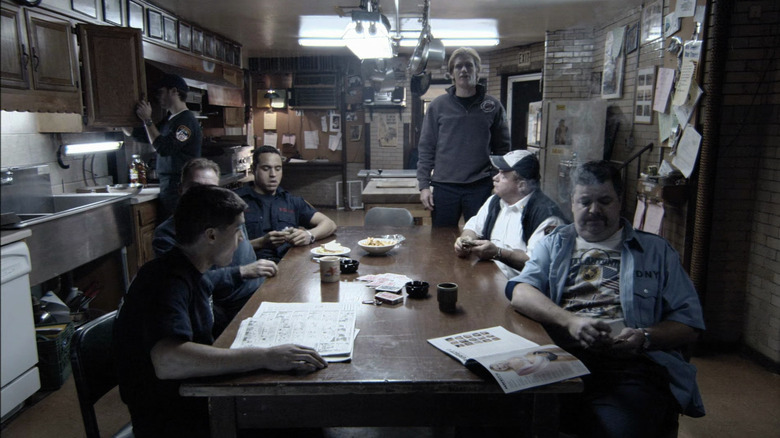 FX
In the '90s, Denis Leary became known as a stand-up comedian. As his career progressed, he wrote and appeared in television shows and movies, too. "Rescue Me" is one of his passion projects (we'll talk about the other one later) that he co-created and co-wrote with Peter Tolan and starred in as the protagonist, Tommy Gavin.
The series follows the work and personal life of firefighters in a fictional fire department (FDNY) in New York. Undoubtedly, it's one of the most authentic dramas to portray firemen, and Leary and Nolan explore masculinity and male humor at their best and worst. They paint a fascinating picture of these men who risk their lives every day — not only by running in and out of burning buildings but also coping with their job in self-destructive ways.
In an interview with Deseret News, Leary explained that "firefighters around the country ... love the show, because it's a glimpse into what it's like to be in what's considered the greatest firefighting force in the world, which is New York." But that's only one of the many reasons "Rescue Me" found a loyal and supportive audience among men in the country and around the world. After all, it's also funny, breathtakingly exciting, and emotionally raw. It's an important series that lets us take a peek at what lies in the hearts of some of the most heroic men in America.
Miracle Workers (Season 1)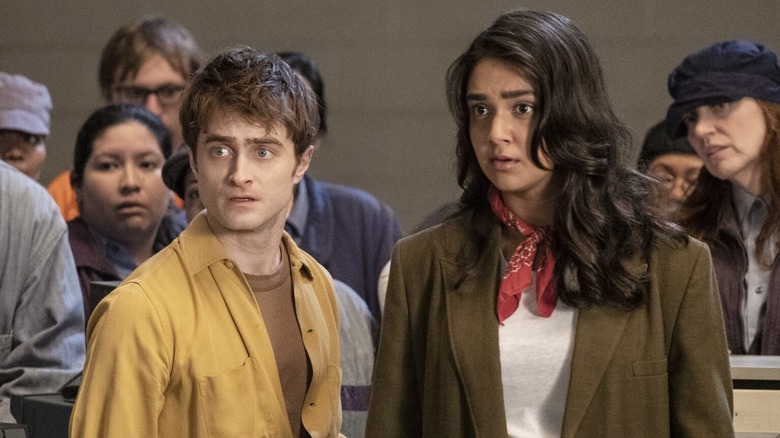 TBS
Simon Rich's "Miracle Workers" is an anthology comedy series on TBS. The 1st season's premise is based on an inventive idea — it explores what work would be like in Heaven Inc. (yup, you read that right). Imagine being an angel and working for the quirkiest God — played brilliantly by Steve Buscemi — trying to save souls and make miracles happen. The plot focuses on two protagonists, Craig (Daniel Radcliffe) and Eliza (Geraldine Viswanathan), who operate in the Answered Prayers department. They're far behind on the prayers that need to be answered, but the two eventually become an effective duo and deal with the overwhelming workload. However, later on, they face a bigger challenge when God goes crazy and decides to blow up Earth. Together, they need to come up with something to stop him.
This delightful and idiosyncratic comedy might not have millions of fans like the similarly bonkers "The Good Place" does, but its weirdly original premise and lightweight humor deserve a watch from viewers who seek something slightly different.
Press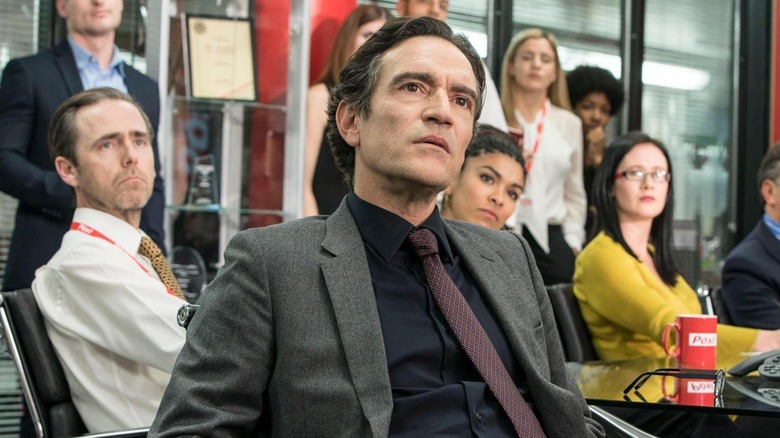 BBC One
"Press" is top-notch entertainment as far as British mini-series go. Mike Bartlett's six-part drama depicts two rival British newspapers — one is a sensationalist tabloid, the other is a prize-winning publication with high moral standards — and how they choose to cover the same stories from opposing angles with a different goal in mind. Whether the story is a gay footballer who committed suicide, naked photos of a pension secretary taking drugs, or an MI5 leak that could expose corruption and hypocrisy in the highest places, "Press" highlights the differences between honest and sensational journalism while portraying both in incredible detail. It's a captivating and thought-provoking study about an industry that's constantly going through changes that blur the lines between moral integrity and profitable content further and further.
Although "Press" garnered mostly positive and praising reviews from critics, it didn't really find the right audience. Nevertheless, Bartlett's show is a fast-paced, engaging, and smartly written drama with a cast that delivers excellent performances throughout.
The Chair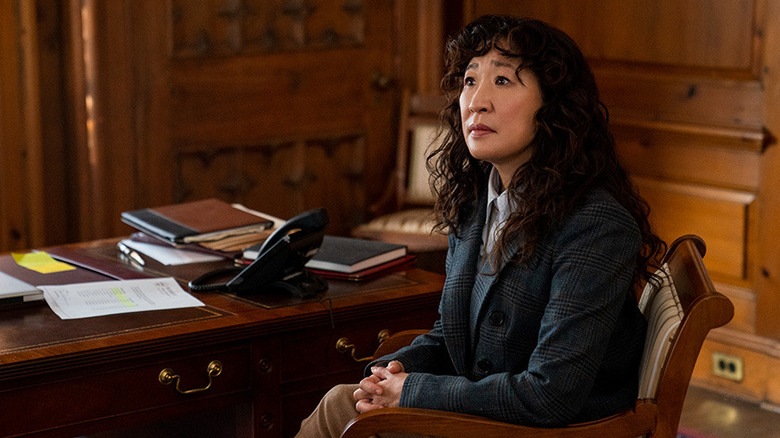 Netflix
Last year's Netflix show, "The Chair," follows academics in the fictional Pembroke University, where they welcome the new chair of the English department, Ji-Yoon Kim (Sandra Oh). She's tasked with solving an overwhelming amount of issues that the department — and the entire school — isn't really keen to deal with. In fact, most of the university's ancient staff members live in the past and boycott any change that could help the organization progress. And Kim's job isn't just managing the English department but also facing leaders and other academics while trying to raise her adopted daughter, who doesn't make things easy for her. Plus, Kim needs to figure out whether her relationship with her subordinate, lecturer Bill Dobson (Jay Duplass), is something worth pursuing.
"The Chair" is an intriguing peek into an academic life that's riddled with problems and ruled by men whose thinking is as stuck in the past as their haircuts. Although the series' approach is light-hearted and easy, there's a sea of underlining issues — ageism, racism, sexism, and even cancel culture — that creators Amanda Peet and Annie Julia Wyman beautifully plant in the material without being didactic. But perhaps "The Chair's" best moments are those that happen in quiet and delicate conversations about hardship, unclear feelings, and personal struggles. Although the show gained an overall positive critical reception, it's still a relatively hidden gem on Netflix that deserves more recognition from viewers than it has recieved since its release.
The Job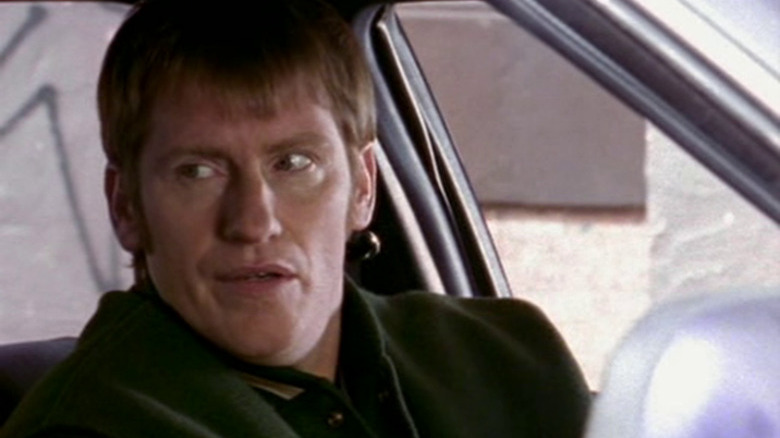 ABC
Denis Leary's first television show as a creator is as underrated and hidden as it gets. Though "Rescue Me" brought him recognition later, its predecessor, "The Job," is where he tried out the prototype of his macho-comedy formula. The sitcom follows a New York City police department — mainly detective Mike McNeil (Leary), who drinks a lot, takes drugs, and cheats on his wife repeatedly. He's the sort of cranky but likable anti-hero who often bends the rules and attempts to take a shortcut if the opportunity presents itself. Leary was born to play these characters, and unsurprisingly, he does a great job here. Besides him, "The Job" also offers an ensemble cast, including actors like Lenny Clarke, Adam Ferrara, John Ortiz, Diane Farr, and Dean Winters, who later became regulars on Leary's second series.
Despite being a cop show and occasionally dealing with serious cases, "The Job" maintains a hilarious tone and a casual approach to dark comedy. It's adult entertainment with nothing too hard to digest. If you dig the genre, the chances are high that you'll find some satisfaction in its manly world.
Undateable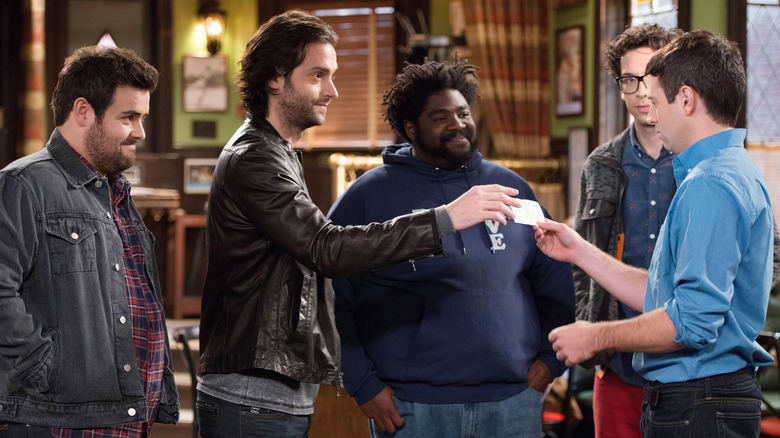 NBC
Technically, Adam Sztykiel's series isn't an obvious choice for a workplace sitcom. However, since more than half the show takes place in a bar — owned by one of the main characters, Justin (Brent Morin) — it can easily count as one. Only Justin and his old friend Brett (David Fynn) work in the bar in the beginning, but all of the characters hang out there on a regular basis. Justin even develops a crush on one of his employees, Nicki (Briga Heelan), and attempts to subtly let her know about his feelings during shifts. His new roommate, the womanizer Danny (Chris D'Elia), is the one who gives him advice about how he should pique Nicki's attention, but as usual in this type of comedy, nothing ever goes smoothly for these awkward people.
"Undateable" is a simple and innocent series with no chance to compete with classics and fan favorites. But thanks to its silly and cheerful characters — many of them played by professional comedians — and solid premise, it's an endearing show that's easily watchable for genre fans.
Derek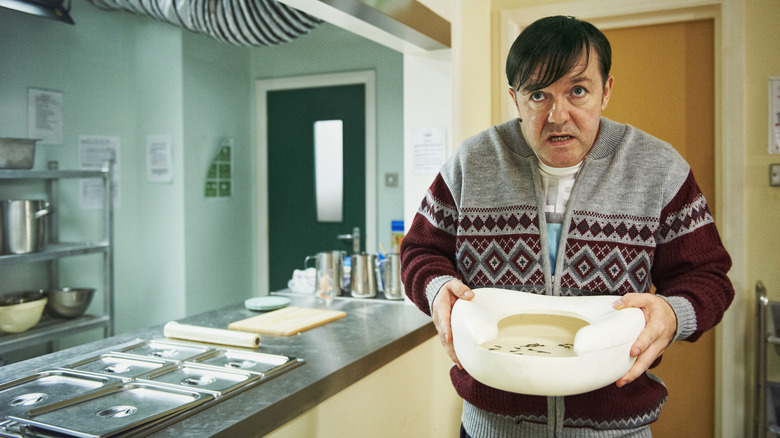 Channel 4
"Derek" is the sixth television program created by Ricky Gervais and probably his least known — it only ran for two years and ended with a special episode in 2014. The plot follows the everyday life of a tiny care home in a small England town. The titular character, Derek (played by Gervais), is a resident as well as an employee, and Gervais' portrayal of him is one of the main ingredients in the show's tender charm. Although Gervais based the series on the familiar mockumentary formula that he employed in his previous projects, "Derek" leans more towards drama than comedy. Its main characters aren't really caricatures but introverted and shy people who feel more accepted and loved here than anywhere else.
In an interview with Variety, Gervais said, "I think this is the most sincere thing I've done. I've left behind that sort of veil of irony that I sort of explored with 'The Office' and 'Extras.'" As the plot progresses, this statement rings truer and truer. After the mixed critical reception of the 1st season, critics found that the show grew more authentic and likable during the 2nd season. Undoubtedly, this is Gervais' most controversial and unusual project, and it relies more on heart than smart and derisive humor. If you're looking for something out of the ordinary, this humble dramedy is worth a chance.
Nurse Jackie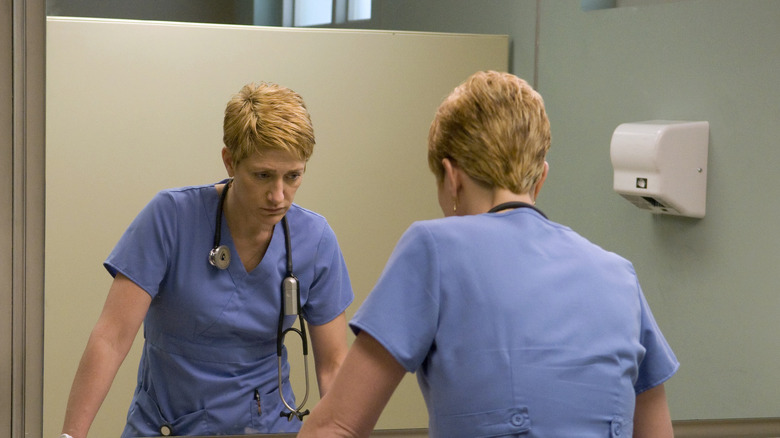 Showtime
Showtime's award-winning medical drama is likely the least underrated on this list. After all, it ran for seven seasons and gained a strong following during its airing. Yet somehow, it hasn't become as popular and highly regarded as one would expect. The series rides on Edie Falco's exceptional performance as the titular character Jackie Peyton, who works as an ER nurse at All Saints' Hospital in New York City. She's a dedicated professional who struggles with drug addiction and marital problems, but also an ethically and morally questionable character who often breaks the rules to get her patients the best help.
The writers combine personal drama with the difficulties of a demanding and exhausting job, creating an engaging plotline that often involves controversies and moral challenges. Just like "House, M.D.," "Nurse Jackie" is a dark medical drama that employs an unusual and sometimes crude tone when it comes to patients, doctors, and nurses. However, the latter digs deeper into relationships — and thanks to Falco's remarkable portrayal, gives us a fascinating character study about how difficult a medical professional's life can be.
I'm Dying Up Here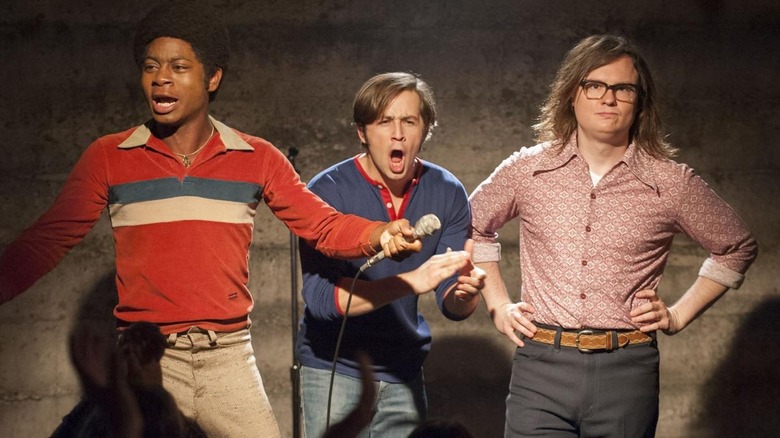 Showtime
When it comes to stand-up comedians, authentic and relatable portrayals are few and far between in film and television. Showtime's drama series, "I'm Dying Up Here," might have its shortcomings and weaknesses, but it's still one of the finest in the genre. Based on William Knoedelseder's non-fiction book of the same name, the plot explores the Los Angeles stand-up scene in the 1970s. It follows a group of young comics who regularly perform at the local venue, Goldie's comedy club, and all have one goal in mind: to become famous and successful. Whether that happens by getting an invitation to appear in Johnny Carson's "Tonight Show" or by any other chance they get, it doesn't matter — they just desperately want to make it.
In its two seasons, the show focuses on several characters, each at a different point in their career. Some broke, some mildly successful, some a burnout, and some who blew it. What the series does so effectively is depict the emotional and mental process these artists go through. They are all navigating life between audience expectations, dysfunctional relationships, and personal struggles while chasing success in a chaotic and overwhelming business. Although the show received mixed reviews, it found some popularity among different audiences, but not enough to grow into something truly big — it was canceled after two seasons in 2018.
Sirens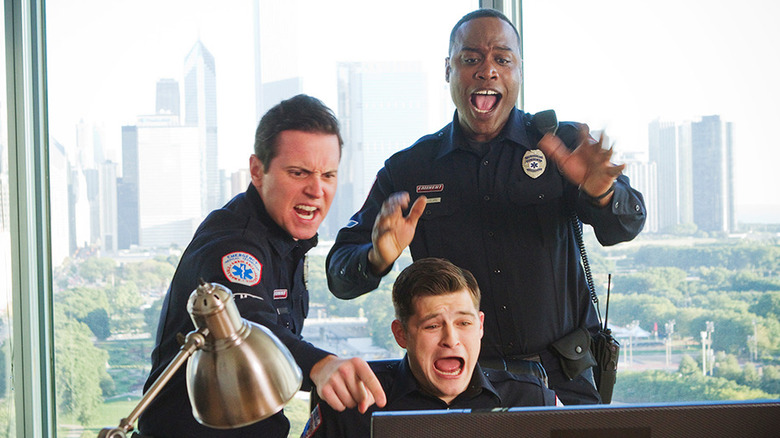 USA Network
The USA Network's "Sirens" is another Denis Leary project he adapted with Bob Fisher from a British series of the same name. This time Leary doesn't appear on the show, but his trademark wit does. The plot is about three Chicago EMTs who roll around in an ambulance and save lives in the city. Johnny (Michael Mosley), Hank (Kevin Daniels), and Brian (Kevin Bigley) all have very different personalities, but they're great at their job. They're not so great in their private lives, though — all of them have self-destructive tendencies and often make terrible decisions that lead to complications in their relationships. Yet as a team, they're unbeatable and funny as hell.
Leary and Fisher's collaboration is a match made in heaven. Their writing is hysterical, and they adeptly create ridiculous and darkly entertaining situations. Similar to "The Job" and "Rescue Me," "Sirens" employs a masculine tone, basing jokes on stereotypes and twisting them in an inventive and amusing way. Sex, drugs, and pop culture references are what drive the show, and the cast clearly has excellent dynamics and chemistry with each other. Unfortunately, despite mostly positive reviews, the program was short-lived and only aired for two years. If you're a fan of Leary's comedy, though, "Sirens" is a hidden gem you need to see.
Sports Night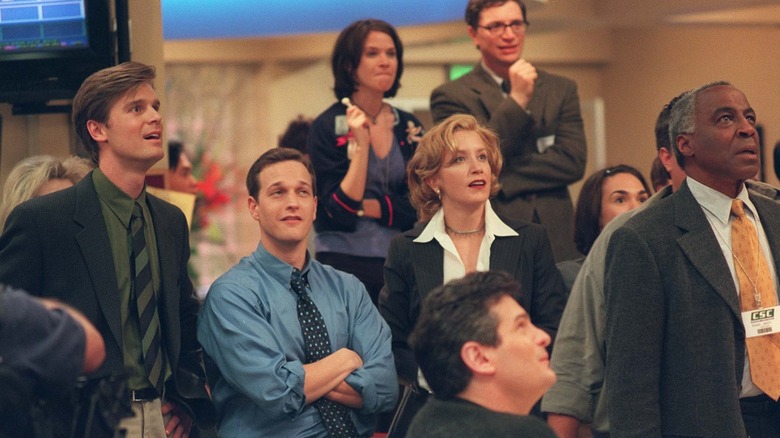 ABC
Aaron Sorkin's first television show, "Sports Night," has all the qualities that his other famously regarded works — "The West Wing," "Studio 60 on the Sunset Trip," "Newsroom" — are famous for. Yet somehow, it couldn't really find the audience it deserved. Using a behind-the-scenes approach, the series gives us an insight into a fictional sports news show, portraying the staff as they operate in the world of sports media. Although "Sports Night" was labeled a sitcom at the time — it even had a horrendous laugh track in the 1st season — it was crystal clear that Sorkin focused more on the drama. And he gave it his everything.
"Sports Night's" humor is as sharp as a hunter's knife, and its drama cuts right to the bone. Sorkin's writing is tight, steady, and clever. No filler. No stalling. Just a man's outstanding intellect at its best. Back then, he obviously wanted to prove himself with every project — even after he was nominated for numerous awards for his "A Few Good Men" screenplay — and he sure did. It's a shame the program only ran for two seasons and was canceled in 2000. The show was way ahead of its time, and perhaps that's one of the reasons it couldn't find a larger audience during those years. Nevertheless, it's definitely one of the absolute underrated gems of Sorkin's genius.
Men at Work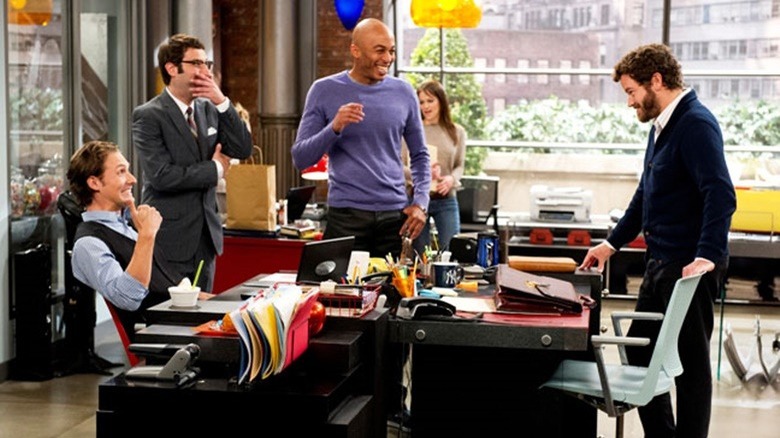 TBS
Breckin Meyer's TBS sitcom, "Men at Work," is a comedy made for men. The plot follows four middle-aged guys who are best friends and work at the same magazine in New York. Well, mostly, they just hang out, discuss women and the job, and take every chance to tease each other. The characters are best described as men who desperately want to be masculine like a lumberjack but are actually soft and delicate like a middle-class poet with a sensitive heart. The writers make fun of their pretentious and imagined masculinity while they try to impress the ladies, each other, and their boss — played by the great J.K. Simmons, the most famous guest star on the show.
This barely-known sitcom is probably the most underrated item on this list. Critics bashed it real bad, but those of us who stuck with it grew to like these often selfish and stereotypical dudes. "Men at Work" isn't subtle or intelligent in the slightest, but it has a kind of old-fashioned appeal that's missing from most modern comedies about the male sex.
NewsRadio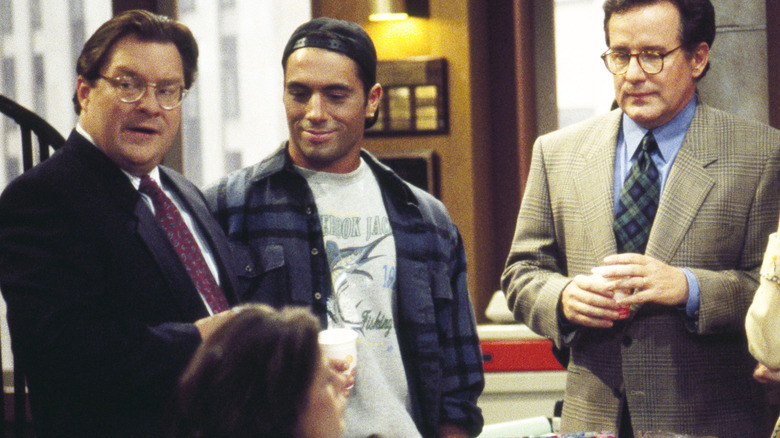 Paul Simms' '90s sitcom "NewsRadio" has all the familiar tropes of the genre, and thanks to its fast-paced writing and ensemble cast, it still feels fresh after 25 years. The show follows the work-life of the staff of a news radio station in New York. The characters represent classic archetypes — pleasing viewer expectations to a great degree — who all have extraordinary chemistry, whether they're bickering, getting along, or teasing one another. There's the work, sure, and some of the employees have bigger ambitions than others, but the essence of the show comes from the spot-on physical humor, visual gags, and clever dialogue. Simms knows what these actors are capable of, and he brings the most out of them excellently.
"NewsRadio" features prestigious actors like Dave Foley, Stephen Root, Maura Tierney, and the late Phil Hartman, who all had such impressive careers, and this show is an absolute highlight in their résumé. The series had a successful run from 1995 to 1999, and it's a shame that it was forgotten by almost everybody since then because it's one of the best-hidden gems out there as far as workplace comedies go.