Ricky Gervais Wants To Work With This Horror Master After Seeing A Recent Netflix Hit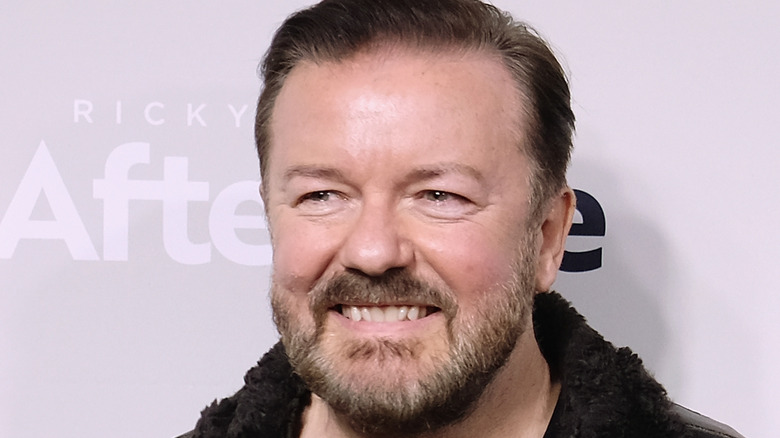 Nicholas Hunt/Getty Images
In recent years, some of the most popular horrors have come from minds we've always associated with laughs rather than lengthy doses of terror. "The Office" star John Krasinski left us deathly silent with "A Quiet Place" and "A Quiet Place Part II," and skit-making supreme Jordan Peele nabbed an Oscar with "Get Out." It seems that another famous joker of TV and film, Ricky Gervais, has his eye on something scary, and he has a recent binge on Netflix to thank for it.
During a chat with his millions of Twitter followers, the creator of the original U.K. version of "The Office" was discussing his recent watchlist and had nothing but good things to say about a recent Netflix horror show. Something in the terrifying tale of a little, secluded town being visited by a priest with some very dark secrets clicked with the Emmy-award-winning writer, and now, he seemingly can't get enough of it. Gervais was so enamored with the show that he put a public request out to work with the show's creator.
Ricky Gervais puts a call out to Mike Flanagan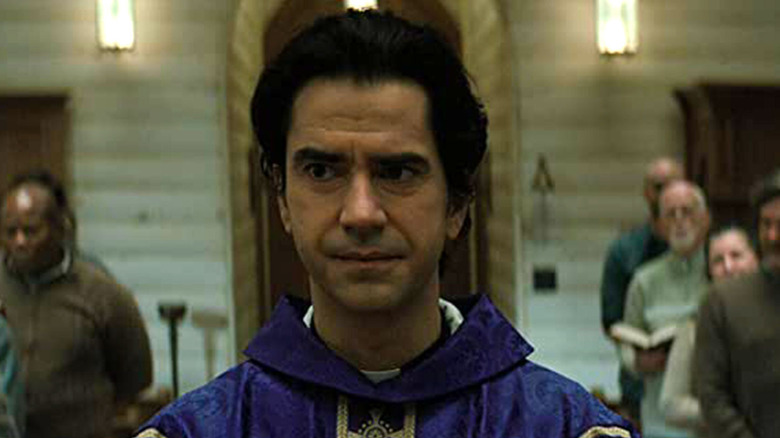 Netflix
Gervais gave enormous praise to the portrayal of faith and the frightening characters, of "Midnight Mass," seeing elements of his own work in the critically acclaimed series. "I absolutely loved it, and it got better and better. It's like all the themes like love and death, regret, second chances, but it's about good and evil in a biblical sense," said Gervais. "It reminded me of all the themes of 'After Life,' but where 'After Life' is sort of real, and the main character is an atheist, this is if religion is real. If God is real."
Besides the gore and gruesome encounters on Crockett Island, there are similarities with Gervais' own Netflix series, which sees a widower trying to carry on his life after his wife dies of cancer. While Gervais didn't name Flanagan directly, the man known for close to the bone comedy was direct in his request of teaming up. "I don't know who did it; I don't know who wrote it or directed it. I don't know if they're the same person," admitted Gervais. "If they are, I want to work with them. If you're responsible for creating or writing, and directing 'Midnight Mass.' Whoever you are...he might be mental [laughs]." 
For now, we can only wait and see if calls get made and a Gervais/Flanagan project comes to fruition. It certainly would be a collaboration we'd never expected, but now, after this, one we'd love to see.