The Transformation Of S. Epatha Merkerson From Childhood To Chicago Med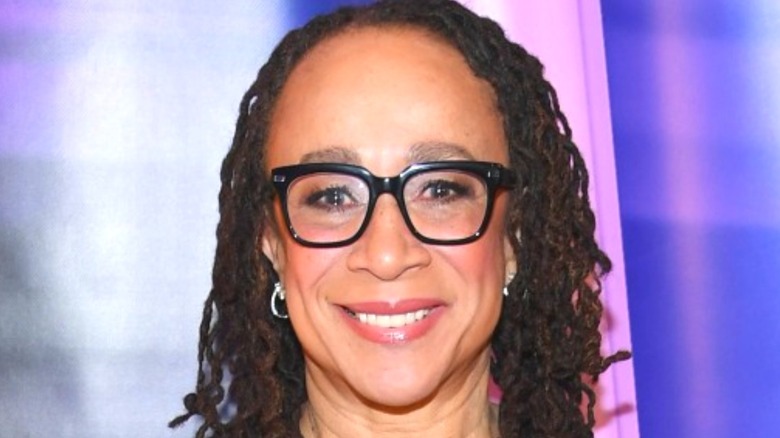 Dimitrios Kambouris/Getty
S. Epatha Merkerson has done more than enough to earn her various awards and acclaims considering the decades she's spent working in Hollywood. The actress who is best known for her long-running role on "Law & Order" can currently be seen portraying head hospital honcho Sharon Goodwin in NBC's "One Chicago" franchise. Since 2015, Merkerson has been a staple on "Chicago Med" and made guest appearances on "Chicago Fire" and "Chicago P.D." But her history in the acting business expands well beyond her major network TV roles. 
According to Biography, Merkerson was born in the suburbs of Detroit, Michigan in 1952. Growing up, her family always called her by Epatha rather than her given first name, Sharon. Merkerson has multiple degrees, including a Bachelor of Fine Arts from Wayne State University. Following her graduation in the mid-70s, Merkerson moved to New York City, where she still partially resides, to pursue acting. 
Considering that her portfolio is so diverse, we decided to take a look back at Merkerson's expansive career. Her path took her from a young and eager actress landing several guest roles to a legendary network TV star. 
Her first film appearance was in Spike Lee's directorial debut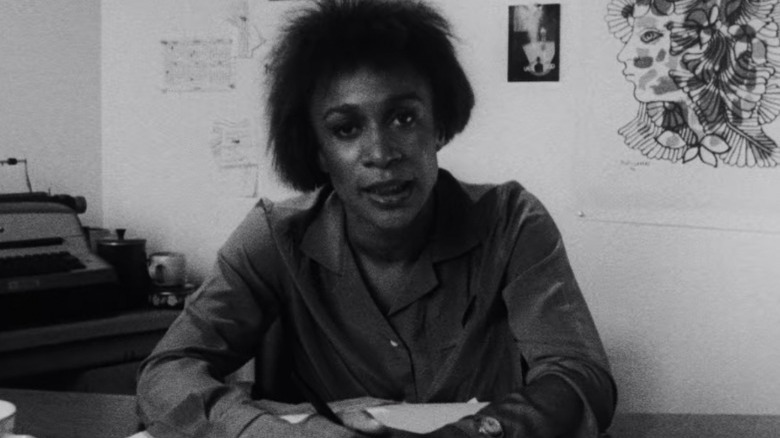 Netflix
S. Epatha Merkerson's first film (and first acting credit in general) was her work in Spike Lee's 1986 directorial debut "She's Gotta Have It." The film was centered around Tracy Camilla Johns' character Nola, a young woman who is seeing three different men. The black and white film launched the legendary director's prolific career, and subsequently, Merkerson's career as well. It's since got the reboot treatment via Netflix, but Merkerson was not part of the project. 
According to IMDb, Merkerson portrayed the role of Doctor Jamison in "She's Gotta Have It." It was not a starring role, but her interactions with Nola were integral to moving the story along. It's also ironic to think that Merkerson began her career portraying a doctor, and is currently regularly on our TVs portraying the head doctor on "Chicago Med" all of these years later. 
Her career kicked off with several guest appearances on major TV shows
The beginning of Merkerson's career is littered with recurring and guest roles on major TV shows, including "The Cosby Show" and "Fraiser." Additionally, she had a recurring role as Reba the Mail Lady on the quirky children's show "Pee-wee's Playhouse." Reba was a staple in the playhouse, despite her constant confusions about the wacky goings on of the place every time she seemed to visit. 
According to her IMDb page, Merkerson had quite a few recurring roles in the 90s on shows like "Here and Now" and "Mann & Machine" prior to landing her longtime "Law & Order" gig. In more recent years, as she's found more TV roles that span several seasons, she has streamlined the number of character portrayals to a few key shows. Consequently, shows like "Law & Order" and "Chicago Med" will always be associated with the actress for years to come. 
Law & Order defined her career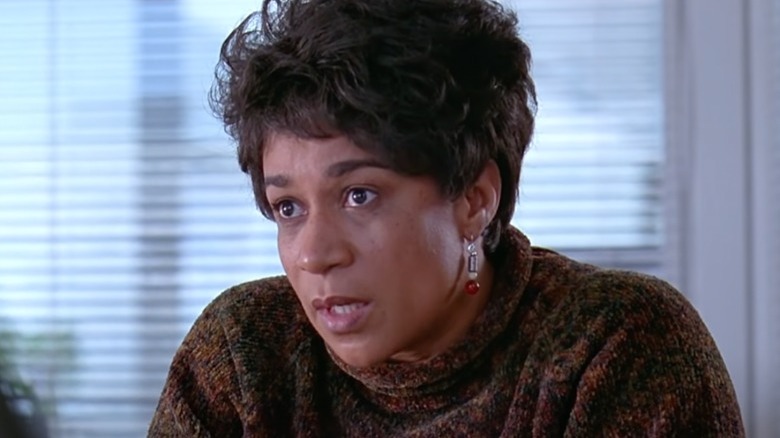 NBC
Prior to Merkerson joining "Law & Order" full time in its fourth season, she first appeared as a guest star in Season 1 before becoming what the cast and crew call a "repeat offender." In Season 1, Merkerson delivered an emotional portrayal of a grief stricken mother who horrifically lost her baby son. Her performance led her to take over as Lt. Anita Van Buren in Season 4, running until the show ended years later. 
Merkerson's "Law & Order" run is historic. After appearing in nearly 400 episodes, Merkerson was the longest-running cast member on the show. Additionally, at the time of the series finale in 2010, Van Buren was the longest-running Black character on primetime TV. Her portrayal was significant in expanding Black representation on-screen, and allowed for Merkerson to truly establish her acting chops through a character that became so personal to her. 
She's an award-winning film star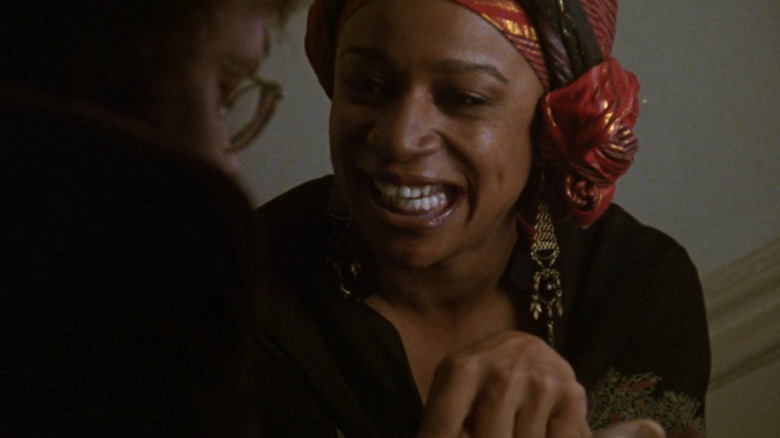 TriStar Pictures
The bulk of Merkerson's best-known works are on TV shows, but her film credits are just as impressive. She portrayed the psychic Elsa in the 1990 psychological horror film "Jacob's Ladder," which has garnered a cult-like following over the years and also spawned a remake. In 2012, she was part of the stacked cast on Steven Spielberg's award-winning biopic "Lincoln." Merkerson portrayed Lydia Smith, the housekeeper of Tommy Lee Jones' Thaddeus Stevens. 
Merkerson received both a Golden Globe and an Emmy Award for her portrayal of Rachel "Nanny" Crosby in HBO's "Lackawanna Blues." The 2005 TV movie, based on a play of the same name, is a drama film centering around the true story of Ruben Santiago Jr. Nanny Crosby became a maternal figure in Santiago's life when he had no one to turn to, and Merkerson's heartfelt delivery was enough to earn her several awards in recognition of the character. 
S. Epatha Merkerson is also a Broadway star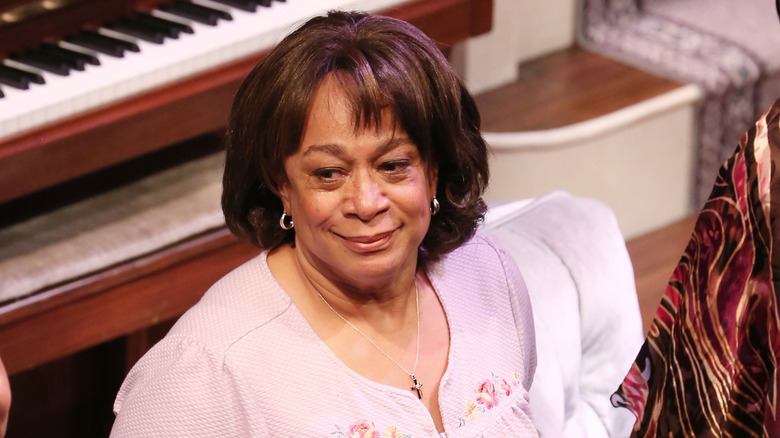 Walter Mcbride/Getty Images
Outside of Hollywood, S. Epatha Merkerson is also an acclaimed theatrical actress. She's starred in an extensive list of both Broadway and off-Broadway productions. She earned herself a Tony Award nomination back in 1990 for her portrayal of Berniece in the Pulitzer Prize-winning "The Piano Lesson" by August Wilson on Broadway. In an interview with the Archive of American Television, she described her reaction to the nomination, saying, "The fact that my objective was to come here to do theater, it is probably one of the biggest honors that you could be given, is to be nominated for a Tony. It was an exciting moment and my mom was with me and it was just amazing to go to the Tony's." 
Merkerson was also cast in 1980's "Tintypes" and 2008's "Come Back Little Sheba" (via Playbill). Off Broadway, she had the lead role in the one-woman play "Lady Day At Emerson's Bar and Grill." In 2014, she was also in the Primary Stages production of "While I Yet Live," written by "Pose" star Billy Porter (via Broadway World).