The Most Heartbreaking Torres Moment From NCIS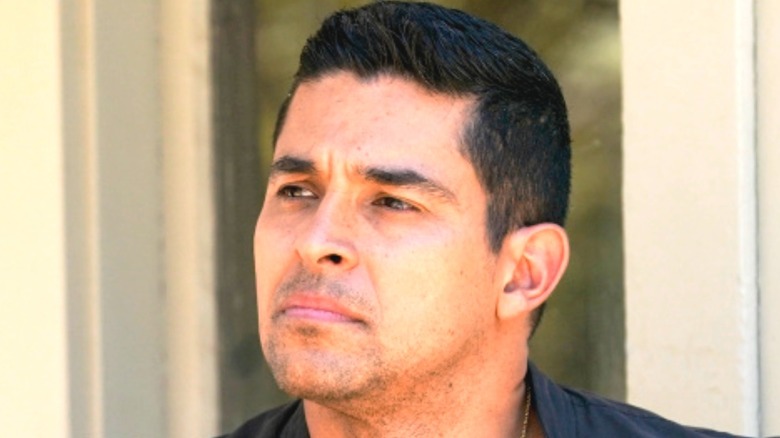 Michael Yarish/CBS
CBS' serialized military cop drama "NCIS" has been on the air for a more than 425 episodes over the course of 19 seasons since 2003 (via IMDb). It shouldn't come as a surprise, then, that the series' main cast has seen its fair share of comings and goings throughout its considerable run.
Special Agent Nick Torres (Wilmer Valderrama) is a relatively recent example of a mid-series addition who then became an "NCIS" staple over the course of his time spent on the show. Torres debuted in "NCIS" Season 14, effectively taking a spot in the main cast briefly left vacant after the departure of Michael Weatherly at the end of the prior season.
Shortly after joining the Naval Criminal Investigative Service team, Torres strikes up a relationship with fellow Special Agent Eleanor Bishop (Emily Wickersham). Among a certain subset of fans of the series, their relationship, especially during Season 16, ended up becoming a popular reoccurring plotline. That said, his romance with Bishop likewise leads to the most heartbreaking moment from the entirety of Torres' "NCIS" tenure thus far.
Bishop leaving is an emotional low point for Torres
While she never explicitly stated a reason for doing so, Emily Wickersham decided to leave the cast of "NCIS" at the end of its eighteenth season. Eleanor Bishop, therefore, likewise leaves the Naval Criminal Investigative Service in the Season 18 finale. Before departing for good to work on an undercover operation separate from the NCIS team, Bishop bids Torres farewell, telling him that she never meant for them to get so close. If only they had both worked typical jobs, she assures him, they might have been able to remain together.
On the "NCIS" subreddit, one user started a thread titled "I feel sad for Torres," sharing their sympathy for the fact that Torres' romantic partner left him so suddenly and with such finality, accusing Bishop of behaving selfishly. User Powerful_Lynx_4737 expressed a similar sentiment, replying that they're "pissed for Torres" because "he's been saying he wants a family and she just wasted his time."
While Bishop's sudden departure ultimately seems to have been written not for narrative purposes first and foremost but in order to give Wickersham room to leave the show, Torres losing a partner with whom he planned on starting a family is nevertheless his lowest point emotionally from throughout his time on the series.