Every Dexter Season Ranked Worst To Best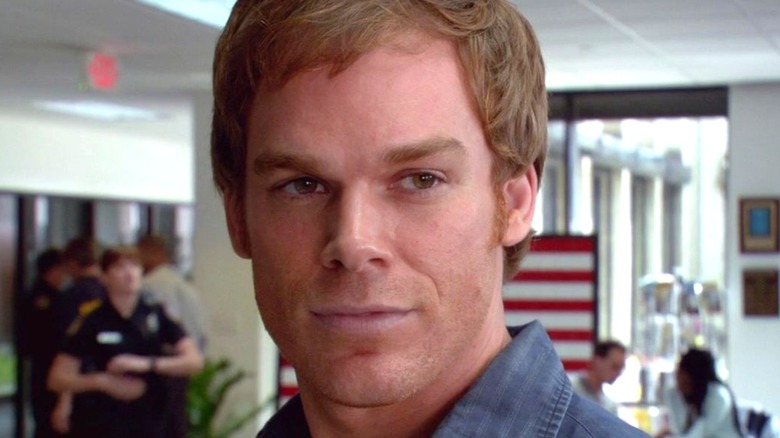 Showtime
Dexter Morgan's murderous adventures finally came to an end with the conclusion of "Dexter: New Blood." It was a bittersweet farewell to the beloved crime drama, which mourned the loss of an iconic character even as it offered a hopeful future for his legacy.
The limited series was released eight years after the show's much-maligned finale in 2013. In an attempt to appease unhappy viewers, showrunner Clyde Philips –- along with star Michael C. Hall -– decided that it was time to give "Dexter" one last ride. With "Dexter" now officially a closed case, many fans were unhappy with how "New Blood" creators chose to end his story. Of course, it's always hard to say goodbye to a beloved character, so perhaps there is no ending that could please everyone.
The arrival of "Dexter: New Blood" has many fans looking back on the series as a whole, nostalgic for the bloody good times they've shared with Miami Metro's resident lab geek. However, after all this time, which seasons still hold up, and which ones deserve to be on the kill table? Here is a list of each season of "Dexter," ranked from worst to best, to be placed under the microscope.
9. Season 8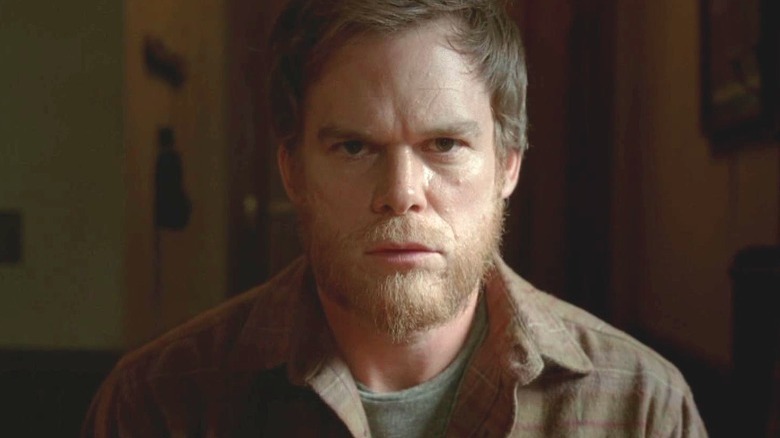 Showtime
The original final season for "Dexter" left a bad taste in the mouths of many fans. In fact, the finale episode holds the lowest score for the series' original run on IMDb. AV Club's Emily St. James wrote, "The show cannot have its title character portrayed in anything other than shades of brilliant white. What was once a horror program became farce." The response from William Thomas at Empire was similarly downbeat, writing, "Dexter has been on the wane for years now, but even those who stuck it out this long will have a hard time stomaching the killer's last hurrah."
In these final episodes, Season 8 introduced psychologist Evelyn Vogel, played by Charlotte Rampling. In a stunning revelation, Vogel reveals to Dexter (Hall) that she was the one who helped his adoptive father, Harry (James Remar), to create the code that Dexter lives (and kills) by. The show also brings back Dexter's love interest, Hannah McKay (Yvonne Strahovski), and the two rekindle their romance.
While the series finale confounded its loyal viewers, one of the biggest objections to Season 8 was its treatment of a fan favorite, Debra Morgan (Jennifer Carpenter). After killing Maria LaGuerta (Luna Lauren Velez) in Season 7, Deb begins to sink into a spiral of self-destruction. She quits the police department, becomes a private investigator, and stumbles through her messed-up life in a haze of drugs and alcohol. Deb is then shot, suffers a stroke while in the hospital, and ends up brain dead. Fans were not happy, to say the least.
8. Season 6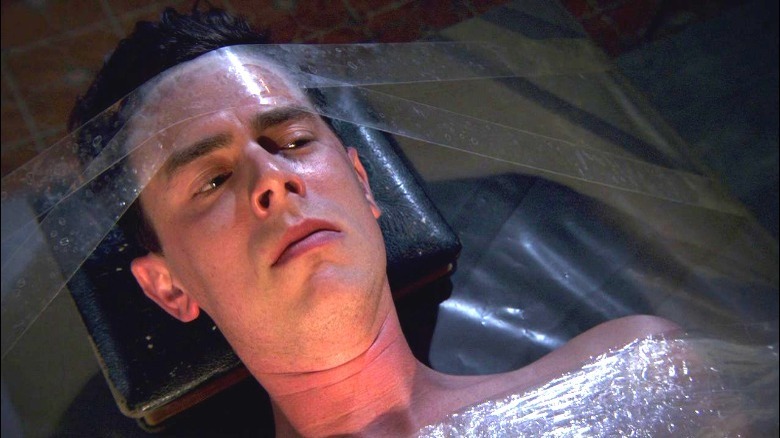 Showtime
The sixth season of "Dexter" contains heavy religious themes, both spiritual and fanatical. As Dexter befriends a reformed criminal named Brother Sam (Mos Def), a serial murderer dubbed the Doomsday Killer terrorizes Miami with their gory display of so-called "righteous" sacrifices. Meanwhile, Deb gets a big promotion at Miami Metro, but her personal life becomes immensely complicated. Colin Hanks and Edward James Olmos guest star as the apocalyptic killers, Travis Marshall and James Gellar, respectively.
The storyline for this season did give fans some interesting highlights. The idea of Dexter exploring his spiritual side is certainly unexpected, as is the reveal that Gellar only existed as Marshall's own Dark Passenger. However, Deb's realization that she might be in love with her adopted brother was an odd choice from the show's writers -– one went many fans felt went too far.
While Season 6 did offer a surprising twist and an explosive cliffhanger ending, it wasn't enough to impress critics. At this point of this series, it seemed to many "Dexter" fans that the show's quality was beginning to slide downhill. Martin Chilton of The Daily Telegraph proclaimed, "The early "Dexters" were clever, sly and engrossing but, sad to say, the show seems to be suffering a slow and painful death." One scathing remark came from Emily Nussbaum of The New Yorker, "If there's a TV writers' version of Stockholm syndrome, Dexter is Exhibit A." It may not be the worst season of "Dexter," but Season 6 is low on the list for a good reason.
7. Season 3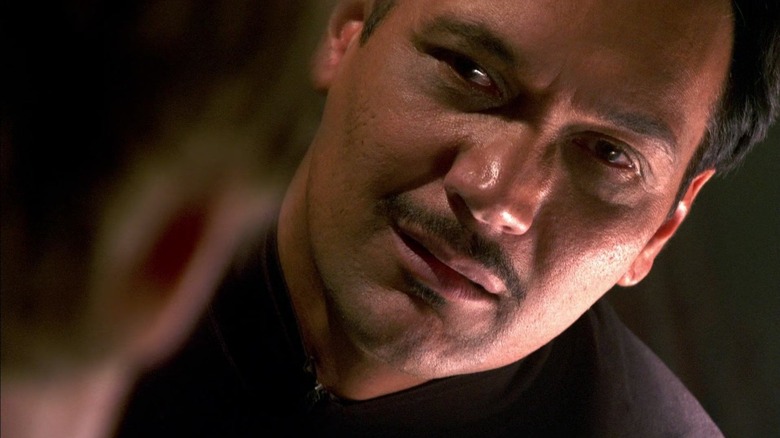 Showtime
"Dexter" Season 3 features Jimmy Smits of "NYPD Blue" fame as District Attorney Miguel Prado. For the first time in the series, Dexter seems to have found an ally and friend willing to help him in his vigilante endeavors. However, it is soon revealed that Miguel has a dark agenda which goes against Dexter's strict code. On top of hunting down a new serial killer called the Skinner, Dexter must ensure that Miguel's thirst for vengeance doesn't lead to his downfall.
Meanwhile, Dexter takes his relationship with Rita (Julie Benz) to the next level, proposing to her after finding out that she is pregnant. With fatherhood on the horizon, Dexter begins to question everything about his own life -– including how his father, Harry, shaped Dexter into the man he is today. As for Deb, she has entered into a complicated relationship with a criminal informant named Anton (David Ramsey) while on the trail of the Skinner. She also learns that her partner, Quinn (Desmond Harrington), is the subject of an internal affairs investigation.
Though it is by no means a poor season, Season 3 of "Dexter" comes off as a bit underwhelming compared to the rest of the series. The writers deserve credit for providing intriguing character development, however. Dexter realizes that family and fatherhood have become attractive concepts for him, where they once were liabilities. However, as James Poniewozik of Time said regarding the season, "I'm interested but not engrossed," which perhaps sums up the majority opinion for this season.
6. Season 7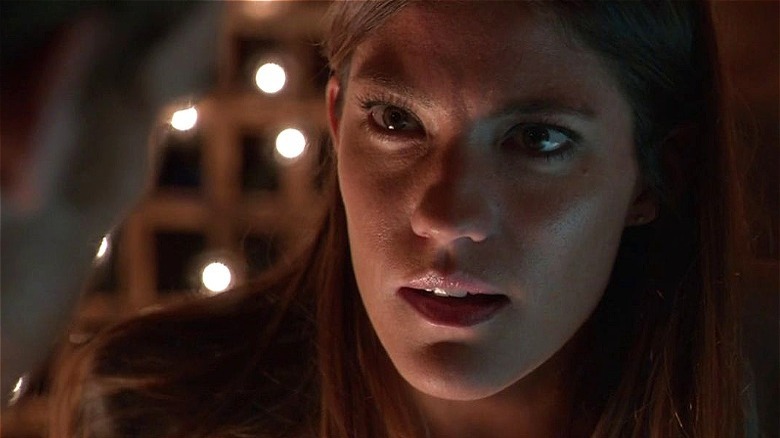 Showtime
Season 7 was a turnaround for the series after a dismal sixth season. Just when critics had begun to call it a day for "Dexter," the show received a fresh start with bold new ideas. After witnessing Dexter murder Travis Marshall at the end of Season 6, Deb is now in on her brother's secret. What does this mean for their relationship, and how far will Deb go to protect Dexter?
As Dexter struggles to hold himself accountable for his misdeeds, he meets another killer that he cannot resist. When Dexter investigates black widow Hannah McKay, he is drawn to her beauty and killer instincts. However, Deb suspects Hannah of murder and asks for Dexter to intervene. Meanwhile, Lieutenant LaGuerta finds evidence suggesting the Bay Harbor Butcher is still out there and zeroes in on Dexter. Dexter lays a trap, but when Deb gets involved, things get tense quickly.
"Dexter" Season 7 tried out a different approach to its storyline this time around, and it was certainly interesting. Fans were intrigued by the new facet to Dexter and Deb's relationship, but the season fell short in other ways. For instance, Dexter's target -– Ukrainian mob boss Isaak Sirko (Ray Stevenson) –- was underwhelming compared to previous "big bads." Others may have been bewildered by Dexter's relationship with Hannah. However, the writers' attempt to try something new beyond the regular "Dexter" formula was well-received by critics on Rotten Tomatoes and proved that there was life left in the series.
5. Dexter: New Blood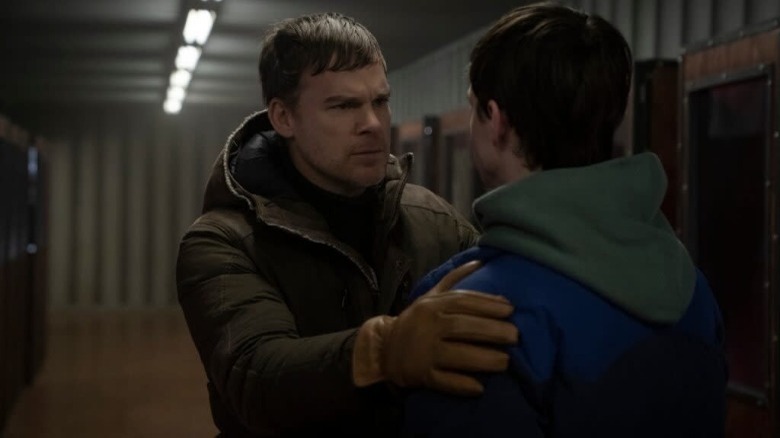 Showtime
After the public outcry that followed the series finale, executives at Showtime felt they owed the fans a better conclusion. When Showtime president Gary Levine got in contact with producer Clyde Phillips about continuing Dexter's journey, both Phillips and Hall were eager to get on board, reported by Polygon. The limited 10-episode series would jump ahead 10 years and see Dexter reunited with his long-lost son, Harrison. As it turns out, the teenage boy has a lot in common with his dad, including a Dark Passenger.
In "Dexter: New Blood," Dexter has taken on a new identity as Jim Lindsay. The setting of sunny Miami was traded for a fictional town in upstate New York, Iron Lake. Dexter has seemingly silenced his Dark Passenger –- until he meets spoiled rich kid Matt Caldwell (Steve M. Robertson). Despite his attempts at restraint, Dexter finally gives in to his baser instincts when Matt shoots and kills a rare white deer. Now, Dexter not only has his police officer girlfriend to watch out for, but also Matt's father –- a pillar of the community named Kurt Caldwell (Clancy Brown).
Though there was plenty of excitement surrounding this limited revival, the ultimate conclusion of "Dexter: New Blood" had viewers divided. Most reviews have been positive, and the show ended up earning a solid score on Rotten Tomatoes. However, it seems that some fans hated the "New Blood" final episode even more than the Season 8 finale, as demonstrated by Episode 10's dismal IMDb rating.
4. Season 1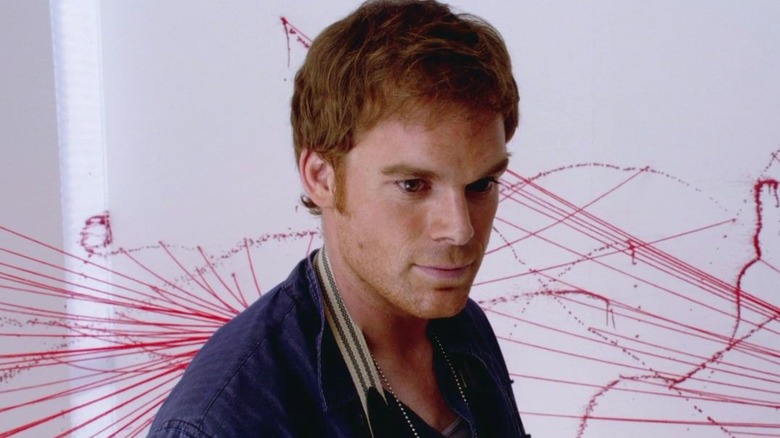 Showtime
Though it could be argued that Mary Harron's black comedy film "American Psycho" paved the way, it was the premiere of Showtime's "Dexter" in 2006 that helped put serial killer protagonists on the map. Developed for television by producer James Manos Jr., the first season of "Dexter" was based on the debut novel, "Darkly Dreaming Dexter," of a crime horror serial written by Jeff Lindsay.
Season 1 introduced viewers to the captivating Dexter Morgan, a charming psychopath who has perfected the serial killer lifestyle. Utilizing a strict code written by his father when he was still very young, Dexter manages to fly under the radar by only murdering people who deserve it. Having established a unique leading man, the series also provided an engaging supporting cast, including fan-favorite Debra Morgan, Dexter's brash and unwaveringly loyal sister. Personifying Dexter's Dark Passenger as his father, Harry, was also a provocative choice that became a staple story-telling device throughout the series.   
The first season of "Dexter" not only has an intriguing protagonist but plenty of thrills and dark humor. Season 1 sets up the series perfectly, as it explores themes of good and evil and the various shades in between. With daring new ideas and a bloodthirsty antihero that audiences could root for, the first season was just the start of many more exciting episodes to come.
3. Season 5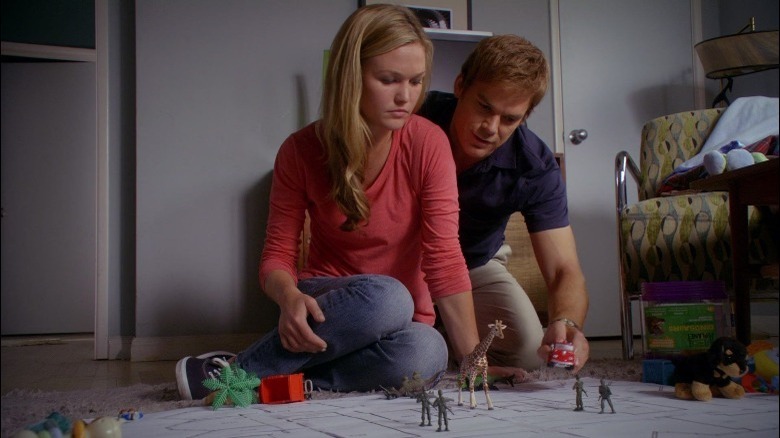 Showtime
Following on the heels of one of the most explosive season finales of the series, Season 5 has Dexter reeling after the murder of his wife, Rita, at the hands of the Trinity Killer. As he adjusts to his new role as a single dad, Dexter comes upon a new series of murders when a highway collision uncovers the bodies of several young women who come to be known as the Barrel Girls.
While investigating the killings, Dexter stumbles upon one of the surviving victims, Lumen (Julia Stiles). Having witnessed Dexter murdering one of the men responsible, Lumen decides to team up with him to take down the ones who tortured her and killed many others. Lumen and Dexter's investigation leads them to a self-help guru named Jordan Chase (Jonny Lee Miller), but it's not long before Chase turns the tables on the pair and does some hunting of his own.
Season 5 explores new avenues for Dexter, who feels for the first time that he can be vulnerable with another human being. His relationship with Lumen was complicated and sadly could not stand the test of time, yet it helped him embrace his role as both monster and protector in equal measure. "Dexter" Season 5 managed to enthrall both critics and audiences with its engrossing storyline and a heartfelt arc for its main character.  
2. Season 4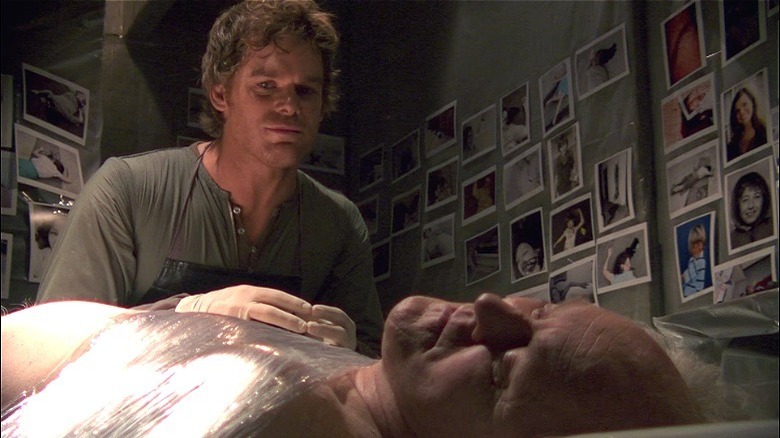 Showtime
Of all the baddies Dexter interacted with throughout the series, no one could compare to John Lithgow's Trinity Killer. From Episode 1 on, "Dexter" watchers were riveted by the character of Arthur Mitchell –- humanitarian and family man by day, and deadly serial killer by night. Lithgow's chilling performance thoroughly impressed the critics and earned him a Primetime Emmy in 2010 for outstanding guest actor in a drama.
The start of Season 4 has Dexter juggling his newfound fatherhood with the needs of his Dark Passenger. He soon finds that this is no easy task and makes some dire mistakes along the way. When the Trinity murders end up on Dexter's radar, he is surprised to discover that the culprit is something of a kindred spirit. Fascinated by Arthur's ability to seamlessly transform from murderer to loving husband and father, Dexter attempts to befriend the enigmatic killer. Yet when Arthur discovers that Dexter knows about his extracurricular activities, Dexter becomes the Trinity Killer's next target.
Besides Lithgow's masterful performance, the finale of Season 4 was one of the most impactful of the entire "Dexter" series. No one could forget the image of toddler Harrison covered in blood and wailing on the bathroom floor as his mother lay lifeless in the tub. This shocking scene alone was enough to make Season 4 one of the most prominent in the minds of "Dexter" fans.
1. Season 2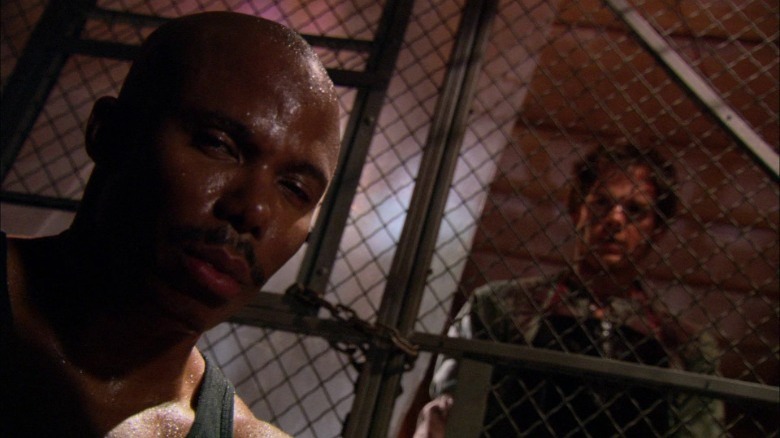 Showtime
With audiences now hooked on the thrilling crime drama, Showtime managed to up the ante with "Dexter" Season 2. Now that they had established who Dexter was and what he was about, it was time to pull all the stops to keep the fans engrossed. What better way to do that than to turn everyone's favorite serial killer from hunter to prey?
In its sophomore season, "Dexter" revs up the stakes by putting the FBI on Dexter's trail. Special Agent Frank Lundy (Keith Carradine) forces Dexter to up his game, as Lundy is no slouch. He also has Sergeant James Doakes (Eric King) to contend with, who has always had suspicions about the "creepy" blood spatter analyst. Throw in a beautiful and dangerous temptation named Lila West (Jaime Murray), and Season 2 has all the makings of the best episodes yet. It may just be the best season of the entire series. Rotten Tomatoes currently reports Season 2 with the highest rating, Tomatometer and Audience Score, of the show's run.
Season 2 has so many memorable moments, it's easy to understand why it stands at the top of the list — not to mention, it contains the most meme-able line in "Dexter" history ("Surprise, motherf***er!"). With not only Dexter's freedom but also his life on the line, Season 2 made "Dexter" required viewing for any horror and crime fan. If you're new to the show and want to see what all the hype is about, this is the place to start.