How Billie Eilish Was Hired To Write Turning Red's Music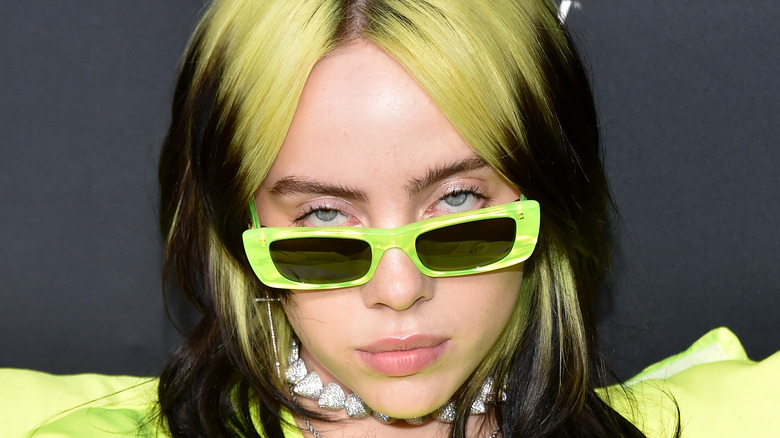 DFree/Shutterstock
Disney and Pixar's latest movie, "Turning Red," is set to exclusively hit Disney+ on March 11. As well as featuring the voice acting talents of Sandra Oh, "Turning Red" features new music by none other than Billie Eilish and her brother Finneas. How exactly did the "Happier Than Ever" star land a job creating music for Pixar's latest offering?
"Turning Red" is a huge moment for Asian representation onscreen, as it focuses on 13-year-old Mei, a Chinese Canadian teenager who magically turns into a red panda whenever she gets excited. Set against the backdrop of Toronto, Mei's story explores what it's like growing up as an immigrant teen, a story inspired by the film's director, Domee Shi. In the movie, Mei has an unhealthy obsession with the latest boy band, meaning that music is central to the plot of "Turning Red."
During a press conference that Looper attended, the film's director, Domee Shi, and producer, Lindsey Collins, revealed how Billie Eilish was hired for "Turning Red."
Finding the right musicians
"Turning Red" features the fictional boy band 4*Town, meaning that it was crucial the right artist came on board to create music that felt current and catchy. Director Domee Shi revealed this during the film's press conference: "For Mei, 4*Town represents a new alluring world that is the total opposite of her mom and her home life, a world that she's been pushing away until the red panda arrives and brings her passions to the surface."
When it came to hiring a songwriter, producer Lindsey Collins instantly had someone in mind. "I have three teenagers at home, fun fact," she explained, "so music is constantly playing at my house. It's in my car, it's everywhere." Collins continued, "And Billie Eilish was relatively unknown, but adored by my kids in 2016, and her song 'Ocean Eyes' was playing on repeat in our house." As a result, Eilish's name was at the top of Collins' list: "So when we started thinking about songwriters who could capture the early 2000s sound and bring something fresh to it, Billie's name came up."
Collins further revealed, "After further research with the Disney music team, we had a better sense of Finneas and Billie and their influences, their style, and figured, you know, why not start with our dream choice?" However, the "Turning Red" team couldn't be sure of Eilish's reaction to the offer. 
Billie Eilish and Finneas 'more than delivered'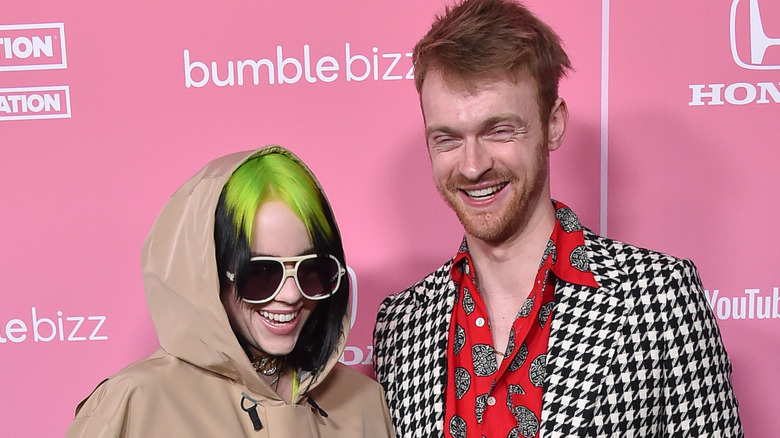 DFree/Shutterstock
For producer Lindsey Collins, Billie Eilish and Finneas were the right people for the job, but it was unclear as to whether they would be interested in working on Pixar's latest film. "It was such a weird ask, we weren't even sure they'd take the meeting," Collins said. "So we sent them something in advance. We made actually this physical scrapbook, that looked like something Mei would make. It had doodles and drawings and photos and fan art and fake ticket stubs, and we cut out Billie and Finneas' heads and put them on characters." Collins continued, "Basically it was a glimpse inside Mei's character and her obsession with this fictious boy band, 4*Town. And so we sent it to them, and I guess the scrapbook worked, because Billie and Finneas agreed, and we were so happy they did."
As viewers will quickly find out, Eilish and Finneas make some incredible contributions to the "Turning Red" soundtrack. "Their songs truly brought 4*Town to life," Collins said. "Finneas actually even sings as one of the band members. ... And in the end they wrote three original songs for us." Summing up the music they created for "Turning Red," Collins said, "Man, they more than delivered."

"Turning Red" is streaming exclusively on Disney+ starting March 11, 2022.