How A Disney Joke Inspired Kevin Hart's Super Bowl Commercial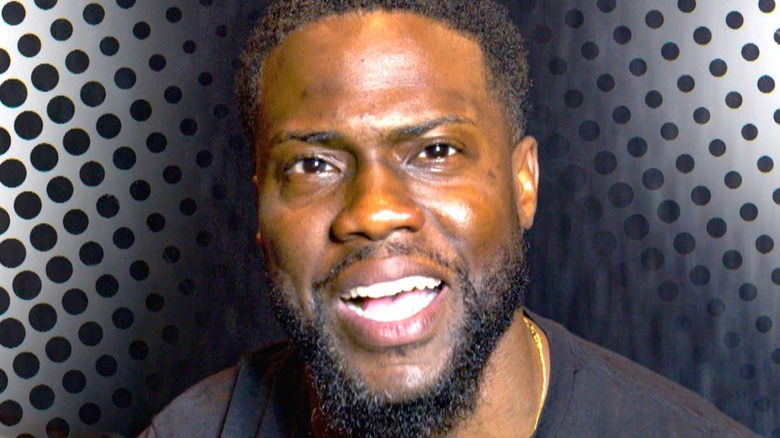 Getty Images for EIF & XQ
During Super Bowl LVI on February 13th, the Walmart-owned membership-only warehouse chain Sam's Club will air a commercial promoting a new mobile app featuring stand-up comic and actor Kevin Hart in its lead role. As has become the norm in recent years, Sam's Club isn't limiting its expensive Super Bowl commercial to just the Super Bowl. Rather, the company premiered its marquee ad to its YouTube channel on January 31.
Though he began his career as a live comic performer (via The New York Times), Hart is practically a Hollywood veteran by now. In 2021 alone Hart starred in family dramedy "Fatherhood" and the six-episode thriller "True Story," both of which found quick success after they premiered on Netflix. Currently, Hart is in the process of working on his role in an upcoming movie adaptation of the video game series "Borderlands," which required military training.
While Hart's turn as a movie star undoubtedly drove Sam's Club's advertising team to cast him as the lead of its big Super Bowl ad, it was Hart's stand-up that inspired the comedic premise at its core.
The writers of the Sam's Club commercial adapted a joke from Kevin Hart's stand-up set
In a USA Today article about Sam's Club's Super Bowl commercial, both a representative from the warehouse chain and Kevin Hart himself detailed what went into the conception of its central comedic premise. In the ad, Sam's Club is promoting a mobile app that allows users to pay for items by scanning them anywhere in one of its stores. Hart treats this like a perk exclusively offered to him, presuming his celebrity status grants him a special privilege, whereas in reality many of his fellow shoppers are using the same app.
USA Today revealed that the ad's creative team came up with this idea after watching a stand-up bit in which Hart describes Disneyland's fastpass — which once allowed holders to skip long lines at designated times — as bestowing a feeling of luxury upon its user.
"It's an opportunity to poke fun at making life easier, simplifying but also feeling like there's a hierarchy in your opportunity at hand," Hart said about the bit. "When you get a Fastpass or have an amusement park allowing you to bypass the line, a little bit of cocky comes with that. That's the anchor of the joke in the idea."
USA Today also reported that an ad during this year's Super Bowl can cost up to $6.5 million for just 30 seconds, so Sam's Club's seems to be plenty confident in its adaptation of Hart's stand-up routine.