The Most Heartbreaking Criminal Minds Episode From Season 7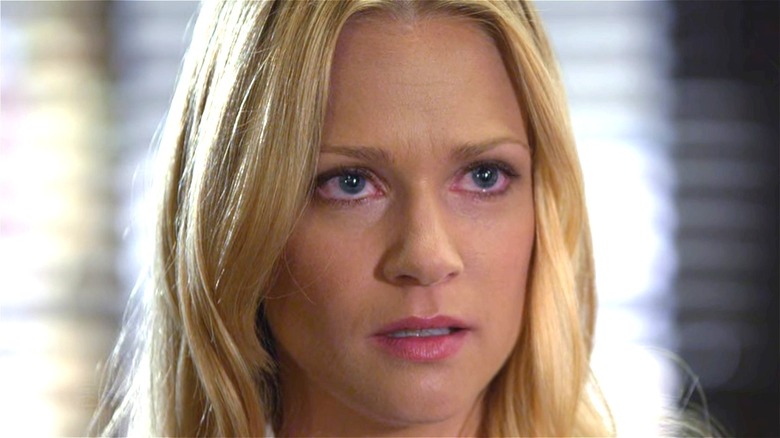 CBS/ Netflix
The CBS drama "Criminal Minds" provided viewers with no shortage of nail-biting episodes throughout its 15 seasons on the air. The team of profilers at the FBI's Behavioral Analysis Unit have taken on some of the most dangerous criminals in primetime, ranging from horrifically creative serial killers to ruthless kidnappers. Even though most of the unsubs end up not being a match for the crack BAU team, that doesn't mean they don't cause mayhem, and often heartbreak, before they are removed from society. 
That was as true in Season 1 of the series as it was in Season 7. Although the show was already over 100 episodes in by that point, Season 7 still managed to serve up terrifying stories one after the other. From a killer targeting survivors of a school shooting to a bank robbery that put BAU member JJ's (A.J. Cook) husband Will's (Josh Stewart) life in danger, there were several disturbing episodes in Season 7. Even among all of those, there was one particular episode that made the cut as the most heartbreaking of the season.
The Season 7 episode Hope has a devastating ending
The Season 7 episode "Hope" doesn't exactly live up to its name. The episode is an agonizing hour of TV for several reasons. First, the victim in the episode was a part of a support group that Penelope Garcia (Kirsten Vangsness) led, giving it a piercing personal angle. Then, there's the nature of the crime itself. Monica Kingston (Brigid Bannagh) gets kidnapped from the parking lot outside of the victim's support group on the seventh anniversary of her own daughter Hope's abduction. Garcia considered Monica a friend and she requests that the BAU look into the case. 
What is slowly revealed is nothing short of devastating. As it turns out, Hope's abductor kidnapped Monica by promising her a reunion with her lost daughter. But the truth revealed at the end is that Hope had long been dead. The abductor had kidnapped Monica in a sadistic attempt to impregnate her so that he could have Hope back. 
On a "Criminal Minds" subreddit, the fans didn't hold back in expressing how harrowing the episode was. 
Redditor u/sarbear0903 said, "This episode breaks my heart every time I watch it. And I remember watching it for the first time and wishing the BAU found Hope alive." Meanwhile, u/Aubreezy92 added, "I feel like this EP is so underrated. It's really good." 
The fans of the show can no doubt expect more of such heartbreaking episodes if the "Criminal Minds" revival ends up coming to fruition at Paramount+.