The Most Heartbreaking McGee Moment From NCIS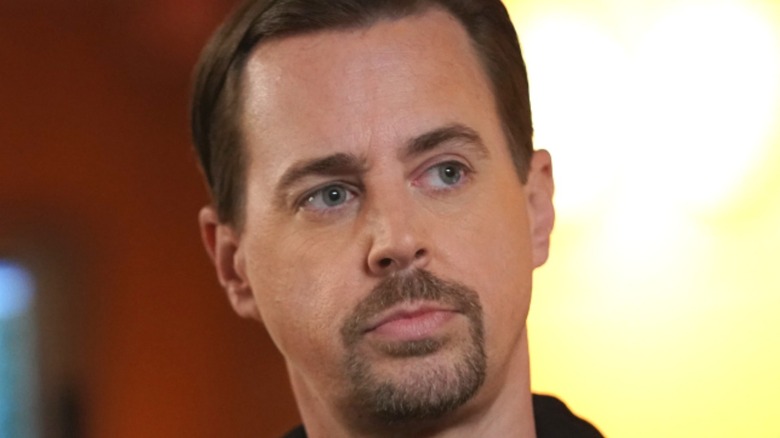 Sonja Flemming/CBS
Among the many characters that have made up the core cast of "NCIS" over the years, Special Agent Tim McGee (Sean Murray) more often than not contributes from the sidelines rather than at the heart of its central stories. In fact, one user on the NCIS subreddit started a thread in 2020 titled "I feel sorry for Mcgee," predicated entirely on the fact that they find McGee to be oftentimes overshadowed by his costars.
Nevertheless, on at least several occasions over the course of Murray's tenure on "NCIS" — which consists of more than 400 episodes in total (via IMDb) — McGee has been at the heart of some sad, bittersweet, or otherwise emotional moments. For example, his relationship with Department of Defense analyst Delilah Fielding (Margo Harshman) has necessitated its fair share of challenges, most notably when Delilah sustained a nearly-deadly injury that continues to impact her life in its wake.
Perhaps the most heartbreaking McGee moment from throughout the entirety of "NCIS," however, draws its emotional weight from McGee's relationship with his father.
McGee's letter to his dad is arguably one of the saddest moments in NCIS history
In a Reddit thread titled "Any episodes of NCIS that made you cry?" posted to the "NCIS" subreddit, a reply by user Skalkeda simply reading "McGee's letter to his dad" received more upvotes than any other comment, and even more than the thread itself.
McGee writes a letter to his dad in Season 12 Episode 10, titled "House Rules." In past episodes, McGee's father Admiral John McGee (Jamey Sheridan) is revealed to be stern and serious, in marked contrast to McGee's laid back demeanor. It's their strained relationship, thought, that fuels McGee's letter, which he writes over the course of the episode and ultimately delivers to his dad's casket at its end, recontextualizing McGee's words as a reconciliatory conversation he never got to have with his late father.
In another Reddit thread, titled "McGee's Father," a comment by user oylaura summed up the impact of this scene. "The fact that McGee eventually reconciles with him, even in the form of a posthumous letter, was a testament to McGee and the fact that his forgiveness was a gift that he was giving himself, and it wasn't being done for his father," they wrote.
So, while not every "NCIS" fan may agree that McGee's relationship to his father is realistic, the fact that he attempts emotional closure with his dad in a letter after his passing resonated with many viewers all the same.