Why McGee And Delilah Might Be The Healthiest NCIS Couple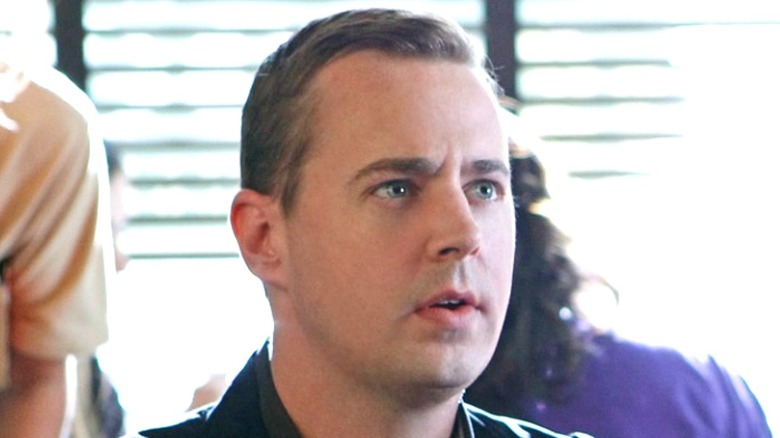 One of the reasons CBS's easy-to-watch procedural "NCIS" has been such a hit with fans all over the world is its ability to seamlessly weave real-life situations, including personal struggles, family problems, and romantic entanglements, into the team's crime-solving efforts.
Over the years, fans have been treated to a slew of inter-office relationships on "NCIS," some of which fans have rooted for from the first flirtation, while others never caught on with viewers. However, while there are a few l relationships that play out on the show that fans have gotten behind over the years, there's one that stands out as perhaps the most normal: the romance between Timothy McGee (Sean Murray) and Delilah Fielding (Margo Harshman).
Not sure why these two have the best relationship on the show in the eyes of viewers? We're here to give you the details on why fans think McGee and Delilah might be the healthiest "NCIS" couple so far.
NCIS fans see McGee and Delilah's relationship as healthy and grounded
While it may not have been the most exciting romance for "NCIS" fans to witness, there's no doubt that the bond between McGee and Delilah has become a fan favorite. Their journey from dating to getting married to becoming parents was sweetly predictable, but not without its own set of trials, and fans have generally approved of it every step of the way.
And it's how healthy their relationship has consistently been that fans seem to love about this pairing because, as Screen Rant points out, many watchers were still holding out hope for McGee to renew his relationship with former flame, Abby Sciuto (Pauley Perrette), who was the investigative team's long-time forensic lab assistant. While their flirtations and callbacks to their old romance were thought by many to be a prelude to something more to come, once Delilah came into the picture, "NCIS" fans were quick to show their support. After all, Delilah regularly showed herself to be a positive, down-to-earth romantic possibility for McGee.
We get to see McGee and Delilah have it all on NCIS
While it's true that McGee has always gotten much more screen time than Delilah (per IMDb), it's clear that she's been a big part of keeping him grounded and helping him grow as a character. We've also gotten to see all their big milestones as a thriving couple, including their wedding and the birth of their twins.
Despite the trials forced upon McGee and Delilah — such as long periods of separation and a life-changing injury — the pair have turned out to embody the average American family. And their resiliency is a big part of what has helped give McGee and Delilah a full life and make them one of, if not the, healthiest couple on "NCIS."
With this newfound appreciation for how important McGee and Delilah's relationship is to the show, we can't wait to re-watch their romance blossom all over again.