The Worst Storyline In Blue Bloods Season 6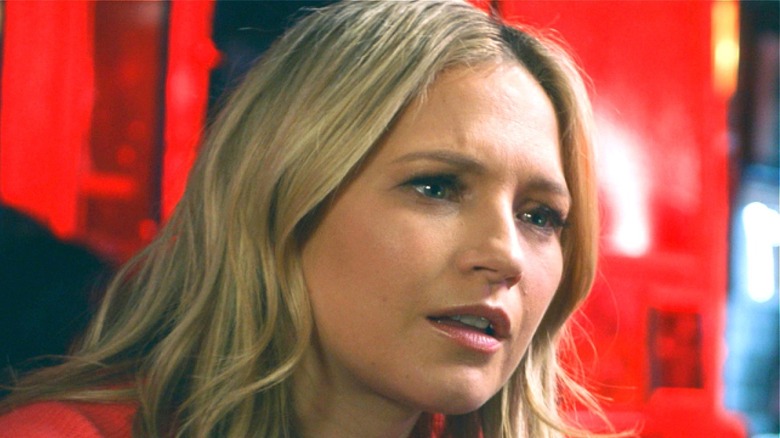 Courtesy of CBS Entertainment
"Blue Bloods" is a police procedural drama series that does things a bit differently from the rest. Rather than sticking to a formulaic procedural format for each of its 200-plus episodes, the series incorporates a family affair into every storyline. 
"Blue Bloods" follows several generations of the Reagan family that have gone into law enforcement in New York City. Each season and episode shows both sides of the family's lives, and while they may get into arguments and trouble, they always have one another at the end of every shift.
Being a show about law enforcement, storylines often explore subjects that can be difficult to discuss and even more difficult to consume as a viewer, but not all episodes become so dark and deep. In fact, one episode in Season 6 of "Blue Bloods" has a storyline that didn't seem to mesh with the show's overall theme, making it the lowest-rated of the season.
The Bullitt Mustang fell short on ratings
In Season 6, Episode 7, "The Bullitt Mustang," the drama and ominous plots of "Blue Bloods" took a step back in favor of a more light-hearted storyline involving the classic 1968 Bullitt Mustang that the legendary Steve McQueen himself drove in the film "Bullitt."
The "Blue Bloods" episode takes inspiration from a real-life mystery after the iconic Mustang went missing for decades following its purchase in 1974 (per CBS). In the show, Danny Reagan (Donnie Wahlberg) and Maria Baez (Marisa Ramirez) conduct an investigation after the vehicle is stolen.
"The Bullitt Mustang" allowed the cast to have a bit of fun enjoying their time working with a classic Ford Mustang while honoring a forever loved Hollywood star. However, because the storyline of this episode was so much more casual than what viewers are used to from "Blue Bloods," it fell a little low on the show's overall ratings with a 7.4 on IMDb.
While a 7.4 is still pretty decent for overall ratings, it's pretty low compared to the ratings of other "Blue Bloods" episodes, making this the worst storyline in Season 6.