The Saddest Moment In Blue Bloods Season 6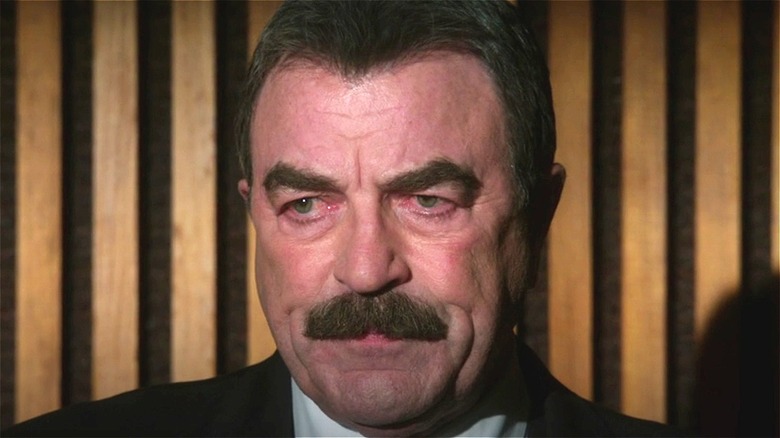 CBS/Hulu
CBS unveiled "Blue Bloods" in September of 2010, adding yet another title to the increasingly crowded police procedural genre. Nevertheless, the series from Robin Green and Mitchell Burgess defied the odds and managed to stand out from the pack, likely due to one key element that most of its contemporaries don't have: family. "Blue Bloods" focuses on the Reagan family, of which many of its members involve themselves in public service in some form or fashion. Not only does this dynamic make each case they embark on inherently personal, but it provides some interesting conversation at the Reagan dinner table.
At the time of this writing, the Reagans are still hard at work cleaning up the streets of New York City — and sorting through their own family drama — on "Blue Bloods." The program is currently cruising through Season 12, tacking onto its near-250 episode tenure week after week. While this is quite the achievement for any TV show, "Blue Bloods" can and often does explore topics that not all viewers can process. Death, drug abuse, terrorism, and more have taken center stage over the years, bringing with them some terribly sad moments that have echoed in the minds of fans long after the credits rolled.
In terms of "Blue Bloods" Season 6, one specific instance stands out as the most heartbreaking of its 22 episodes.
Jenny Strong's spiral was crushing to watch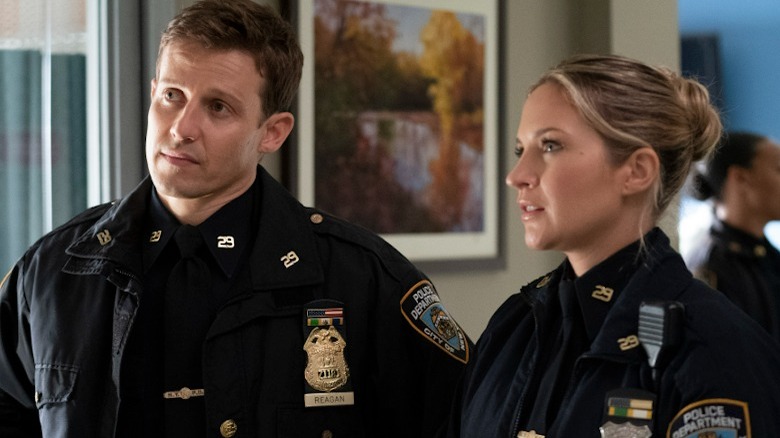 CBS
The installment in question is the fourth of Season 6, titled "With Friends Like These." As Erin Reagan (Bridget Moynahan) struggles to put a mob boss behind bars, Jameson "Jamie" Reagan (Will Estes) and Edit "Eddie" Janko (Vanessa Ray) encounter a woman named Jenny Strong (Anna Baryshnikov) in the middle of the road. She's clearly in distress and needs assistance, so they take her home where her father, Joseph (Brian O'Neill), explains that she has struggled with her mental health for some time, especially after the death of her mother.
Jamie and Eddie learn that the reason why Jenny is having such a hard time is because of her family's inability to pay for proper care. As a result, Joseph does the best he can to keep her safe and healthy, but he can only do so much. Shortly after meeting the two officers, she actually attacked her father with a knife, explaining after the fact that "they" were watching and that she never meant to hurt him. Joseph ultimately survived, though Jenny took her own life before Jamie could get her into a care facility.
It's not uncommon for suicide or knife attacks to make their way onto television, but the circumstances surrounding Jenny and her father make this instance particularly harrowing. It's no secret that mental health is an incredibly important topic these days and that affording treatment is next to impossible for too many people. "With Friends Like These" highlights a major issue in our real-world system and the harm it can cause, hence why this is far and away the saddest "Blue Bloods" Season 6 moment.
If you or someone you know is struggling with mental health, please contact the Crisis Text Line by texting HOME to 741741, call the National Alliance on Mental Illness helpline at 1-800-950-NAMI (6264), or visit the National Institute of Mental Health website.
If you or anyone you know is having suicidal thoughts, please call the National Suicide Prevention Lifeline​ at​ 1-800-273-TALK (8255)​.