The One Thing Tom Holland Regrets Not Doing During His Time As Spider-Man
Over the last two decades alone, a total of three different actors have played the live-action role of Peter Parker (aka Spider-Man), each in their own universe without any connective tissue shared between them (at least, originally). While the events of "Spider-Man: No Way Home" certainly added the connective tissue by introducing today's Spider-Man (Tom Holland) to the previous iterations (Tobey Maguire and Andrew Garfield) by way of the multiverse, scars from the turbulent history of the franchise run deep among fans and cast members alike.
Sam Raimi, the director who helmed the first three "Spider-Man" films, has previously admitted to feeling "exhausted" after production on "Spider-Man 3" left him "unhappy" with the final product (via Spider-Man Fandom). When Raimi's "Spider-Man 4" failed to come to fruition, Sony opted for a reboot with Garfield in the title role, instead of Maguire (via IMDb). Sadly, that reboot proved to be relatively short-lived, only producing two "Amazing Spider-Man" films, before Holland ultimately took over the role (via IMDb).
In the years since, Garfield has been open about his disappointment in losing the role after only two movies. "I never felt like I was able to do enough," Garfield said in a 2015 interview (via Zaki's Corner). "And I couldn't rescue those films... even though I didn't sleep."
Despite the wild success of the series ("Spider-Man: No Way Home" is currently the sixth highest-grossing film of all time (via Box Office Mojo)), there seem to be plenty of regrets to go around this franchise.
Tom Holland wishes he had reached out to Andrew Garfield sooner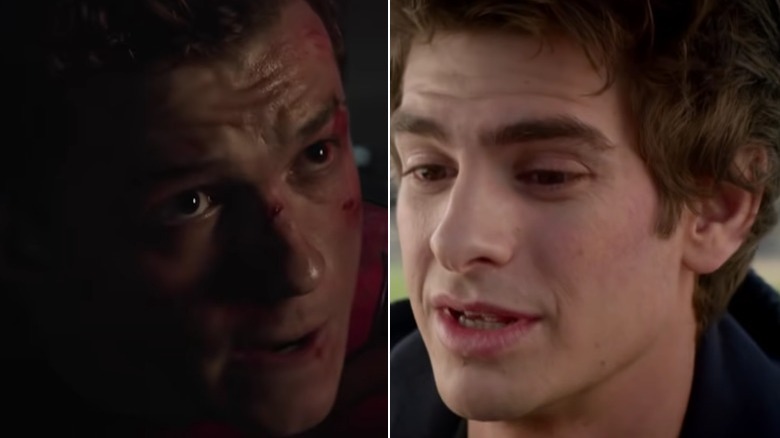 Sony Pictures Entertainment
Since getting to know his predecessors, it would seem that Tom Holland has been reflecting on their experiences as Spider-Man, specifically how Andrew Garfield must have felt when Sony and Marvel abruptly rebooted the franchise on him. In a recent interview with The Hollywood Reporter, Holland admitted that he has some regrets over the way he took over the role from Garfield in 2016.
"Something I can look back on now with a little bit of clarity and regret is that I never called [Garfield] when I took over as Spider-Man," he told the outlet. "Had someone said to me after my second movie that I was done and this other kid was taking over, I would've been heartbroken."
Luckily, working on the ultra-secretive set of "Spider-Man: No Way Home" presented the actors with the perfect atmosphere to get to know one another. In addition to "profusely" thanking Tobey Maguire and Garfield for their contributions to the character, Holland took the time to approach Garfield about his concerns.
"So looking back, I wish I had the chance to make amends with him, but this film was our opportunity," Holland said. "It was not only an opportunity for [Garfield] to make peace with the character and the studio, but it was also an opportunity for me and him to have this moment where we realize we could share this thing."
Recently, Holland has spoken about his hope for a third "Amazing Spider-Man" movie, starring Garfield in the title role once more.
Andrew Garfield's emotional journey as Spider-Man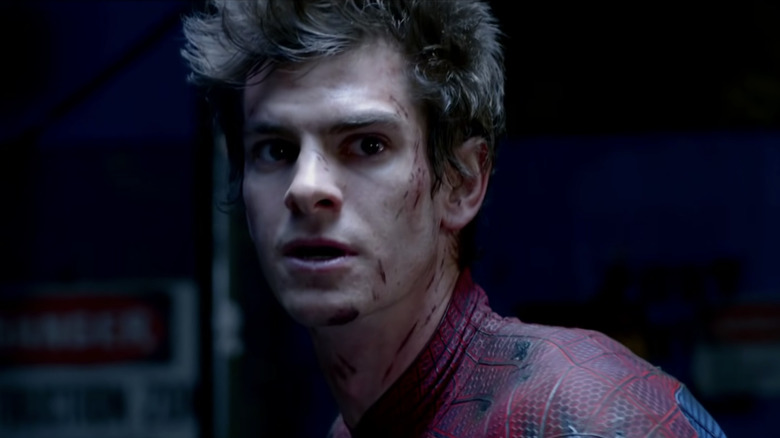 Sony Pictures Entertainment
While Tom Holland, Andrew Garfield, and Tobey Maguire bonded over their shared role on the set of "Spider-Man: No Way Home," it was especially profound for Garfield, who had a difficult time with the franchise. In a 2016 interview with The Guardian, "The Amazing Spider-Man" star opened up about being replaced by Holland.
He admits that he was "naive to the whole process of making one of those big-budget films" and refused to compromise who he was for the role, which "might have been difficult for some people."
Garfield also told Variety in 2016 that he struggled with the "value system" of creating a film on this scale. "I found this really, really tricky. I signed up to serve the story, and to serve this incredible character that I've been dressing as since I was three, and then it gets compromised and it breaks your heart," he said.
However, after learning that Maguire was returning for "Spider-Man: No Way Home," Garfield was all-in. Speaking to Deadline alongside his Maguire and Holland, the actor praised the film's intentions and direction. "I love the destiny feeling of the multiverse expanding in this film... and without Tobey's Peter and Andrew's Peter being present for Tom's Peter at this very moment, he may not become the Peter Parker that he's supposed to become," he said.
He added that while it could've not worked out, "it's a testament to these guys that it went the way that it went, which was a brotherhood, which is just beautiful."