The Subtle Amy Tease You Missed Early In The Big Bang Theory
In the first few seasons of "The Big Bang Theory," the main characters were mostly men. While Penny (Kaley Cuoco) was an integral part of the CBS comedy's cast, the lives of nerdy protagonists Sheldon Cooper (Jim Parsons), Leonard Hofstadter (Johnny Galecki), Howard Wolowitz (Simon Helberg), and Raj Koothrappali (Kunal Nayyar) made up the show's focus. Starting in the series' 3rd season, however, the show made a tonal shift as it added Bernadette Rostenkowski (Melissa Rauch) and Amy Farrah Fowler (Mayim Bialik) to round out the ensemble cast. "At this point, it has evolved into exploring the female relationships as well as it just being a way to explore more storylines for the guys," Bialik told The Hollywood Reporter in 2011, during the show's 5th season.
If you were watching "TBBT" from the start, though, you might have enjoyed the fact that Bialik was initially referenced in the show's first season — subtly. Then, a season or two later, you might have loved the fact that Bialik actually joined the show — not as herself, but as Amy Farrah Fowler, when Raj and Howard found her on a dating site and introduced her to Sheldon.
She's 'the girl from Blossom' Raj talks about as a possible fourth for their Physics Bowl team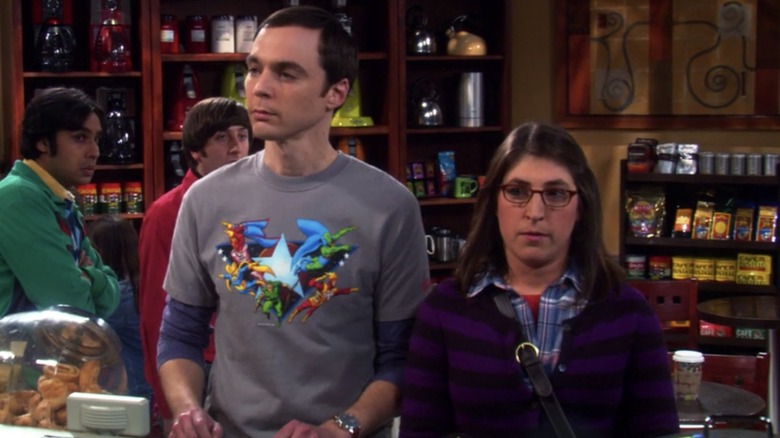 CBS
In the Season 1 episode "The Bat Jar Conjecture," Sheldon joins his pals on a four-person Physics Bowl team only to get dumped because he's annoying. He decides to form his own team, while Raj, Howard, and Leonard scramble to find another person to take his place. During a cafeteria conversation about possible prospects, Raj says, "You know who's apparently very smart, is the girl who played TV's 'Blossom.' She got a Ph.D. in neuroscience or something." When Leonard points out they're not going to be able to get her, he says, "How about the girl from 'The Wonder Years'?'"
In case you didn't get it, Bialik is "the girl from 'Blossom.'" The coming-of-age sitcom, which aired on NBC from 1990-1995, was groundbreaking because it was among the first network series to be headlined by a teenage girl (via Today). In its heyday, it was the second-most popular show for teens, right behind the original "Beverly Hills 90210" (via the Tampa Bay Times). The "girl from 'The Wonder Years'" is actress and math whiz Danica McKellar.
These actresses are known to be part of a small but elite cadre of Hollywood stars that are also extremely accomplished in STEM fields. Bialik got her doctorate in neuroscience from the University of California — Los Angeles; her dissertation is available to academic institutions. McKellar, who also went to UCLA, has had a paper published in the Journal of Physics and even has a theorem named after her. 
Bialik is the only cast member with a science background
It makes complete sense that Mayim Bialik and Danica McKellar would be referenced on a show like "The Big Bang Theory." After all, the show focuses on science, academia, and geek-oriented pop culture, all subjects the two actresses are associated with. And that made it all the more meta, for people in the know, when Bialik appeared as Amy Farrah Fowler starting at the end of Season 3. Bialik became the only cast member with an actual science background.
Amy and Sheldon's relationship became, arguably, one of the high points of the later years of "The Big Bang Theory," allowing more personal growth for Sheldon and plenty of funny, warm moments. In an interview with PeopleTV's Couch Surfing (at the 8:30 mark), Bialik said, "I think Jim and I both really didn't know where this relationship would go. There was a lot to us not being a sexually active couple but still being romantically and intimately interconnected in so many ways. I would say it was probably the longest-running nonsexual relationship on television, at least that I know of."
But as it turns out, Bialik has always had chemistry with another "TBBT" co-star. One of Johnny Galecki's first on-screen roles was on the "Blossom" episode "Sex, Lies and Teenagers," in which he plays her romantic interest. The two shared an on-screen kiss — the first one for both of them. "It might've been my first real-life kiss also," Bialik told Conan O'Brien in a 2016 cast appearance on his late-night show, during which they also re-enacted the kiss.